Serena Williams pushed in win
Updated:
September 4, 2011, 2:41 AM ET
ESPN.com news services
NEW YORK -- If anyone still harbored any doubts about whether Serena Williams is back at her best, she put on a pretty persuasive performance during the first 17 minutes of her third-round match Saturday at the U.S. Open.
Garber: Easier Road Ahead For Serena

With Victoria Azarenka out of the way, Serena Williams' chances of winning the U.S. Open are suddenly looking really good, writes Greg Garber. Story
• Bernstein: Stephens will be back
That's how long Williams needed to build a 5-0 lead en route to a 6-1, 7-6 (5) victory at Flushing Meadows over one of the best players the women's field had to offer: fourth-seeded Victoria Azarenka, a Wimbledon semifinalist two months ago.
Listen to Azarenka describe how it felt to stand across the net from Williams during her superb start:
"What's it like? It's painful," said Azarenka, who won eight points in those opening five games. "To have somebody just going at you like that, it's a little bit painful."
Eventually, though, Azarenka straightened her own play out enough to make things interesting in the second set. She erased four match points, broke when Williams served for the match at 5-3, and left Williams saying she wasn't pleased.
"She won the first set very easily, and it was a little bit too easy, so then she got tested -- and she needed to be tested," said Williams' mother, Oracene Price.
Williams passed the test, and showed off her fitness, which is much improved from when she lost in the fourth round at Wimbledon. At the end of one point, she did the splits. On another, she raced all the way over to the blue sign near the stands to smack a forehand winner.
She and Azarenka described the level of play as being worthy of a Grand Slam semifinal, rather than the Week 1 matchup that it was. But they wound up being drawn to meet this early because Williams is seeded only 28th, a reflection of her lower-than-usual ranking as a result of nearly a year's absence from the tour because of a series of health scares.
The 29-year-old American already owns 13 major championships, including three at the U.S. Open, which is why, when she was asked how she can play so well now, Williams replied: "I mean, I was a pretty good player before. So just trying to get back into that rhythm and feel it again."
[+] Enlarge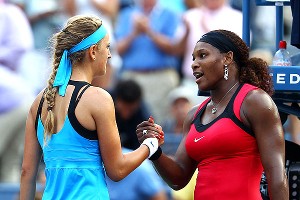 Julian Finney/Getty ImagesSerena Williams won the first set in 28 minutes, but Victoria Azarenka gave her a run for her money in the second.
In the fourth round, Williams will face former No. 1 Ana Ivanovic of Serbia, the 2008 French Open champion, who is seeded 16th.
"It's exciting, at least for me. I think she's the hottest player out there at the moment. She's been playing so well lately. It is going to be a good challenge," Ivanovic said after ending Sloane Stephens' surprising run by beating the 18-year-old American 6-3, 6-4 in Arthur Ashe Stadium on Saturday night.
Ivanovic acknowledged that Williams will be the "favorite, that's for sure" but also said: "I know I can give her a tough match. She beat me in the past, but maybe I can go for revenge on Monday."
Earlier Saturday, top-seeded Caroline Wozniacki rolled through her third straight match at the U.S. Open, avoiding an upset bug that has turned big sections of the women's bracket into a free-for-all.
Wozniacki, the runner-up here in 2009, defeated American Vania King 6-2, 6-4 and has lost a total of 12 games in her first three matches.
It took Wozniacki time to figure out the breezes on a warm, windy day in New York
"The wind, it was going everywhere," she said. "You had to keep the margin over the net and away from the lines."
That's Wozniacki's game, though, and it has served her well. Though she is still in search of her first major, she has been ranked No. 1 for most of the last year.
"To be honest, I felt like I was playing with her," King said. "But she isn't No. 1 without a good reason. She is used to winning. She has that confidence."
In other women's matches, No. 7 Francesca Schiavone beat Chanelle Scheepers 5-7, 7-6 (5), 6-3 in a match that lasted 2 hours, 57 minutes.
Schiavone's next opponent will be No. 17 Anastasia Pavlyuchenkova, a 6-4, 6-4 winner over No. 11 Jelena Jankovic.
Complete results
Need the scores from any match played in today's
U.S. Open? Courtcast
Among other contenders to advance, Andrea Petkovic's straight-sets victory gave Germany three women in the fourth round of the U.S. Open for the first time since 1987.
The 10th-seeded Petkovic, 15-4 in her past five major tournaments, beat Roberta Vinci 6-4, 6-0 in 67 minutes. She joins Sabine Lisicki and Angelique Kerber.
"I used to crumble under pressure," Petkovic said. "I used to play well until a certain point, and then just, well, didn't take my chances at all. Now this year with all the experience of the tough matches and all these close, key moments that I went through, I'm just calmer."
The 18th-seeded Vinci, from Italy, has never been to the fourth round of a Grand Slam.
Sylvia Hanika, Bettina Bunge, Claudia Kohde-Kilsch and Steffi Graf made it to the round of 16 at the 1987 Open.
Information from The Associated Press was used in this report.
SPONSORED HEADLINES
MORE TENNIS HEADLINES
MOST SENT STORIES ON ESPN.COM
U.S. Open
2010 champions
Women's singles:
Kim Clijsters
Men's singles:
Rafael Nadal
Women's doubles:
Vania King and Yaroslava Shvedova
Men's doubles:
Bob and Mike Bryan
Mixed doubles:
Bob Bryan and Lizel Huber
Courtcast: Scores & chat
Slam Central »
Follow us on Twitter »
Watch: ESPN3.com
Day 15
Day 14
Day 13
Day 12
Day 11
Day 10
Day 9
Day 8
More