Andy Roddick match moves to tiny court
Updated:
September 8, 2011, 1:36 PM ET
Associated Press
NEW YORK -- Andy Roddick's match against David Ferrer at the U.S. Open was moved to tiny Court 13 on Thursday because water was gathering on the surface of the court in Louis Armstrong Stadium.
[+] Enlarge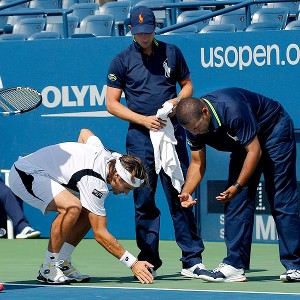 AP Photo/Charles KrupaWhen wet spots like the one David Ferrer pointed out couldn't be fixed, his match with Andy Roddick moved to 584-seat Court 13.
After two days of rain at the Grand Slam tournament, the sun finally was out Thursday morning, but 2003 U.S. Open champion Roddick and the fifth-seeded Ferrer were able to play for less than 10 minutes, getting two games completed. That's when Roddick pointed out a spot where water was seeping up behind one of the baselines.
While workers tried to dry the area, Roddick and Ferrer headed to the locker room. About an hour later, at 12:30 p.m. ET, they returned to Louis Armstrong Stadium, but the court still wasn't usable. So they shifted from the tournament's second-biggest arena, which has 10,103 seats, to its smallest show court, which has 584 seats.
When the players got back to Armstrong with tournament referee Brian Earley, the trio went over to inspect the problem area together.
Roddick pointed out that the spot still was wet and said to Earley, "Can you tell us why you brought us out here? ... How hard is it to not see water? ... What are we doing here?"
As he walked over to the sideline, Roddick shook his head, saying, "I'm baffled right now. Absolutely baffled." Then he shoved his racket in his bag and walked off the court as some fans booed.
Roddick, Ferrer and Earley then spoke in a hallway of Armstrong stadium.
"Put us on 13. 13's open. Let's go play. I don't care where we play," Roddick said.
Within minutes, the decision was made to switch courts. Fans ran and pushed their way up the stairs and into the bleachers at Court 13, and the match eventually resumed a little before 1 p.m. ET.
Tournament director Jim Curley said Wednesday that all four remaining fourth-round matches would need to be completed Thursday in order to finish the tournament on time. The men's final is scheduled for Sunday.
Three other fourth-round men's matches resumed Thursday morning under a sunny sky at the Billie Jean King National Tennis Center. Defending champion Rafael Nadal beat Gilles Muller 7-6 (1), 6-1, 6-2 in Ashe, and Andy Murray beat Donald Young 6-2, 6-3, 6-3 in the Grandstand, while John Isner was facing Gilles Simon on Court 17.
Roddick hadn't played anywhere at Flushing Meadows other than 23,771-capacity Arthur Ashe Stadium since Sept. 3, 2002, when he beat Juan Ignacio Chela at Armstrong in the fourth round. That was a run of 39 consecutive U.S. Open matches at Ashe for Roddick.
He and Ferrer originally were supposed to begin their match in Ashe on Tuesday, when showers washed out all action. On Wednesday, they managed to get in about 15 minutes of play, with Roddick taking a 3-1 lead, before rain caused a suspension.
Shortly after 11 a.m. Thursday, they finally resumed, but only long enough for the score to reach 4-2 when the match was halted again.

Copyright 2011 by The Associated Press
U.S. Open
2010 champions
Women's singles:
Kim Clijsters
Men's singles:
Rafael Nadal
Women's doubles:
Vania King and Yaroslava Shvedova
Men's doubles:
Bob and Mike Bryan
Mixed doubles:
Bob Bryan and Lizel Huber
Courtcast: Scores & chat
Slam Central »
Follow us on Twitter »
Watch: ESPN3.com
Day 15
Day 14
Day 13
Day 12
Day 11
Day 10
Day 9
Day 8
More
MORE FROM ESPN NEW YORK

Check out ESPN New York, your destination for sports coverage in the Big Apple.