Commentary
Bryan brothers take first step in quest
Dynamic doubles duo looking to become first team in 62 years to win season Slam
Updated:
August 29, 2013, 6:38 PM ET
By
Greg Garber
| ESPN.com
NEW YORK -- It's well past midnight in the city that never sleeps, but when the phone rings at Frank Sedgman's house in Melbourne; it's tea time.
"Hello," he says, in a chipper tone that is almost startling, even factoring in the 16-hour time change.
Sedgman, after all, is 85 years old.
Slammin Grand
Result: Bob and Mike Bryan defeated Federico Delbonis and Leonardo Mayer of Argentina 7-6 (1), 6-2.
Key to victory: With the score 1-0 in the first-set tiebreaker, Bob Bryan jumped on a forehand from Delbonis and drilled Mayer, who was only about 20 feet away. Delbonis double-faulted on the next point and the Bryans had an irreversible 3-0 lead that eventually grew to 5-0.
Notable statistic: The Bryans won 36 of 37 first-serve points, an ethereal 97 percent.
Mike Bryan: "The first set wasn't our best, but we got it going in the second. They have different serving motions and it took us awhile to pick that up. Hey, you don't want to bring your best stuff out too early."
Outside opinion: Peter Bodo, Tennis.com -- "It's admirable, like the great romantic dream, but the Bryans are swimming against the tide. Doubles has become persona non grata in tennis these days, and through their professional attitude, their enthusiasm, they've infused the sport with life. They've almost personally reinvented doubles -- but it's an uphill battle."
Next: The Bryans meet the unseeded team of Eric Butorac (USA) and Frederik Nielsen (Denmark), winners over Johan Brunstrom and Raven Klaasen in three sets, in the second round.
It's been 62 years since he and partner Ken McGregor won all four Grand Slam doubles championships in a single year, 1951. He was a former world No. 1 amateur singles champion and won a total of 22 Grand Slam titles, including singles (he earned five), doubles and mixed doubles.
How good were Sedgman and McGregor? They won seven straight major doubles titles, then here at the US Open in 1952 ran into the "pickup" team of Mervyn Rose and Vic Seixas. Despite an abdominal tear that drastically reduced McGregor's serve, the final careened into a fifth set.
"We gave it everything," Sedgman said. "But that injury helped beat us. We lost 8-6 in the fifth.
"We came that close to winning eight in a row."
Sedgman, who has lived in Melbourne all of his life, is excited about this year's US Open. That's because Bob and Mike Bryan have a chance to become the first team in 62 years to match the calendar doubles Grand Slam that he and McGregor achieved.
"They're a great pair," said Sedgman, who is enshrined in the International Tennis Hall of Fame in Newport, R.I. "It's fun to watch them. They are the best players around right now."
Why, yes they are. Thursday, they took the first step toward becoming the first team of the Open era to run the table by beating the unseeded team of Federico Delbonis and Leonardo Mayer of Argentina 7-6 (1), 6-2 in only 74 minutes.
To be honest, Bob and Mike looked a bit sluggish in the first set, rather than nervous. Maybe that was because Guillaume Rufin abruptly retired from his match against Dmitry Tursunov on Court 7, forcing the doubles teams to start their match at least an hour earlier than expected.
The Bryans, amid sweltering conditions, idled along into a tiebreaker, then, suddenly and fortuitously, found some fire. Mike Bryan hit two unreturnable serves in the frame while each of the Argentines double-faulted.
What the Bryans are doing is unprecedented in the modern game. The 35-year-old twins from California have not only won the three majors already played this year -- the Australian Open, the French Open and Wimbledon -- but they won last year's US Open and the London Olympics.
That means they've won the past five most meaningful tournaments in doubles, a streak of 30 consecutive matches. Winning this US Open would give them 35 straight match victories in those pressure-filled events.
"I'd love to see them win it," Sedgman said. "They're the best players. Tell them I wish them luck. I'll be watching."
Writer, Reporter
Greg Garber joined ESPN in 1991 and provides reports for NFL Countdown and SportsCenter. He is also a regular contributor to Outside the Lines and a senior writer for ESPN.com.
SPONSORED HEADLINES
MORE TENNIS HEADLINES
MOST SENT STORIES ON ESPN.COM
2013 US Open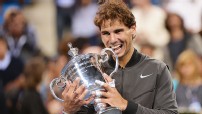 This was a comeback that was astonishing by even Rafael Nadal's own absurdly high standards. Greg Garber »
VIDEO
EDITORS' PICKS
Novak Djokovic is your match-player of the year.
Tandon »

Serena Williams' POY honors boost legacy.
Tandon »

Nelson Mandela forged a path we all should follow.
Drysdale »