Commentary
Andy Murray thriving on criticism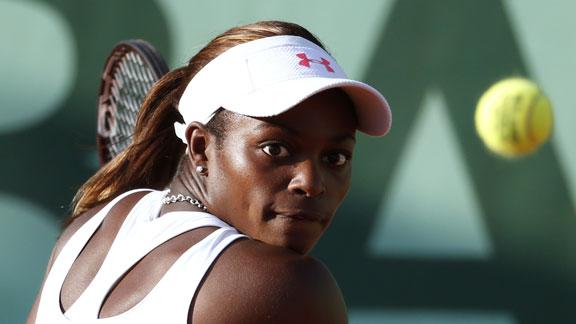 Wimbledon Spotlight: Sloane Stephens
espnW catches up with American teen Sloane Stephens after her upset of No. 23 Petra Cetkovska.
Wimbledon Spotlight: Sloane Stephens
WIMBLEDON, England -- In more upbeat times, Andy Murray had been called Braveheart, the Great Scot, the True Brit. He's been Murray in a Hurry, causing Murray Mania and Pandymonium as he chased his first Grand Slam win.
Not at the moment, though. Right now, Murray is a Worry. He's Moaning Murray, the too-easy target who is getting slammed for his injury theatrics and the one whose Wimbledon chances are being written off.
What To Watch, Day 4
After a rain-interrupted couple of days, several players will be returning to court without much of a break on Thursday at Wimbledon. Matches to watch include:
Andy Murray versus Ivo Karlovic
There's a lot of worry about Andy Murray coming into the tournament, and a meeting with giant-serving Ivo Karlovic will only add to the concern. But even though Karlovic upset defending champ Lleyton Hewitt in 2003 and reached as high as No. 14 in the rankings, he's not quite where he once was and shouldn't scare Murray on this Centre Court afternoon. That serve is still worth seeing, though.
Sam Querrey versus Milos Raonic
Two big serves and two big forehands should make for some good grass-court tennis on Court No. 1, at least the modern version, which doesn't involve coming to net too much. Raonic is much higher ranked at the moment and rising fast, but Querrey is starting to get back in form after elbow surgery last year and could be dangerous.
Grigor Dimitrov versus Marcos Baghdatis
No shortage of talent here. Consistency? That's another matter. Dimitrov, often compared to a young Federer, could be on the verge of a breakthrough after doing well at the Queen's warm-up event coming into Wimbledon, but Baghdatis could just as easily start flowing and put an end to the Bulgarian's recent run.
And he seems to be loving every second of it.
"If someone doesn't want you to do well, then it's nice to play well," Murray said after an impressive opening performance against Nikolay Davydenko on Tuesday.
It was his first win since he was jeered during a fourth-round victory against Richard Gasquet at the French Open, a match he later described as "the most fun I've had on the court in a while."
Given the way he berates himself on the court, it would be no surprise if Murray turns out to thrive on negativity. Although he won't garner many boos from the loyal Centre Court crowd, there's been no shortage of critics since his emotive back-clutching performances at the French. It prompted one commentator, Virginia Wade, to call him a "drama queen." An annoyed Murray, who seemed to take the remark as an implication that he had feigned injury, called it "quite disappointing."
Then the following week in Halle, Germany, fellow player Tommy Haas said the Scot had developed a reputation for acting like he was struggling with injuries while playing perfectly well. "People talk about it in the locker room," said the German, who once lost a match at Indian Wells in 2007 in which Murray had a mid-match fall but recovered to win.
Murray said Haas later apologized for the way the comments came across, but similar sentiments from other analysts continued to appear in the newspapers. Finally, Murray hit back. "I'm not accepting it anymore because it's not fair," Murray told British reporters just before Wimbledon began. "I think eight pain-killing injections in your back before the French Open justifies a genuine injury."
But that didn't stop Davydenko coming out with a similar accusation before their first-round match. "We just laugh," Davydenko told the British papers. "Sometimes he walks on court, he looks tired, like he doesn't want to run anymore, and then he runs like an animal. He has done that all his career."
The Russian dug the needle in a little further by questioning his opponent's Grand Slam ambitions. "Murray has reached the Australian Open final, but it doesn't look like he has enough to win it," he said.
Murray indicated that he hadn't heard these latest comments, but he played like those words were pinned to Davydenko's forehead. He demolished the former No. 5 in just over an hour and a half.
[+] Enlarge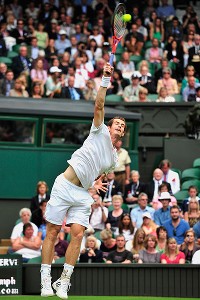 Glyn Kirk/AFP/Getty ImagesAndy Murray has developed a reputation for feigning injury, but is it legit?
His commanding performance did a lot to lighten the tennis mood in the U.K., especially with four other British players also joining him in the second round.
Each year, Murray comes into Wimbledon carrying the hopes of the nation, which has been without a men's Grand Slam winner since -- here's the most well-known stat of the tournament -- Fred Perry in 1936. But this time, the expectation is blanketed with concern. Another year has passed with Murray still trying to break through the Djokovic-Nadal-Federer wall at the majors. With his back problems and a first-round loss at the Queen's warm-up event, his chances of doing so this fortnight appear further diminished.
On top of that, he faces a very tricky draw full of big serves. Ivo Karlovic, Andy Roddick and Milos Raonic are among those in his quarter, as is Juan Martin del Potro.
It all meant that the outlook had been as gloomy as the weather forecast, but Murray replied with a strong start that suggested he might be ready for the challenges.
"It was a long couple of weeks with a lot of time on the practice court, a lot of talk about various things. I wanted to go and play," he said. "It's time to let the tennis do the talking."
But that might get a little too quiet and peaceful for Murray's liking.
Wimbledon 2012 -- June 25-July 8

2012 champions
Women's singles:
Serena Williams
Men's singles:
Roger Federer
Women's doubles:
Serena and Venus Williams
Men's doubles:
Jonathan Marray and Frederik Nielsen
Mixed doubles:
Lisa Raymond and Mike Bryan
CourtCast
Slam Central »
Follow us on Twitter »
Watch on ESPN
Wimbledon.com »
Wimbledon alerts: Text "Wimbledon" to 43776
Day 13
Day 12
Day 11
Day 10
Day 9
Day 8
MOST SENT STORIES ON ESPN.COM