Commentary
Ostracized Odesnik fires back
Updated:
June 27, 2012, 5:06 PM ET
By
Greg Garber
| ESPN.com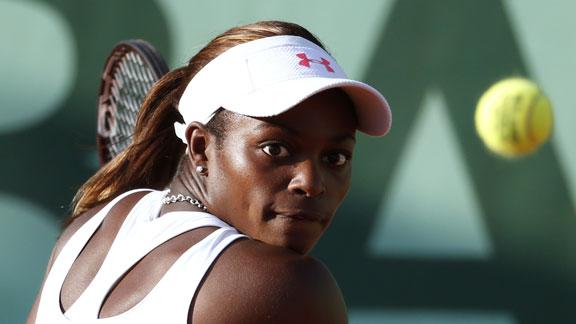 Wimbledon Spotlight: Sloane Stephens
espnW catches up with American teen Sloane Stephens after her upset of No. 23 Petra Cetkovska.
Wimbledon Spotlight: Sloane Stephens
WIMBLEDON, England -- The story in the Times of London was blistering.
Is Wayne Odesnik -- who had his 2010 ban for transporting human growth hormone halved to one year -- a snitch?
"You want to make sure that people who are fined and suspended aren't let off because they are telling on other players," the Times quoted Andy Murray, the No. 1-ranked player from Great Britain as saying. "That is snitching."
The story, which made ample use of Andy Roddick's dated but sharp criticism of Odesnik, suggested that Odesnik had his two-year sentence reduced to a year for providing "substantial assistance," as described in the International Tennis Federation's drug policy.
[+] Enlarge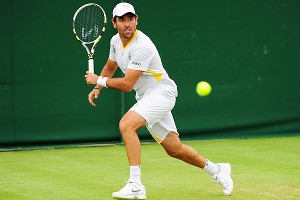 Adam Davy/PA Wire/AP ImagesWayne Odesnik claims he did not provide the ITF with insider information in exchange for a lighter sentence.
On Wednesday, after losing a five-set match to Bjorn Phau, the 26-year-old American fired back.
"I heard today that there was a pretty harsh article that I think is a little bit unfair for the media to write something that is completely and utterly 100 percent false," Odesnik said when the subject was raised in his postmatch press conference. "I think one thing I would like each and every single one of you to jot this down in capital letters: I would 100 percent never say anything bad about a player or do something that I was a spy or something of that sort.
"That is utterly 100 percent false. I don't know where you guys started this rumor or where you heard it from, but I think that needs to be clarified."
So why was the sentence halved? What "substantial assistance" did he provide?
"I explained to them why I had the medication," Odesnik said. "I proved to them medical information of why I had it, and for that, I was 100 percent honest with them. I never tried to lie to them. I was completely honest with them, and therefore, they understood the reasoning why I had it and they reduced my sentence."
Odesnik said unequivocally that he had never furnished information on other players to the ITF.
The Times story essentially described Odesnik as a pariah.
"There is someone in the locker room, and we are not sure if he is here to play tennis or to watch over what everyone else is doing," said 85th-ranked Sergiy Stakhovsky, who is also on the ATP Player Council. "That makes us all feel uncomfortable."
Odesnik, however, said he has a cordial relationship with a lot of the players.
"They say hi to me," he said. "At night, I don't go and have dinner with them. I have never been that way. I'm trying to keep to myself the best that I can, be friendly with people if they're friendly with me. That's it.
Wimbledon Alerts
For the latest results and news at the All England Club, text "Wimbledon" to 43776 and sign up for video alerts.
"[The ITF] seemed fit to let me play. So what do you want from me? I'm here; I'm doing the best that I can; I'm playing; I'm proving that I belong here."
Odesnik pleaded guilty to importing HGH into Australia in 2009 after Australian customs officials found the performance-enhancing substance in his possession at the airport in Melbourne. His ban began the following year. After serving a year, Odesnik returned to tennis in 2011 and played Challenger Tour events almost exclusively and lost the only ATP World Tour-level match he played after qualifying in Washington, D.C. This year, he has played in eight Challenger tournaments and is now 0-3 on the ATP World Tour.
His ranking is currently No. 135 -- not terribly far from his career best (No. 77) but vastly improved from the No. 1,381 spot he was in when the ban ended. With his current ranking, Odesnik will gain direct entry into some of the smaller tournaments, and if he has more success in Challenger events, he could soon be playing regularly in the Grand Slam events.
He lost in qualifying at Wimbledon but slipped into the main draw as a "lucky loser" when Frenchman Gael Monfils pulled out with an injury.
"The fact that I started from absolutely zero with no ranking points, no wild card, nothing, and a year and a half later I'm already almost top 100, playing in a Grand Slam event," Odesnik said, "I think that shows my level is there and I belong here. I'm playing well and I still have a bright future ahead of me."
Writer, Reporter
Greg Garber joined ESPN in 1991 and provides reports for NFL Countdown and SportsCenter. He is also a regular contributor to Outside the Lines and a senior writer for ESPN.com.
SPONSORED HEADLINES
MORE TENNIS HEADLINES
MOST SENT STORIES ON ESPN.COM
Wimbledon 2012 -- June 25-July 8

2012 champions
Women's singles:
Serena Williams
Men's singles:
Roger Federer
Women's doubles:
Serena and Venus Williams
Men's doubles:
Jonathan Marray and Frederik Nielsen
Mixed doubles:
Lisa Raymond and Mike Bryan
CourtCast
Slam Central »
Follow us on Twitter »
Watch on ESPN
Wimbledon.com »
Wimbledon alerts: Text "Wimbledon" to 43776
Day 13
Day 12
Day 11
Day 10
Day 9
Day 8