Andy Murray awaits Roger Federer
Updated:
July 6, 2012, 6:26 PM ET
ESPN.com news services
WIMBLEDON, England -- Sunday's final will be one for the ages.
Or one for the British.
For Roger Federer, it's Wimbledon final No. 8, while Andy Murray will become the first native son in a final at the All England Club since 1938.
More from ESPN.com

Roger Federer reached back to his vintage years and took down the best player in the world, ESPN.com's Greg Garber writes. Story
---

Andy Murray says history doesn't bother him. But it bothers plenty of other people, writes Howard Bryant. Story
---

Although Roger Federer played spot-on aggressive tennis, something was clearly wrong with Novak Djokovic, Ravi Ubha writes. Story
"I have one more match to go. I'm aware of that," said the 30-year-old Federer, who is 6-1 in Wimbledon finals. "Still, it's always nice beating someone like Novak, who has done so well here last year, the last couple years."
The 16-time Grand Slam champion beat last year's winner Novak Djokovic 6-3, 3-6, 6-4, 6-3 under the roof on Centre Court to reach a modern-era record eighth final. He is now one victory from equaling Pete Sampras' record of seven titles.
The Scottish Murray beat Jo-Wilfried Tsonga later Friday to reach the Wimbledon final for the first time, winning 6-3, 6-4, 3-6, 7-5.
"It will be one of the biggest matches of my life," Murray said. "I've had experience with Roger in finals of Slams before, and to use that to my advantage and learn from my mistakes and also the things he did well -- it's going to be a very tough match. He's playing great tennis as always. Yeah, I'm very excited."
If Federer wins Sunday's final, he'll take the No. 1 ranking from Djokovic and equal Sampras' record of 286 weeks as the top-ranked player.
Murray had lost in the semifinals in each of the last three years. He'll be the first British man to play in the Wimbledon final since Bunny Austin in 1938. The last British man to win the title was Fred Perry in 1936.
Minutes after the match ended, British prime minister David Cameron called the victory "great news."
"I'll be watching the final on Sunday and like the rest of the country, will be getting right behind Andy Murray," Cameron said in a statement. "I wish him the best of luck."
Murray has played in three major finals, losing in straight sets each time. Two of the matches, the 2008 U.S. Open and the 2010 Australian Open, were against Federer.
"Big relief," Murray said. "I just got to try to keep it together for the final."
Federer is aiming for his 17th in his 24th major final.
[+] Enlarge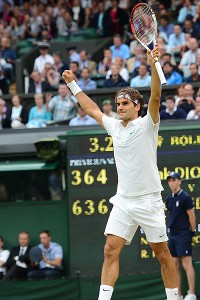 Leon Neal/AFP/GettyImagesRoger Federer will become the first player to compete in eight Wimbledon finals after beating Novak Djokovic on Friday.
"There's obviously a lot on the line for me in terms of winning here, the all-time Grand Slam record, world No. 1," Federer said. "I'm also going into that match with some pressure, but I'm excited about it. That's what I play for."
Federer and Djokovic went for winners on almost every point. But it was Federer who got the key points when they mattered in the third set.
"It's hard to fire bullets the whole time, so you try to also find some range. If he tees off first, it's hard to defend obviously," said Federer, who is now 1-0 against Djokovic on grass. "It's just not as easy to take that many balls out and come up with amazing shots time and time again. That's why I kept on attacking."
At 4-4, Djokovic had his chance with only his third break point of the match. Federer held with three service winners.
Moments later, while serving to stay in the set -- and, essentially, the match -- Djokovic gifted Federer a pair of break points by blasting an overhead long with much of the court open. He saved one, but Federer's overhead smash on the second gave the Swiss great the third set, and put him on the way to the final.
"(I) had unfortunately a bad service game on 5-4, and obviously he uses his opportunities when they're presented," said Djokovic, who had reached the last four major finals. "So you have to be always consistent. I wasn't."
The win improved Federer's semifinal record at the All England Club to 8-0. His only loss in the final came in 2008, when Rafael Nadal beat him 9-7 in the fifth set.
"I hope I can keep my nerves," Federer said, looking to the final. "I'm sure I can. Then hopefully win the match. But we'll see about that."
SportsNation: Under Pressure

Roger Federer is going for his seventh Wimbledon title, but he is up against Andy Murray, a man who all of Britain is rooting for. Who will win?
• Vote!
William Renshaw and Arthur Gore also played in eight Wimbledon finals, but that was when the defending champion received a bye into the following year's final. That rule was changed in 1922. Renshaw won seven titles and Gore three.
On Friday, Federer earned the only break of the first set to take the lead, and Djokovic returned the favor in the second set to even the score.
The third set turned out to be decisive, and Djokovic fought to stay in it right from the start. After holding easily, Federer gained a break point when Djokovic sent a forehand long. Although the Serb saved it, and eventually held to 1-1, it was the beginning of the end for him.
The next three games went quickly and on serve, but Federer then earned a pair of break points in the sixth game. Djokovic again saved them, the first after a 24-stroke rally that ended with Federer's forehand going wide.
"He was the better player. In the important moments he was aggressive, hitting from both sides," Djokovic said. "Obviously, that's what you expect when you play against Roger at the final four of a Grand Slam. I knew that."
Murray got off to a fast start, serving well and winning the first two sets easily. And after losing the third, he hung on in the fourth, breaking in the final game with a forehand return winner.
"At the beginning was tough because he played well," Tsonga said. "I mean, he didn't give me one chance, one chance to go to the net. He didn't miss one serve. He was really, really good."
Information from The Associated Press was used in this report.
Wimbledon 2012 -- June 25-July 8

2012 champions
Women's singles:
Serena Williams
Men's singles:
Roger Federer
Women's doubles:
Serena and Venus Williams
Men's doubles:
Jonathan Marray and Frederik Nielsen
Mixed doubles:
Lisa Raymond and Mike Bryan
CourtCast
Slam Central »
Follow us on Twitter »
Watch on ESPN
Wimbledon.com »
Wimbledon alerts: Text "Wimbledon" to 43776
Day 13
Day 12
Day 11
Day 10
Day 9
Day 8
MOST SENT STORIES ON ESPN.COM