Commentary
Serena rides huge serve to title
Updated:
July 9, 2012, 12:19 PM ET
By
Greg Garber
| ESPN.com
WIMBLEDON, England -- All along, this Wimbledon ladies final was Serena Williams' to win or lose.
What A Day For The Williams Sisters
As scripts are written, it was highly unlikely that this fortnight, which belonged to the Williams sisters, would end any other way than triumphantly. In the afternoon, Serena Williams won her fifth Wimbledon title and 14th Grand Slam with a three-set victory over Agnieszka Radwanska.
In the final match of the evening, Serena and Venus won their 13th Grand Slam doubles title with a 7-5, 6-4 win over Lucie Hradecka and Andrea Hlavackova of the Czech Republic.
The tournament has been a coronation for Venus and Serena, who have won 10 of the past 13 Wimbledon singles titles and now five Wimbledon doubles championships.
The Czechs, seeded sixth, played an excellent match, parrying the serves of Venus and Serena, power for power, with neither team scoring more than two points on the other's serve for the first four games of the first set. But the Williams sisters took advantage of a late break at 5-5 in the first and an early break at 2-2 in the second.
Victory salved the wistfulness of the tournament. Serena hadn't won a major since Wimbledon two years ago but tore through the tournament with 102 aces in seven matches against only 10 double faults.
Meanwhile, Venus, a five-time champion here who qualified as a wild card, began the tournament bounced from the singles draw with an awful 6-1, 6-3 loss to Elena Vesnina in the first round but ended blasting an ace wide on triple match point. Perhaps she played her last Wimbledon but will return here in three weeks for the Olympics. It would be difficult to duplicate the wild successes of this week.
--Howard Bryant
Her huge serve and powerful groundstrokes took her to a one-sided first set, underlining the notion that this is what happens when you throw out a 13-time Grand Slam singles champion against a first-time major finalist.
And then Serena's fraying, 30-something nerves cost her the second set. As Agnieszka Radwanska lulled her opponent to sleep and into some truly alarming passivity, you could see Williams fighting herself. On the rare occasions when she moved forward with conviction, she'd scream at herself to do it more often.
But then, trailing by a game in the third set, Serena summoned something from within, a flash of muscle memory, a whiff of her old invincibility. She stroked four straight aces -- in a startling span of 49 seconds -- and suddenly she was back.
Winning the last five games, Williams took the match 6-1, 5-7, 6-2.
Thus, two years after she won her last major here at Wimbledon, 18 months after she survived a series of health scares that left her wondering if her playing career was over, Williams raised a silver championship trophy again.
But first she fell flat along the baseline and buried her face in her hands. She dashed into the stands and hugged her father Richard, sister Venus, mother Oracene Price and sister Isha -- the family that sat with her during those long days in the hospital, supported her through the doubt.
"There was a moment I just remember I was on the couch and I didn't leave for two days," Serena said. "I was praying, like, 'I can't take any more. I've endured enough. Let me be able to get through this.'
"I didn't give up. I was just so tired at that point. I had a tube in my stomach and it was draining constantly. Gosh, I mean, right before that I had the blood clot. I had lung problems, then I had two foot surgeries. It was a lot. I just felt down, the lowest of lows."
She won't be the world's No. 1-ranked player come Monday -- believe it or not, Victoria Azarenka, Radwanska and Maria Sharapova will all be ahead of her -- but Serena isn't concerned with that rather arbitrary calculation. The bottom line is that she has cornered the market on hardware.
This was her 14th Grand Slam singles title, the most of her generation, and the same number as Pete Sampras, who held the men's Open era record before he was overtaken by Roger Federer. Serena now has five Wimbledon titles, equaling sister Venus' total.
"I've always wanted everything that Venus had," she said, laughing, but serious at the same time. "I had to copy you again. Sorry."
Which brings us to this rather amazing piece of work: In this millennium, the Williams sisters' sibling rivalry has produced 10 of the past 13 Wimbledon titles. Only Maria Sharapova, Amelie Mauresmo and Petra Kvitova have managed to crash the sisters' party at the All England Club.
In terms of tennis, that is a monopoly and a dynasty at the same time. Overall, Serena and Venus -- who were later scheduled to play in the ladies doubles final -- have won a total of 21 majors. The rest of the active players have combined for 16.
Seeing Serena, at the age of 30, rip through this field -- she personally escorted No. 2-seeded Azarenka and No. 4 Petra Kvitova, the defending champion, from the grounds -- was uplifting. Her serve here was dominant.
She fired 102 aces in seven matches -- breaking her previous mark of 89 set in 2010 -- leavened by only 10 double faults.
Radwanska, 23, was trying to become the first Polish player of either sex to win a Grand Slam singles title, which would have given her the No. 1 ranking. When she won the second set Saturday, it marked the first time she had ever won a set versus Serena.
"I'm still shaking so much," an emotional Radwanska said afterward. "I think I had the best two weeks of my life. I was just happy to be playing here in the final."
[+] Enlarge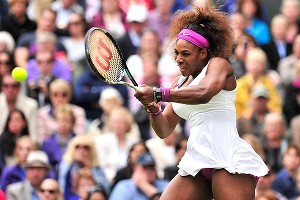 Glyn Kirk/AFP/Getty ImagesSerena Williams now has as many Grand Slam titles as Pete Sampras.
Heading into the match, Serena was a heavy favorite. To win a single pound, you'd have to risk seven.
There was a timeless quality to her run here. Serena is the first 30-something winner at Wimbledon since Martina Navratilova won in 1990 at the age of 33. Navratilova was on hand Saturday and nodded her head as she applauded Serena's effort.
It was less than six weeks ago that Serena was humiliated in the first round of the French Open. After sulking for a few days in her Paris apartment, she decided to do something about it. She called Patrick Mouratoglo, who runs a tennis academy, and worked with the famed coach for eight days.
Serena has always been a big-game player. Sure, her Australian Open run was stopped in the fourth round by Ekaterina Makarova, and yes, Virginie Razzano upset Serena in Paris. But when you drop her into a meaningful match against a top-notch player, Serena's eyes widen. Since coming back a year ago, Serena is 11-0 against top-five players -- and she hasn't dropped a set.
And when it was over and she was holding the Venus Rosewater Dish, Serena smiled in the direction of her box. She started naming their names for the fans in the stands and the millions watching on television.
Her voice wavered and you got the idea that this was her sweetest victory ever.
But, quite possibly, not the last.
She was asked, what could top this?
"Are you kidding?" Serena asked incredulously. "The [2012] U.S. Open, the Australian Open, the French Open, Wimbledon 2013."
Writer, Reporter
Greg Garber joined ESPN in 1991 and provides reports for NFL Countdown and SportsCenter. He is also a regular contributor to Outside the Lines and a senior writer for ESPN.com.
Wimbledon 2012 -- June 25-July 8

2012 champions
Women's singles:
Serena Williams
Men's singles:
Roger Federer
Women's doubles:
Serena and Venus Williams
Men's doubles:
Jonathan Marray and Frederik Nielsen
Mixed doubles:
Lisa Raymond and Mike Bryan
CourtCast
Slam Central »
Follow us on Twitter »
Watch on ESPN
Wimbledon.com »
Wimbledon alerts: Text "Wimbledon" to 43776
Day 13
Day 12
Day 11
Day 10
Day 9
Day 8
MOST SENT STORIES ON ESPN.COM