Commentary
How to fix tennis' big problems
Maybe it was from watching "Superman II" so many times on airplanes crisscrossing the country ("General Zod does not take orders. He gives them," said the sultry, deadly Ursa). Or maybe it was from scene-hopping "The Avengers" in the dentist's office the other day ("In the end," Loki said to the crowd in Stuttgart, "you will always kneel."). But more likely it was from looking at Queen Elizabeth's face on the two unspent 50-pound notes I added to my wallet in preparation for next week's trip to The Championships at Wimbledon, but whatever the reason, having more power -- ultimate power -- has suddenly become more appealing.
It would mean different things for me in different sports. We'll get to my desire to eliminate six-foul disqualifications in the NBA, to undo interleague play in baseball and to widen the field and dump the salary cap in the NFL later, because today's focus is: Just what would I change if I were the supreme monarch of tennis? There are four immediate pieces of the game I would change, if I held the scepter, and as ruler of the game, each would obviously make the sport better. Of this, there is no doubt.
1. Bonus ranking points
If I Were King ...
As a reminder, here are the points awarded for various tournaments.

GRAND SLAM

Champion: 2000
Finalist: 1200
Semifinalist: 720
Quarterfinalist: 360
Fourth round: 180
Third round: 90
Second round: 45
First round: 20

MASTERS 1000

Champion: 1000
Finalist: 600
Semifinalist: 360
Quarterfinalist: 180
Third round: 90
Second round: 45
First round: 10

500 LEVEL

Champion: 500
Finalist: 300
Semifinalist: 180
Quarterfinalist: 90
Third round: 45
Second round: 20
First round: 0

250 LEVEL

Champion: 250
Finalist: 150
Semifinalist: 90
Quarterfinalist: 45
Third round: 20
Second round: 10
First round: 0

Under my rule, the bonus system would look like this:

250 level title defense: 100-point bonus
500 level: 200 points
1000 level: 300 points
Grand Slam: 500 points

After beating
David Ferrer
to win his eighth French Open,
Rafael Nadal
actually
dropped
in the ATP rankings from fourth to fifth. The reason: Tennis' ranking system is designed to demand consistency but not exactly to reward it. Players must defend their ranking points with an equal showing at the same tournament the following year and can only gain points by bettering their result.
Ferrer, it should be remembered, did just that statistically, getting destroyed by Nadal in the 2012 semifinals only to be destroyed again by him in the 2013 final. Therefore, Ferrer gained 480 ranking points for graduating from semifinal to final, whereas Nadal gained nothing for merely being the first man to ever win the same major eight times. Nadal bit the championship trophy, but Ferrer passed him in the rankings. The ranking system is correct in its judgment that the best way to measure greatness is consistency (Roger Federer, even Tomas Berdych) over comets (John Isner, Gael Monfils). What it doesn't do, however, is appreciate just how difficult it is to even reach a final, never mind win titles consecutively.
Call it a statistical anomaly, but the same thing occurred with the women. Maria Sharapova, who was the defending French Open champion heading into the French, reached the final again. She got mashed by Serena Williams and dropped in the rankings to third behind Victoria Azarenka, whom she beat in semifinals -- all because Azarenka bettered her result from a year before.
As king, I would change this. I would immediately implement a bonus system for repeating as champion (and perhaps even for having a chance to defend the title by reaching the final). The bonus system wouldn't apply to anything but repeating as champion. (I mean, who should be rewarded for getting knocked out in the second round of a tourney only to do it again the following year?) As a benevolent reminder, a breakdown of points awarded for each of the ATP-level tournaments is on the right.
2. Rotating year-end world championships
The Barclays year-end championship, played at the O2 in London annually, is a smash hit. The top eight players in the world play to packed houses and strobe lights in a rock-star atmosphere in one of the world's greatest cities. The year-end finals were once played at Madison Square Garden, moved to Houston and now appear to have a permanent home and a perfect setup.
The players on the cusp of the eight fight hard to reach the elite, invitation-only final. Reaching London is one of the few victories a player can achieve without having to overcome the big three to do it.
Tennis isn't always great at maximizing its exposure and its talents, but it has done both to great success with Barclays. Why, then, would your king mess with success?
Part of the reason is the never-ending barstool battle between the Roger Federer camp (Roger That!) and that of Rafael Nadal (Vamos, Rafa!). Each side molds and massages the numbers to tilt the Greatest of All Time debate into their favor. The Federer minions say their man's greatness over Nadal is solidified by Nadal having never won a year-end championship.
Beating Federer in a year-end final is like beating Duke at Cameron Indoor or the Packers in a playoff game at Lambeau. It happens, but not very often. Federer playing on an indoor hard court accentuates his mastery of perfection. His serve without the equalizer of weather conditions is incomparable. The speed of an indoor hard court increases an already devastating forehand. It is no wonder he has won six titles.
The other reason is that it is more democratic is to rotate the surface to better reflect the diversity of the tour and accentuate the strengths of all players instead of just the hard-court masters. The PGA Championship rotates venues. A year-ender on grass or clay might have produced different results over the years. Of course, while more representative of the game, this one isn't exactly practical financially or logistically. By November, players have been playing on hard courts since the end of Wimbledon and are used to the surface. Still, it would be fun to see.
3. Turn Davis Cup into an event
[+] Enlarge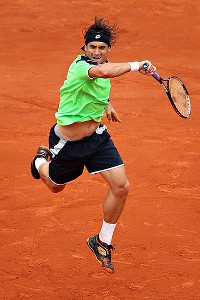 Clive Brunskill/Getty ImagesDavid Ferrer is one of many who would relish the prospect of a better Davis Cup format.
From my perspective, the best court to watch a tennis match is Court No. 1 at Roland Garros, the famed Bullring. (As a friendly reminder, go see it. The French Federation's plan to renovate Roland Garros by 2016 includes demolishing the Bullring.) It is compact and intimate and historic, the names of the French Davis Cup championship teams etched into the upper moldings around the top ring of the stadium.
The Bullring was built -- as was all of Roland Garros -- for the French defense of the Davis Cup in 1928, and the event is truly one of the great international sporting events. Yet in today's modern game, Davis Cup has become as invisible as it is quaint, while golf's international signature, the Ryder Cup, is a hit, both commercially and to the players.
The players love Davis Cup, its patriotism and teamwork, and if the world watched a little more closely, perhaps it would treat Davis cup terror David Ferrer (23-4, 16-0 on clay), with much more respect. It is terrific fun with a fantastic history, especially in the United States. The last great American tennis victory on the men's side was winning the 2007 Cup. The problem is with the year-round calendar focusing on Grand Slams and then the Asian swing, there's no good time to play it. Perhaps March -- following the Australian Open but before the clay season -- would be optimal.
Tennis needs to re-imagine the Davis Cup into a Ryder Cup-style event: one week of international tennis every two years, flags waving, the world watching. Perhaps some elements of the tournament would change. (Maybe best-of-three sets instead of best-of-five.) During the World Series last year, I ran into U.S. Davis Cup captain Jim Courier, who would love such a revamp.
4. Install a fifth-set tiebreaker in all majors
Throughout the French Open, especially highlighted by the Isner-Tommy Haas marathon that saw Haas blow 12 (count 'em, twelve) match points, John McEnroe continued his crusade to end the winner-take-all win-by-two fifth set that is the staple of the remaining three majors and adopt the US Open-style fifth-set tiebreaker.
McEnroe's logic is sound: A fifth set of a major by itself is emotionally and physically grueling. Playing a 20-18 fifth set, say, in the second round is eventually likely to drain the victorious player for the remaining rounds. All of this is especially true in today's era of punishing baseline rallies.
Add to McEnroe's concerns the debilitating weather delays that destroy scheduling during a major. The combination puts players trying to win a major at a disadvantage. Nor should we forget the Olympics last summer, where two matches -- Jo-Wilfried Tsonga's 25-23 win over Milos Raonic and Roger Federer's 19-17 win over Juan Martin del Potro -- clearly fatigued both for their next-round matches.
Of course, the competition is what makes these long sets compelling. The tension of holding serve, the bright light of hope returning up 0-30 is all part of the drama, and the drama is why we watch. Isner, obviously, skews the numbers. He was involved in the famous 70-68 Wimbledon match with Nicholas Mahut that was everything except great tennis. He was also involved in the 18-16 French Open fifth-set loss to Paul-Henri Mathieu. There is a remedy for these problems: break serve.
There is another concern: Why make a rules change to something that doesn't happen that often? According to Greg Sharko, the ATP director of media information, there have been 97 Grand Slam matches since 2000 that went to a double-digit fifth-set scoreline. He also sent along this handy chart of fifth-set scores and occurrences of each since 2000 as a resource:
10-8: 30 times 11-9: 25 times
12-10: 14 times
13-11: 6 times
14-12: 3 times
15-13: 3 times
16-14: 8 times
17-15: 3 times
18-16, 19-17, 20-18, 21-19, and obviously, 70-68: once
I'm still not sure how I feel about this one. The change is more to prevent players from being penalized by weather in mid-tournament. However, few tennis players would trade Nadal's 9-7 fifth-set win over Federer in the classic 2008 Wimbledon final or Federer's 16-14 clincher over Andy Roddick the following year or Djokovic and Nadal's 9-7 thriller in this year's French Open semi two weeks ago. Maybe this one needs to be tabled for more consideration.
As for now, your king has spoken.
Senior Writer
Senior Writer, ESPN.com and ESPN The Magazine
Author of "The Last Hero: A Life of Henry Aaron"
Author of "Juicing the Game"
SPONSORED HEADLINES
MORE TENNIS HEADLINES
MOST SENT STORIES ON ESPN.COM
Wimbledon 2013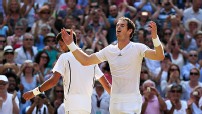 Andy Murray ended a 77-year British nightmare with his long-awaited Wimbledon championship. Greg Garber »
VIDEO
EDITORS' PICKS
Why Eugenie Bouchard and Maria Sharapova are the best of enemies.
Bodo »

Nick Kyrgios shows his way in the winning way.
Wilansky »

Here are the week in words from the Aussie Open.
Peter Bodo »