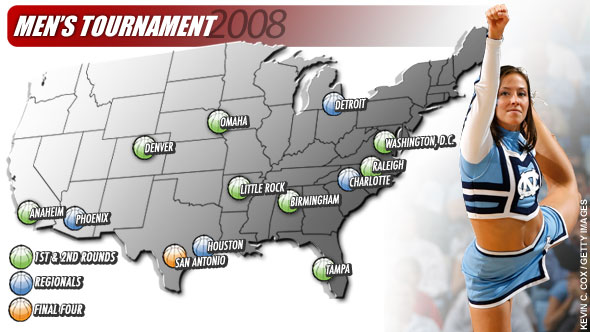 Mouse over the basketballs above or click on the list of cities below to get to the NCAA tournament host of choice lickety-split.

Anaheim | Denver | Omaha | Washington | Birmingham | Little Rock
Raleigh | Tampa | Charlotte | Phoenix | Detroit | Houston | San Antonio
---
• Photo gallery: Final Four and more | Also: Women's Tournament Travel Guide
Recently we read how Pat Forde got his "Bucket List" wish to be the Stanford Tree.
A few years back, my son, Cam, then 6, got to be on the Stanford Tree … but it was closer to a nightmare.
The Tree and the Cardinal came to Seattle for the opening rounds of March Madness, and Cam and I were on hand as fans of the upstart Wolf Pack of Nevada, my alma mater.
Cam was clearly not happy when the Tree spotted him as we made our way to the arena and promptly hoisted him onto its top branch. Later we saw the Tree get burned when Alabama upset the top-seeded Cardinal in what would be Mike Montgomery's last game at the Stanford helm and Josh Childress' collegiate swan song.
Better, we witnessed No. 10-seed Nevada dance through Michigan State and second-seeded Gonzaga and into the Sweet 16. It was my finest sports experience. And Cam still talks about being our section's only Wolf Pack fans, howling in a sea of Gonzaga boosters.
No, there's nothing like the Madness March – following your team and road-tripping to the NCAA Basketball Tournament.
Few experiences in sports draw followers of so many squads to one spot – indeed, fans sporting so many colors that even Benetton would be jealous.
Expect spontaneous yells, high-fives and even embraces when like-minded strangers pass, identified by their attire and bonded by the school they cheer. You'll have the chance to see the mighty fall and Cinderella punch her ticket to the ball. Perhaps it will be your last opportunity to see in person collegians before they turn pro.
But know there will be a collective, palpable energy rising above a court where the game is pure and emotions raw, be they shocked or awed, elated or dejected, euphoric or despondent.
Will you be in the house for the next buzzer beater, upset, astounding play, lousy call, lucky shot, poor decision, rim-rattling dunk or movin'-on-to-the-NBA game?
Be there. The 2008 Tournament Travel Guide will help you get to your destination and make the most out of your hoops adventure:
FIRST AND SECOND ROUNDS – MARCH 20 and 22
ANAHEIM
• Arena: Honda Center
• Host: Big West Conference
• Address: 2695 East Katella Ave., Anaheim, CA 92806
• Phone: 714-704-2500
• Web site | Seating chart | Buy tickets
• Nightlife area: Irvine Spectrum (71 Fortune Drive, Irvine; 949-753-5180) – with a 21-screen movie theater, an outpost of the Improv Comedy Club chain, fast food like Chipotle or higher-end dining like The Cheesecake Factory, the Spectrum has something for everyone, including the Fox Sports Grill, Champps Restaurant and Bar and our favorite sports bar, the Yard House; Dave & Buster's is family friendly for those double-dipping at Disneyland with the kids.
• Sports bars: The National Sports Grill & Bar (450 N. State College Blvd., Orange; 714-935-0300) – more than 60 TV screens and a location diagonally across from Angel Stadium make this one of the most lively places to view sports in Orange County. Also ESPN Zone (1545 Disneyland Drive; 714 300-3776) – whether you're watching games or playing games, ESPN Zone (one of eight across the country) offers up the ultimate sports bar experience; located is in the heart of Downtown Disney.
• Restaurant: JT Schmid's (2610 E. Katella Ave.; 714-634-9200) – more of a brewpub than a fine restaurant, it's exactly what you may be seeking prior to or after an event at the Honda Center, which is situated just across the street.
• Cheap eats: Wahoo's Fish Tacos (13791 Newport Ave., Tustin; 714-544-1154) – sample local flavor at an Orange County original that started in nearby Costa Mesa.
• Attractions: Angel Stadium, Disneyland, Newport Beach, Richard Nixon Library and Birthplace, and South Coast Plaza.
• More in the ESPN SportsTravel City Guide: Anaheim
DENVER
• Arena: Pepsi Center
• Hosts: Mountain West Conference and Colorado State University
• Address: 1000 Chopper Circle, Denver, CO 80204
• Phone: 719-487-2479
• Web site | Seating chart | Buy tickets
• Nightlife areas: LoDo (Lower Downtown Historic District), Capital Hill, Cherry Creek, Highland.
• Sports bars: The Sports Column (1930 Blake St.; 303-296-1930) – voted among the top-25 sports bars in the country by reputable sports magazines; and ESPN Zone (1187 16th St.; 303-595-3776).
• Restaurants: Elway's (2500 E. First Ave.; 303-399-5353) – voted the Best Taste of Denver, Elway's is big on meat, with hand-cut prime steaks, a double-cut filet and a 33-ounce porterhouse. Fish features include ahi tuna, Japanese sea bass and Australian lobster. Also enjoy The Capital Grille (1450 Larimer St.; 303-539-2500) – "complimentary valet parking makes it easy to succumb to the urge for the perfect steak," according to the Web site.
• Cheap eats: Pete's Kitchen (1962 E. Colfax Ave.; 303-321-3139) – open 24 hours, a diner institution since 1942 and one-stop shopping for what's billed as the best hash browns, best breakfast burrito, best late-night dining and top spot to nurse a hangover in town.
• Attractions: Denver Art Museum, U.S. Mint, Denver Museum of Nature and Science, Denver Zoo, Larimer Square and all sorts of skiing (think classics like Vail, Aspen, Breckenridge, as well as cheaper and closer options such as Eldora, Loveland and Winter Park).
• More in the ESPN SportsTravel City Guide: Denver
OMAHA
• Arena: Qwest Center Omaha
• Hosts: Missouri Valley Conference and Creighton University
• Address: 455 N. 10th St., Omaha, NE 68102
• Phone: 402-341-1500
• Web site | Seating chart | Buy tickets
• Nightlife area: Old Market Area, four blocks from the arena and replete with bars, food and entertainment; Upstream Brewing Company and Urban Wine Company are big favorites here.
• Sports bar: Farrell's Elite Sports Bar (902 Dodge St.; 402-884-8818) – 23 HD plasma flat-screen TVs, Las Vegas-style ticker with odds and a sports book feel, and sandwiches, wings and other appetizers.
• Restaurants: Omaha Prime (415 S. 11th St.; 402-341-7040) – some of the best steaks in town, along with various seafood dishes, potato delicacies and an extensive wine list; frequented by the likes of Warren Buffett and Alex Rodriguez. Other amazing steak experiences include Gorats Steak House (4917 Center St.; 402-551-3733); Johnny's Italian Steakhouse (305 N. 170th St.; 402-289-9210); and Cascio's Steakhouse (1620 S. 10th St.; 402-345-8313).
• Cheap eats: Sam and Louie's New York Pizza (several locations, but try 1125 Jackson St.; 402-884-5757) – mouthwatering 'za, pasta and other Italian food, as well as salads and more.
• Attractions: Henry Doorly Zoo, Joslyn Art Museum, birthplace of President Gerald Ford, Rosenblatt Stadium (home of the College World Series), Horseshoe Casino (in Council Bluffs, Iowa), Louis and Clark Landing, Strategic Air Command Museum, Western Heritage Museum and Lauritzen Gardens.
WASHINGTON, D.C.
• Arena: Verizon Center
• Host: Georgetown University
• Address: 601 F St. N.W., Washington, DC 20004
• Phone: 202-784-6222
• Web site | Seating chart | Buy tickets
• Nightlife areas: Adams Morgan, Georgetown, The U Street District.
• Sports bars: Fast Eddie's Sports & Billiards (1520 K St. N.W.; 202-638-6800) – pizza, wings, nachos, potato skins, pool and lots of on-court viewing; Grand Slam Sports Bar (1000 H St. N.W.; 202-637-4789) – pop-a-shot and pool table and plenty of bar food and TVs; and ESPN Zone (555 12th St. N.W.; 202-783-3776).
• Restaurant: Rosa Mexicano in Penn Quarter (575 7th St. at F Street Northwest; 202-783-5522) – how about Guacamole en Molcajete, made in a traditional lava-rock mortar, or Tablones (grilled boneless short ribs served with a tomatillo-chipotle sauce, rajas and charro beans) or Pescado Relleno de Jaiba (seared red snapper served with crab)? Top it off with a pomegranate margarita.
• Cheap eats: Ben's Chili Bowl (1213 U St. N.W.; 202-667-0909) – Griffith Stadium was home to the Washington Senators when this joint opened in 1958, and its classic eats include the chili dog, chili half-smoke (listed on the Web site as Bill Cosby's fave), chili burger sub and, of course, Ben's Spicy Homemade Chili Sauce.
• Attractions: Chinatown, the National Mall and its memorials, the Newseum, D.C. Tidal Basin and Fords Theatre, to name merely a handful.
• More in the ESPN SportsTravel City Guide: Washington, D.C.
FIRST AND SECOND ROUNDS – MARCH 21 and 23
BIRMINGHAM
• Arena: BJCC Arena (Birmingham-Jefferson Convention Complex)
• Host: Southeastern Conference
• Address: 2100 Richard Arrington Jr. Blvd. North, Birmingham, AL 35203
• Phone: 800-732-4849
• Web site | Seating chart | Buy tickets
• Nightlife area: Five Points South Entertainment District.
• Sports bar: On Tap Sports Cafe (737 29th St. South; 205-320-1225) – let's start with dozens of beer varieties, add wings, hoagies, Cajun crawfish and chili cheese fries, then top with more TVs than you can count.
• Restaurants: Bottega (2240 Highland Ave. South; 205-939-1000) – fantastic Italian fare in a warm atmosphere, and upscale but not overpriced; Ocean (1218 20th St. South; 205-933-0999) – if you want a little swank and to be in the hip crowd and seafood that doesn't disappoint; Ruth's Chris Steak House (2300 Woodcrest Place; 205-879-9995) – the New Orleans-based chain grills the city's best steaks, so be sure to order the filet mignon or the cowboy ribeye; and Highlands Bar and Grill (2011 11th Ave. South; 205-939-1400) – a revered dining house with such delicacies as veal scaloppine, wild striped bass with rice pilaf and crawfish meuniere, and "Canard Nantais" (North Carolina duck) on the menu.
• Cheap eats: Dreamland Bar-B-Que Ribs (1427 14th Ave. South; 205-933-2133) – folks love their barbecue in Birmingham, and many would pick this joint if they had only one choice.
• Attractions: Alabama Jazz Music Hall of Fame, Barber Vintage Motorsports Museum, Birmingham Civil Rights Institute, Vulcan Park (home of the world's largest cast-iron statue, which depicts Vulcan, the Roman god of the forge), Sloss Furnaces, Birmingham Race Course (greyhound racing), Alabama Sports Hall of Fame and Elmwood Cemetery (last resting place of Bear Bryant).
LITTLE ROCK
• Arena: Alltel Arena
• Host: University of Arkansas-Little Rock
• Address: One Alltel Arena Way, North Little Rock, AR 72114
• Phone: 501-975-9000
• Web site | Seating chart | Buy tickets
• Nightlife area: President Clinton Boulevard, between the River Market and Main Street, with bars, clubs, restaurants and live music, all accessible by free trolley.
• Sports bar: West End Smokehouse & Tavern (215 N. Shackleford Road; 501-224-7665) – cavernous, midrange dining with more flat-screen TVs than you can shake a pulled pork sandwich at.
• Restaurant: Vino's Brewpub (923 W. Seventh St.; 501-375-8466) – the microbrews, pizzas and lavish calzones distinguish an eatery that's low-key bordering on funky.
• Cheap eats: Midtown Billiards (1316 Main St.; 501-372-9990) – its late-night hamburgers keep the city's most hopping dive bar packed till 5 a.m.
• Attractions: William J. Clinton Presidential Library & Museum, Central High School (scene of landmark1957 desegregation), Arkansas state Capitol building, Diamond Bear Brewery, Big Dam Bridge, USS Razorback, Pennacle Mountain State Park and the town of Hot Springs, Ark., with its 1930s-era grand hotels, horse track and 145-degree water bubbling out of the ground at Hot Springs National Park.
RALEIGH
• Arena: RBC Center
• Host: North Carolina State University
• Address: 1400 Edwards Mill Road, Raleigh, NC 27607
• Phone: 919-865-1510
• Web site | Seating chart | Buy tickets
• Nightlife areas: Downtown, especially around Fayetteville Street (Raleigh Times Bar, The Big Easy, Yancy's!), and Glenwood South (Glenwood Avenue and Peace Street to Glenwood Avenue and Hillsborough Street); includes sports bars (Hi5, Stool Pigeons), upscale dining (Sullivan's Steakhouse, Vin, 518 West, Bistro 607, Globe, 42nd St. Oyster Bar & Seafood Grill), and bars and grills (Hibernian Pub, Mellow Mushroom, Mojoe's Burger Joint, Armadillo Grill).
• Sports bars: Fox and Hound Pub & Grille (4158 Main at North Hills Street, Suite 111; 919-781-4495) – upscale, yet casual, where the sophisticated sports hounds gather. Also try Playmakers (3801 Hillsborough St.; 919-743-5544), and High Park Bar and Grille (625 E. Whitaker Mill Road; 919-833-4527).
• Restaurants: J. Betski's (10 W. Franklin St., Suite 120; 919-833-7999) – "a sampling of the delicious cuisine and fine beverages of central and eastern Europe," the Web site states; and Fins Restaurant (110 E. Davie St.; 919-834-6963) – an intimate seating with seafood as fresh as you can get in town.
• Cheap eats: Ole Time Barbecue (6309 Hillsborough St.; 919-859-2544) – eastern North Carolina-style barbecue, with fried chicken and sides); Clyde Cooper's Barbecue (109 E. Davie St.; 919-832-7614) – a Raleigh institution with generous portions; and Char-Grill (618 Hillsborough St.; 919-821-7636) – flame-grilled burgers, fried and shakes … yum-yum!
• Attractions: North Carolina Museum of Art, North Carolina Museum of Natural Sciences, IMAX Theatre (at Marbles Kids Museum), North Carolina State Capitol Building and Governor's Executive Mansion.
• Ultimate Golf Getaways: The Carolinas
TAMPA
• Arena: St. Pete Times Forum
• Host: University of South Florida
• Address: 401 Channelside Drive, Tampa, FL 33602
• Phone: 813-301-2500
• Web site | Seating chart | Buy tickets
• Nightlife area: Following a popular trend, the NCAA has designated four restaurants as regional hosts in the Channelside District for fans to gather.
• Sports bars: Walters Press Box Sports Emporium & Eatery (222 S. Dale Mabry Highway; 813-876-3528) – we couldn't have said it better than this joint's title does; and Beef O'Brady's (15784 N. Dale Mabry Highway; 813-969-4647) – tasty wings, burgers, wraps and salads and soups.
• Restaurants: Bern's (1208 S. Howard Ave.; 813-251-2421) – internationally renowned for its aged steaks and wine; and Mise En Place (442 W. Kennedy Blvd.; 813-254-5373) – creative entrees and the critics are all falling down over its desserts.
• Cheap eats: Capdevila at La Teresita (3246 W. Columbus Drive; 813-879-4909) – delicioso Spanish and Cuban dishes; and Mel's Hot Dogs (4136 E. Busch Blvd.; 813-985-8000) – serving Chicago-style franks since 1973, near Busch Gardens.
• Attractions: Busch Gardens features roller-coaster rides and a zoo with a replica of an African plain. Lowry Park Zoo has more than 2000 animals on its 56 acres. The Tampa Bay area has nearly two dozen beaches, with some of the most popular at Fort De Soto Park, Caladesi Beach and Clearwater Beach.
• More in the ESPN SportsTravel City Guide: Tampa
NEXT PAGE (for Regionals and Final Four)