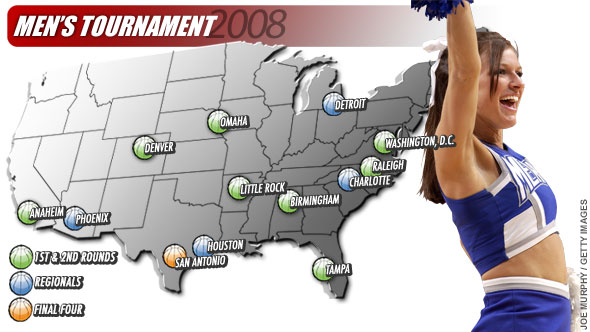 Mouse over the basketballs above or click on the list of cities below to get to the NCAA tournament host of choice lickety-split.

Anaheim | Denver | Omaha | Washington | Birmingham | Little Rock
Raleigh | Tampa | Charlotte | Phoenix | Detroit | Houston | San Antonio
---
• Photo gallery: Final Four and more | Also: Women's Tournament Travel Guide
REGIONALS – MARCH 27 and 29
CHARLOTTE – East Regional
• Arena: Charlotte Bobcats Arena
• Host: University of North Carolina, Charlotte
• Address: 333 E. Trade St., Charlotte, NC 28202
• Phone: 704-688-9008
• Web site | Seating chart | Buy tickets
• Nightlife areas: Uptown District, University District, NoDa (North Davidson).
• Sports bars: Fox and Hound Pub & Grille (330 N. Tryon St.; 704-333-4113) – the design and furnishings say English pub, but the TV in the bathroom screams American sports bar; and Graduate Food & Pub (123 W. Trade St.; 704-358-3024) – a grittier and cheaper option, with a solid beer selection and decent food.
• Restaurants: Cajun Queen (1800 E. Seventh St.; 704-377-9017) – New Orleans cuisine with live jazz seven nights a week; and Pewter Rose (1820 South Blvd.; 704-332-8149) – a restaurant and a nightclub, in a turn-of-the-century textile warehouse, with a great Sunday brunch, and, oh, dare we say, scallop-stuffed flounder and tea-smoked duck.
• Cheap eats: Mert's Heart and Soul (214 N. College St.; 704-342-4222) – serves perhaps the best down-home cooking in the city; the blackened pork chops are to die for, as are the fried chicken, shrimp and grits, and fried catfish with Charleston red rice. Also try Penguin Drive-In (1921 Commonwealth Ave.; 704-375-6959) – one online reviewer called it junk food at its finest! Enjoy one of Charlotte's finest burgers with fried pickles on the side.
• Attractions: Mint Museum of Art, Wing Haven Gardens & Bird Sanctuary, South End District, historic Latta Plantation, Discovery Place, Crowders Mountain State Park and Dale Earnhardt Inc. (pay tribute to the late racing legend in the heart of NASCAR country at his corporate headquarters in Mooresville, N.C.).
• More in the ESPN SportsTravel City Guide: Charlotte
• Ultimate Golf Getaways: The Carolinas
PHOENIX – West Regional
• Arena: US Airways Center
• Host: Arizona State University
• Address: 201 E. Jefferson St., Phoenix, AZ 85004
• Phone: 480-727-0000
• Web site | Seating chart | Buy tickets
• Nightlife areas: Scottsdale, specifically the area in and around Old Scottsdale, is an oasis of hip clubs and bars; Stetson Drive, between Fifth and Sixth, is the epicenter. The Mill Avenue District, adjacent to Arizona State University in Tempe, rocks with a college-age crowd.
• Sports bar: Majerle's Sports Grill (24 N. Second St.; 602-253-9004) – Dan Majerle opened this downtown sports bar when he played for the Suns in the '90s. Majerle, the player, is long gone. But Majerle's Sports Grill is practically a Phoenix institution, especially if you're pairing it with an event at the nearby US Airways Center.
• Restaurant: Old Town Tortilla Factory (6910 E. Main St., Scottsdale; 480-945-4567) – classic Mexican dishes served with fresh tortillas, made on site; the scene at the courtyard bar alone is worth a visit.
• Cheap eats: 5 & Diner (several locations, so try 5220 N. 16th St., 602-264-5220; and 5025 Arizona Mills Circle, Tempe, 480-752-1958) – from breakfast to dessert, served 24 hours a day throughout the Valley of the Sun.
• Attractions: Arizona Biltmore, Chase Field, Desert Botanical Garden, University of Phoenix Stadium and Wrigley Mansion.
• More in the ESPN SportsTravel City Guide: Phoenix
• Ultimate Golf Getaways: Phoenix
REGIONALS – MARCH 28 and 30
DETROIT – Midwest Regional
• Arena: Ford Field
• Host: University of Detroit Mercy
• Address: 2000 Brush St., Detroit, MI 48226
• Phone: 313-262-2008
• Web site | Seating chart | Buy tickets
• Nightlife area: Downtown, Greektown, Theater District, Warehouse District, Royal Oak, Novi, Birmingham, Bloomfield Hills, Pontiac.
• Sports bar: Cheli's Chili Bar (47 E. Adams Ave.; 313-961-1700) – Chris Chelios, the great Red Wings defenseman, owns this downtown Dearborn sports bar. It is Red Wings heaven. Watch games on any of its three-dozen flat-screen TVs. The menu goes beyond bar food. There's seafood, chicken, baby-back ribs and sandwiches … and more than 20 beers on tap to wash it down. Also venture to Cobo Joe's Sports Bar and Grill (422 W. Congress St.; 313-965-0840) – again, this is Red Wings country; the walls are lined with team memorabilia and there's a bar with a dance floor, pool tables and dartboards.
• Restaurant: The Rattlesnake Club (300 River Place Drive; 313-567-4400) – bright, airy room overlooks the city skyline and the Detroit River, and the food preparation (consider the Michigan baby lamb) is as contemporary as the art that graces its walls. Also try Cyprus Taverna (579 Monroe St.; 313-961-1550) – the best of the city's Greektown restaurants; the menu goes beyond the typical fare of flaming cheese and moussaka, so enjoy Cypriot specialties such as the stuffed salmon or riganato.
• Cheap eats: Lafayette Coney Island (118 W. Lafayette Blvd.; 313-964-8198) – in a city loaded with Coney Island eateries, locals know to head right here. Compare and contrast with the adjacently located American Coney Island (114 W. Lafayette Blvd.; 313-961-7758) – open since 1917, with a culinary history that speaks loud and clear and tasty.
• Attractions: Henry Ford Museum & Greenfield Village, Detroit Institute of Arts, Detroit Historical Museum, Charles H. Wright Museum of African-American History, Motown Historical Museum and the statues of Detroit native and former heavyweight champion Joe Louis.
• More in the ESPN SportsTravel City Guide: Detroit
HOUSTON – South Regional
• Arena: Reliant Stadium
• Host: University of Houston and Rice University
• Address: One Reliant Park, Houston, TX 77054
• Phone: 832-667-1514
• Web site | Seating chart | Buy tickets
• Nightlife areas: Midtown, West University, Montrose, River Oaks, Rice Village.
• Sports bar: The Mezzanine Lounge (2200 Southwest Freeway, Suite 150; 713-528-6399) – the theme here is, "Eat, Drink and Be Mezzy"; an extensive array of TV sports packages should keep fans happy, and there are even TVs in the restrooms, so you don't miss any action. Also take your chances on the shot wheel in the upstairs bar.
• Restaurants: Cyclone Anaya's Mexican Kitchen (5761 Woodway Drive; 713-339-4552) – Mexican and Tex-Mex at their finest, and enjoy a little more upscale surroundings with your grilled fajitas, chalupas, fresh-made guacamole and tacos al carbon; Pappadeaux Seafood Kitchen (2525 South Loop West; 713-665-3155) – features a balance of Cajun and Creole seafood direct from the Gulf Coast waters, including gumbo and etouffee, as well as homemade signature desserts; Pappasito's Cantina (2515 South Loop West; 713-668-5756) – this Tex-Mex favorite repeatedly has been voted the best Mexican restaurant in publications across the Lone Star State.
• Cheap eats: Coozan's Hot Wings & Bayou Cafe (8236 Kirby Drive; 713-839-9464) – hot wings (original hot to insanely hot), tasty Cajun cuisine, cheap beer and daiquiris, all adjacent to the stadium.
• Attractions: Space Center Houston (official visitors center for NASA's Johnson Space Center) and Battleship Texas (last of the battleships to participate in World War I and II, and country's first battleship memorial museum).
• More in the ESPN SportsTravel City Guide: Houston
FINAL FOUR – April 5 and 7
SAN ANTONIO
• Arena: Alamodome
• Host: University of Texas-San Antonio
• Address: 100 Montana St., San Antonio, TX 78203
• Phone: 210-207-3663 or 800-884-3663
• Web site | Seating chart | Buy tickets
• Nightlife area: River Walk is lined with restaurants, bars and shops … and water taxis to traverse the area in style. Try Dick's Last Resort (patio seating at "the joint your mamma warned you about"), Howl at the Moon (piano bar) and Durty Nelly's (Irish pub). There's even an IMAX Theatre (Rivercenter Mall).
• Sports bars: Tex's Sports Bar (200 S. Alamo St., in the Hilton Palacio del Rio; 210-222-1400) – ice-cold beer and Texas-style appetizers to accompany any and all TV coverage; and Hooters (849 E. Commerce St., in the Rivercenter Mall; 210-229-9464) – has 15 TVs, wings and other hot stuff.
• Restaurants: Boudro's on the River Walk (421 E. Commerce St.; 210-224-8484) – the go-to place for Texas-style seafood and steaks; Rosario's Cafe y Cantina (910 S. Alamo St.; 210-223-1806) – classic Tex-Mex with lively music, good food and great River Walk atmosphere; and County Line Bar-B-Q (111 W. Crockett St.; 210-229-1941) – expect vintage Texas barbecue, with ribs, brisket, sausage and beans galore.
• Cheap eats: Mi Tierra Cafe y Panaderia (218 Produce Row; 210-225-1262) – terrific Tex-Mex breakfast tacos and other morning-meal dishes served 24/7 under year-round Christmas lights, since 1941.
• Attractions: River Walk, The Alamo, Fort Sam Houston Museum, Market Square, San Antonio Museum of Art, Sea World, San Antonio Zoo, Six Flags Fiesta Texas Theme Park and Spanish Governor's Palace.
• More in the ESPN SportsTravel City Guide: San Antonio
PREVIOUS PAGE (for First and Second Rounds)