Passport makes it easy to add games you've already attended as well as ones you're planning to attend. To start, go to the Add Events page. Here you'll find a list of all the major sports teams along with a tab for your own favorite teams.
Selecting Events/Venues
Click on the team you're looking for and a calendar will appear, allowing you to select one or more games. Once you've found all the games you want to add, click "Continue" to rate your experience at those games.
Once you're done, review your events/venues and click "Submit" to add them to your passport. You can also enable the option to share your passport updates on Facebook!
Adding Photos
Once you've added events to your passport, you can upload photos of you and your friends at the game! Go to the page for that event (see here for help) and click the "Select Photos" button to browse for photos on your computer. Then, just click "Upload" and wait for it to finish!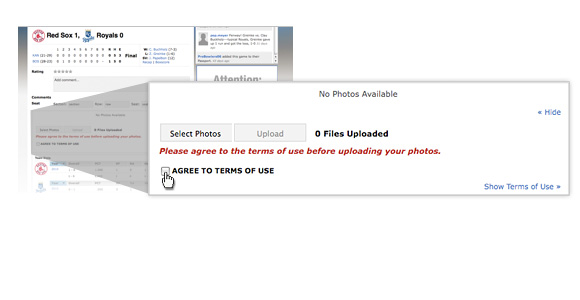 After the photos finish uploading, you can click on them to add a title and comment. You can also remove photos any time you like.