Events
To view the games or events you have checked-in to, click on the Events tab. Use the dropdown to filter by team and click on the table headers to sort the list. You can see the date, description, and your rating for each game or event.
Click on the event description to go to that event page. Here you'll find more information about the event, details you submitted, team stats, your photos for that event, and a list of other fans who checked in at that game or event.
Venues
Click on the Venues tab to see a list of all the venues you've visited. The list will display the team logo, sport, venue name, and your number of visits.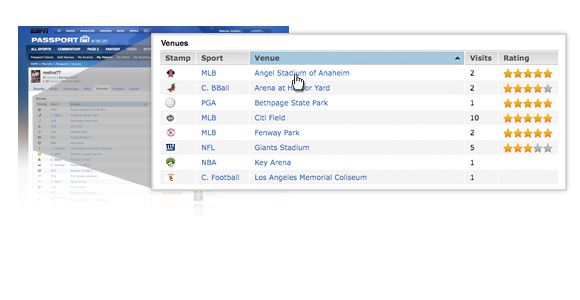 Clicking on the venue name will take you to that venue page. You can view photos for that venue, your activity there, and a list of local bars and restaurants.
Photos
View all recently submitted passport photos and photos that you submitted by clicking on the Photos tab. From this page, you can also edit/delete your own photos.