'Madden 10's' franchise mode heads online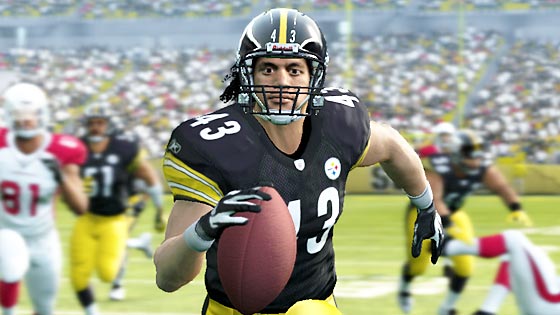 Live drafts ... the ability to trade players via iPhone ... 32 team leagues. Those are just some of the features that are going to be available to gamers thanks to "Madden NFL 10's" new online franchise mode.
From real NFL scheduling to league message boards to the ability to set depth charts while in line at the supermarket only to see those changes made to your team when you get home, these are the types of features "Madden" gamers have been begging EA Sports for since they brought their games online, and "Madden NFL 10" will finally be the title to deliver.
Online franchise is being developed exclusively for the Xbox 360 and PlayStation 3, and will be available when "Madden NFL 10" launches August 14.
'NCAA Football 10' Team Builder now available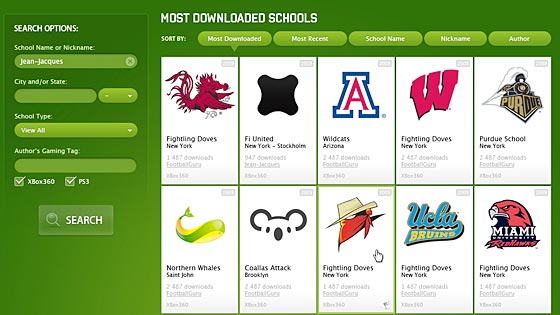 Looking to create your own school to rival those of Florida and Oklahoma? EA Sports is ready to deliver the tools you need with their all new create-a-school mode called Team Builder.
Gamers can go online starting June 1 to create custom schools over a month before the launch of "NCAA Football 10," and all of these schools will then be available to download and play once the game ships to stores July 14.
From creating your own logos to designing your uniform, Team Builder will let you get as crazy or as authentic as you like, even down to the Smurf Turf.
Click here to create your own school
EA Sports announces development of MMA game
EA Sports President Peter Moore announced today during his E3 press conference that the new title, "EA Sports MMA" is under development by Tiburon Studios.
"With 'Fight Night Round 4' set to deliver a knockout with industry-leading visuals and genre-defining gameplay later this month, I couldn't be more excited to announce the expansion of our combat sports strategy with 'EA Sports MMA' coming in 2010," said EA SPORTS President Peter Moore. "Fans have been begging EA Sports to get into the cage, and EA Sports MMA will put them in control of the sport's unique combat experience while finally, in an immersive interactive experience, capturing the raw intensity that has made mixed martial arts one of the fastest growing sports in the world. We're ready for the fight."
"EA Sports MMA" is currently in development for both the PlayStation 3 and Xbox 360.