EA Sports announced the first details of "Madden NFL Arcade," a 5-on-5 football game that will be available in December exclusively on Xbox Live Arcade and PlayStation Network for 1200 MS Points or $14.99.
'MADDEN NFL ARCADE'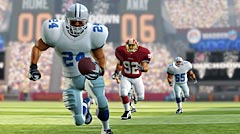 Get a first look at EA's "Madden NFL Arcade." Screenshot gallery »
The game will feature all 32 NFL teams and promises a distinctive new art style to help better capture the players and stadiums in a unique way.
In terms of gameplay, each team will be given four downs to take the ball 60 yards to the end zone with no penalties or field goals coming into play. First team to 30 wins.
Gamers will also be able to tailor the game to their liking, changing options like skill level or the points necessary to win. Also added to "Madden Arcade" are 13 unique "Game Changers" to break the game wide open. Examples include sending an entourage of lineman to get the sack, freeze an opposing player, and even turning off your opponent's passing icons.
Other features include the ability for up to four gamers to play co-op on a single console, online head-to-head, interactive leaderboards, and a variety of new achievements and trophies.
"Madden NFL Arcade" is rated E for everyone and is being developed by the EA Tiburon studio, which also produces "NCAA Football," "Tiger Woods," and "MMA."