Discussion
Stronger Delle Donne ready for tipoff
WNBA's 2013 Rookie of the Year remained in Chicago, bulked up in offseason
DEERFIELD, Ill. -- At 6 feet, 7 inches and roughly 300 pounds, Miles Bankston was his usual formidable obstacle in Elena Delle Donne's path, but common sense and team protocol dictated he not flip the franchise player on her head as she drove toward him 10 days before the season opener.
Last year it would not have mattered because Delle Donne would have avoided contact, team scrimmage or otherwise, and settled for her patented fadeaway jumper.
"This time," Chicago Sky assistant coach ...

Read full story
WNBA SEASON PREVIEW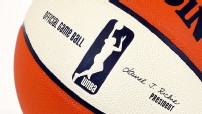 The WNBA's 18th season tipped off Friday.
MORE ON AURIEMMA
VIDEO
MORE ON THE WNBA
MORE WOMEN'S BASKETBALL HEADLINES