Discussion
Dream are favorite in the East
At some point, we might start wondering if the Atlanta Dream have "Alydar" syndrome. For you youngsters, that's the horse that finished second to Affirmed in all three Triple Crown races in 1978.
Alydar was a very talented colt, good enough that he could have won the Triple Crown himself. It was just his bad luck he happened to be 3 years old at the same time as Affirmed.
The Dream have been a very good team the past few years, but have run into even better teams in the WNBA ...

Read full story
WNBA SEASON PREVIEW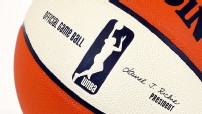 The WNBA's 18th season tipped off Friday.
ANALYSIS
VIDEO
MORE ON THE WNBA
MORE WOMEN'S BASKETBALL HEADLINES