Discussion
Lynx in front of pack in tough West
The WNBA is at its best in the West again in 2014.
There can be little argument that the power in this league continues to lie in the Western Conference, but there might be some argument about which West team reigns supreme.
Minnesota -- its star-studded roster largely intact -- is coming off another impressive title run, a sweep in the WNBA Finals against Atlanta last fall that sets up the Lynx as the early favorites to repeat.
But Los Angeles seems poised again to turn the ...

Read full story
WNBA SEASON PREVIEW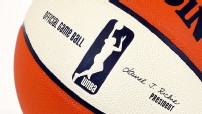 The WNBA's 18th season tipped off Friday.
NEWS & ANALYSIS
VIDEO
MORE ON THE WNBA
MORE WOMEN'S BASKETBALL HEADLINES