Discussion
How Becky Hammon Became a Spur
Perhaps it seemed out of the blue on a Tuesday afternoon in early August that the San Antonio Spurs would make sports history.
But history has been building for months now.
Becky Hammon isn't just going to appear on San Antonio's bench out of nowhere come fall. She isn't going to have to introduce herself to the Spurs players or spend a lot of time and energy getting acquainted with coach Gregg Popovich and his staff.
Hammon is already more to this franchise ...

Read full story
More On Becky Hammon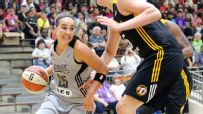 The San Antonio Spurs hired 16-year WNBA veteran Becky Hammon on Tuesday, making her the first full-time, paid female assistant on an NBA coaching staff. The San Antonio Stars' guard will retire at the end of this WNBA season.
RELATED STORIES