Discussion
Injury limits Delle Donne in Sky win
Sylvia Fowles' 27 points lead Sky to double-overtime win to extend East finals
ROSEMONT, Ill. -- Put yourself in Chicago coach Pokey Chatman's shoes for just a moment.
You are drawing up a game plan to stave off elimination from the WNBA playoffs against the team that swept you out of the postseason a year ago.
And in your play, Elena Delle Donne, of the league's brightest stars with one of its most multi-facted skill sets, is a decoy.
Yes, a decoy.
"I don't know if you noticed," Chicago's coach said.
And ...

Read full story
WNBA PLAYOFF COVERAGE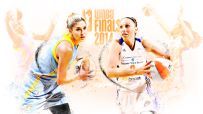 Phoenix swept Chicago in the WNBA Finals for the Mercury's third WNBA championship. Complete schedule
NEWS & ANALYSIS
VIDEO
MORE WOMEN'S BASKETBALL HEADLINES