Discussion
What's next for star trio?
Griner, Delle Donne and Diggins must play well, help WNBA continue to grow
BRISTOL, Conn. -- Now it's official: Nothing outlandishly bizarre happened. The 3 To See were the top picks in Monday's WNBA draft. So let's examine what lies ahead for Brittney Griner, Elena Delle Donne and Skylar Diggins.
Baylor's Griner was the No. 1 selection and will begin her pro career in Phoenix. She'll join a veteran group that will eagerly welcome what she can bring: a big defensive presence inside, and a 6-foot-8 target offensively. The "XFactor" -- the nickname ...

Read full story
2013 WNBA DRAFT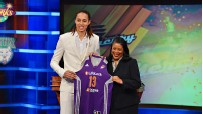 Brittney Griner was drafted No. 1 overall by Phoenix, followed by Elena Delle Donne (Chicago) and Skylar Diggins (Tulsa).
DraftCast » Draft board » Video »
WNBA DRAFT
espnW @
VIDEO
MORE ON DRAFT
MORE WOMEN'S BASKETBALL HEADLINES