Discussion
Mercury find swagger to win Game 1
Diana Taurasi scores 30 points as Phoenix knocks off the Sparks in L.A.
The WNBA's most valuable player walked off the court at Staples Center on Thursday night, jaw set, tugging on her jersey and looking intently at the scoreboard -- which read Phoenix 86, Los Angeles 75.
The look on Candace Parker's face said she too clearly understood the size of the hole that her team dug itself after Game 1 of the Western Conference semifinals. It's big. Really, really big. Bigger, arguably, than the win that Phoenix just pulled off.
And that was pretty ...

Read full story
2013 WNBA PLAYOFFS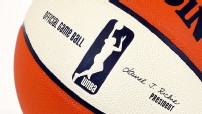 Minnesota went 7-0 in the playoffs, sweeping Atlanta in the WNBA Finals, to win its second title in three seasons. Playoff results »