Discussion
Lynx were the favorite all along
Minnesota wins second title in three years -- now what's next?
DULUTH, Ga. -- A few days before the WNBA Finals got underway, I managed to stir up a hornets' nest.
Uh, no, not with anything I wrote. I mean literally stir up a hornets' nest. Doing yard work on a day off from playoff games, I inadvertently disturbed some bees. Suddenly, buzzing creatures were coming at me from all directions.
I made a frantic run inside, and actually was happy to have escaped with just four stings. So having watched the Minnesota Lynx just win the WNBA title in ...

Read full story
2013 WNBA PLAYOFFS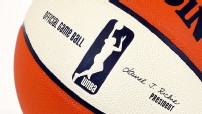 Minnesota went 7-0 in the playoffs, sweeping Atlanta in the WNBA Finals, to win its second title in three seasons. Playoff results »