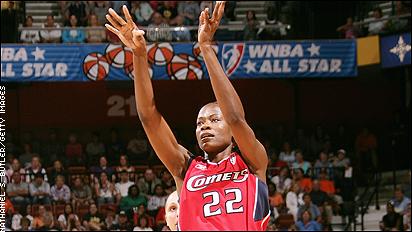 Joy Of Six
The West's sixth All-Star win was a rout, but with plenty of entertainment. Sheryl Swoopes won MVP honors and Lisa Leslie dunked in the highest-scoring All-Star Game.
Story

Thibault, Sun seek respect
Despite being the league's best team, the Sun might not be getting the recognition they deserve. But now, the focus is on Connecticut.



Quite a Catch
She still ranks among the league leaders in several categories, but Tamika Catchings has had a tougher time scoring this season.



Lieberman: Lindsay overlooked
Leaving Connecticut guard Lindsay Whalen off the All-Star roster is one of the biggest snubs in the game's five-year history.



Twelve All-Star reserves named
Lisa Leslie and Chamique Holdsclaw of the Los Angeles Sparks, and the Connecticut Sun's Nykesha Sales were each selected Tuesday to their sixth WNBA All-Star Game.



Lieberman: Fans 'start' a debate
One thing became clear when the All-Star starters were announced: The 10 spots were awarded based on popularity, not productivity.



Lieberman: My All-Star starters
This All-Star ballot for the 2005 starters doesn't include a single player from the Los Angeles Sparks, or a certain second-year superstar in Phoenix.


GENERAL INFORMATION
WHAT
All-Star Game
WHERE
Mohegan Sun Arena, Uncasville, Conn.
WHEN
Saturday, July 9, 4 p.m. ET (ABC)
WHO
West All-Stars vs. East All-Stars
RECORD
West leads 6-0
WNBA.com: Past All-Star Game results
ALL-STAR ROSTERS
EASTERN CONFERENCE
WESTERN CONFERENCE
Starters
Starters
F: Tamika Catchings, Fever
F: Sheryl Swoopes, Comets
F: Swin Cash, Shock
F: Lauren Jackson, Storm
C: Ruth Riley, Shock
C: Yolanda Griffith, Monarchs
G: Becky Hammon, Liberty
G: Sue Bird, Storm
G: Dawn Staley, Sting
G: Diana Taurasi, Mercury
Reserves
Reserves
F: T. McWilliams-Franklin, Sun
F: C. Holdsclaw, Sparks
F: Cheryl Ford, Shock
F: DeMya Walker, Monarchs
C: Ann Wauters, Liberty
C: Lisa Leslie, Sparks
G: Nykesha Sales, Sun
C: Michelle Snow, Comets
G: Alana Beard, Mystics
G: M. Ferdinand, Silver Stars
G: Deanna Nolan, Shock
G: Katie Smith, Lynx
SCHEDULE OF EVENTS
DATE
EVENT
Friday, July 8
Team practices, 2:30 p.m. ET

Skills challenge, 3:45 p.m. ET
Saturday, July 9
All-Star Summer Jam, 9 a.m. ET

Jr. NBA/WNBA clinic, 3 p.m. ET

WNBA Shootaround, 3:30 p.m. ET (ESPN2)

All-Star Game, 4 p.m. ET (ABC)