2014 WNBA playoff schedule
Updated:
September 13, 2014, 1:34 AM ET
espnW.com
All tipoffs ET. Phoenix has home-court advantage throughout the playoffs. (* If necessary)
WNBA PLAYOFF SCHEDULE
The best-of-three conference semifinals are a 1-1-1 format, with the better seed hosting Game 1 and, if necessary, Game 3. The conference finals, which use the same format, open Aug. 29. The best-of-five WNBA Finals are a 2-2-1 format and open Sept. 7.
| Date | Matchup | Tip (TV) |
| --- | --- | --- |
| Thursday, Aug. 21 | Game 1: At Indiana 78, Washington 73 | Recap |
| Thursday, Aug. 21 | Game 1: At Minnesota 88, San Antonio 84 | Recap |
| Friday, Aug. 22 | Game 1: Chicago 80, at Atlanta 77 | Recap |
| Friday, Aug. 22 | Game 1: At Phoenix 75, Los Angeles 72 | Recap |
| Saturday, Aug. 23 | Game 2: Indiana 81, at Washington 76 | Recap |
| Saturday, Aug. 23 | Game 2: Minnesota 94, at San Antonio 89 | Recap |
| Sunday, Aug. 24 | Game 2: Atlanta 92, at Chicago 83 | Recap |
| Sunday, Aug. 24 | Game 2: Phoenix 93, at Los Angeles 68 | Recap |
| Tuesday, Aug. 26 | Game 3: Chicago 81, at Atlanta 80 | Recap |
| Friday, Aug. 29 | Game 1: West finals, at Phoenix 85, Minnesota 71 | Recap |
| Saturday, Aug. 30 | Game 1: East finals, at Indiana 77, Chicago 70 | Recap |
| Sunday, Aug. 31 | Game 2: West finals, at Minnesota 82, Phoenix 77 | Recap |
| Monday, Sept. 1 | Game 2: East finals, at Chicago 86, Indiana 84 | Recap |
| Tuesday, Sept. 2 | Game 3: West finals, at Phoenix 96, Minnesota 78 | Recap |
| Wednesday, Sept. 3 | Game 3: East finals, Chicago 75, at Indiana 62 | Recap |
| Sunday, Sept. 7 | Game 1: WNBA Finals, at Phoenix 83, Chicago 62 | Recap |
| Tuesday, Sept. 9 | Game 2: WNBA Finals, at Phoenix 97, Chicago 68 | Recap |
| Friday, Sept. 12 | Game 3: WNBA Finals, Phoenix 87, at Chicago 82 | Recap |
SPONSORED HEADLINES
MORE WOMEN'S BASKETBALL HEADLINES
MOST SENT STORIES ON ESPN.COM
WNBA PLAYOFF COVERAGE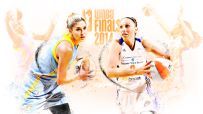 Phoenix swept Chicago in the WNBA Finals for the Mercury's third WNBA championship. Complete schedule
NEWS & ANALYSIS
VIDEO