Commentary
5 questions for West finals
To the surprise of no one, the Western Conference finals will be a showdown between Phoenix and Minnesota. The matchup of the teams with the two best records in the WNBA is something everybody has been expecting for most of the summer.
It's finally here, after both teams swept their first-round series. San Antonio made the Lynx sweat in both games before the defending champions' talent advantage ultimately prevailed. For Phoenix, though, only one of the games in its series with Los Angeles was close. After the Sparks gave the Mercury a real scare in the opener in Arizona, Game 2 was a Phoenix clinic.
[+] Enlarge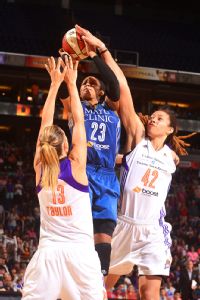 Barry Gossage/NBAE/Getty ImagesAs Penny Taylor and Brittney Griner show, the Mercury will do everything they can to slow down Lynx superstar Maya Moore.
Now we have a marquee matchup of two teams that each have won two WNBA titles. And between the Lynx (Maya Moore, Seimone Augustus, Janel McCarville) and the Mercury (Diana Taurasi, Brittney Griner), there are five former No. 1 overall draft picks.
There also are two players who've been the WNBA's MVP: Moore, who won the award this year, and Taurasi, who did so in 2009. Taurasi was runner-up to Moore this season.
Last year, these teams met in the West finals, too, but that was a still-developing Phoenix squad that was a pretty clear underdog to eventual champion Minnesota. The Lynx swept that series. However, if anyone is the underdog this year, it's the Lynx, who went 25-9 to the Mercury's 29-5. Phoenix also won the season series 3-1.
Whichever team wins the West will be the favorite in the WNBA Finals, as both East finalists -- Indiana and Chicago -- had losing records during the regular season. So as we prepare for Game 1 on Friday night in Phoenix, here are five questions to ponder:
1. How good will Phoenix's Brittney Griner be in this series?
Griner has had a terrific season in her second year, averaging 15.6 points and 8.0 rebounds while breaking the WNBA single-season record for blocks with 129. She was the WNBA's defensive player of the year for a franchise that, under league coach of the year Sandy Brondello (in her first season guiding Phoenix), made a bigger commitment to defense.
But Griner is still a young player who sometimes has consistency problems. That was the case in Game 1 of the West semifinals against Los Angeles, when she was 2-of-11 from the field for just six points. Taurasi picked up the slack with 34 points in a too-close-for-comfort 75-72 victory.
In Game 2, Griner was unstoppable: 9-for-9 from the field and 3-of-3 from the foul line for 21 points in just under 19 minutes. It set the tone for the Mercury's 93-68 crushing of the Sparks.
In the four games against Minnesota during the regular season, Griner averaged 19.5 points and 10.3 rebounds. If she comes close to those numbers in this series, it will be hard to stop Phoenix.
2. How will the Mercury defend Maya Moore?
The league's leading scorer during the regular season at 23.9 PPG, Moore enjoyed strong outings in Minnesota's two playoff wins (21.0).
In the second victory over San Antonio on Saturday, it seemed like Moore had a "quiet" game because she started slowly from the field, and teammate Lindsay Whalen was the Lynx's top scorer. Yet when you looked at Moore's numbers at game's end, she still almost had a triple-double: 16 points, 10 assists, eight rebounds.
Against the Mercury this season, Moore's averages were 25.0 points and 6.3 rebounds. So Phoenix couldn't stop her any better than anyone else. However, the game where they did the best job on Moore was June 15 in Minneapolis, when she was limited to 14 points on 6-of-18 shooting.
One thing the Mercury can throw at Moore is a lot of height, both on the perimeter and inside. Phoenix also plays team defense much better than a year ago, anchored by Griner as the rim protector.
3. Will both teams be on their best behavior?
Maybe, maybe not. They respect each other, but they don't really like each other. There's the kind of tension that comes from two superb teams trying to show who's really the sheriff in town.
In Game 1 of the West finals last year, we got the hilarious "kiss" that Taurasi deposited on Augustus' cheek after they'd gone nose-to-nose when Taurasi objected to how she was being guarded late in an 85-62 loss.
Both later made light of it, with Augustus joking in the postgame news conference, "She just wanted some of my deliciousness."
The second game of that series was closer -- 72-65 -- but the Lynx won and left the Mercury with a bit of a seething feeling toward Minnesota. Phoenix has taken on Taurasi's personality, and the Mercury aren't going to back down to the physicality the Lynx will try to bring to this series.
In Minnesota's only victory over Phoenix this year -- 75-67 on July 31 in Minneapolis -- the Mercury grumbled about the "football" nature of play. But they answered that a little over a week later back in Phoenix with an 82-80 victory that was one of the best WNBA games of the season.
There's almost sure to be some chippy comments/behavior in his series, but both teams also know they can't let it get too far.
4. Who might be the X factor?
Other than Phoenix's crowd, that is, as the fans there have long referred to themselves by that name. (By the way, we can guarantee the Mercury fans will come well armed with clever quips to try to get under the skin of Minnesota coach Cheryl Reeve, who has a bit of Bill Laimbeer in her on the sideline.)
[+] Enlarge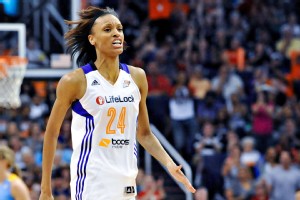 Casey Sapio/USA TODAY SportsDeWanna Bonner, a key perimeter defender who can score if needed, could be an X factor for Phoenix.
But in terms of which players may be the X factors for their teams, we'll say DeWanna Bonner for Phoenix and Rebekkah Brunson for Minnesota.
Bonner was the top sixth player in the league during her first three seasons. But then in 2012 she was thrust into the role of not only a starter, but a leading scorer. She averaged 20.6 points that season, a year in which many players were hampered by injuries, including Taurasi.
That puts into perspective just how good a scorer Bonner can be when needed. The Mercury don't require her to be that now, and she averaged 10.4 points in the regular season. But the Lynx certainly can't sleep on her, because she can burn them. Also, at 6-foot-4, she's a key part of the Mercury's perimeter defense.
As for Brunson, she's the "muscle" inside for the Lynx, a key part of their 2011 and '13 titles. But she missed the first part of this season with knee issues, returning July 22.
The biggest thing the Lynx need from Brunson is rebounding; she's averaged at least 8.0 per game for each of the past five seasons. If Brunson can give Minnesota that production on the boards along with six to eight points per game, the Lynx should be happy.
5. Is this series actually for all the marbles?
It seems like it, based on the fact that these teams were clearly the two best in the league all season. And Phoenix and Minnesota swept their season series against both Indiana and Chicago, the East finalists.
So the practical wisdom among observers all season has been that whoever wins the West is "sure" to become WNBA champion. But it's not an absolute certainty: Just look at Indiana's surprise victory over Minnesota in the 2012 WNBA Finals.
So don't expect that either the Mercury or Lynx are looking at this series as the one that clinches them the title. But if this meeting lives up to expectations -- and there's no reason to think it won't -- it will have the high-caliber play and intensity of a Finals matchup.
espnW.com
Mechelle Voepel joined ESPN.com in 1996 and covers women's college hoops, the WNBA, the LPGA, and additional collegiate sports for espnW.
WNBA PLAYOFF COVERAGE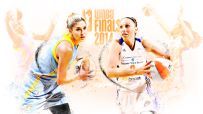 Phoenix swept Chicago in the WNBA Finals for the Mercury's third WNBA championship. Complete schedule
MORE ON AURIEMMA
VIDEO
MORE WOMEN'S BASKETBALL HEADLINES
STORIES FROM HUFFINGTON POST