Commentary
WNBA season as wide open as ever
League's 16th season will break July 14-Aug. 15 during Summer Games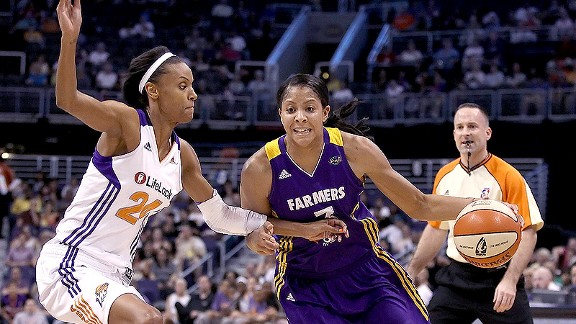 Christian Petersen/Getty Images Candace Parker's Sparks are the WNBA team most are intrigued by at the start of the season.
Ever been trying to cook something only to make a mistake at the start and then compound that by messing up more with each attempt to fix it?
No? OK, you're a top chef then. But if you have ever done this, then you've got an idea of what things have been like for the WNBA's Tulsa Shock the past two seasons since the franchise's relocation from Detroit.
Now you might wonder: Why begin a season preview with the team that everyone expects to be the worst (again) in the WNBA? Well, because before tipoff of the league's 16th season, which starts Friday, even Tulsa can feel hopeful.
Very little has gone right for the Shock, who, despite going 9-59 in their two years in Oklahoma, didn't win the draft lottery either season. The Shock are on their third coach since moving from Michigan, with Gary Kloppenburg now trying to resurrect what the team once had at the Palace of Auburn Hills. So far, the success the Shock experienced there has refused to move south.
Someone asked me recently how many games the Shock would win this summer. And instead of going with the easy, pragmatic answer -- "Very few" -- I found myself saying, "Well, you never know. They are young; they have some talent, a new coach, so maybe they'll … I'm doing it again, aren't I?"
There is always that wave of optimism at the start of any sports season, and I involuntarily fall for it over and over. It's especially strong when there's a lot unknown, which there almost always is with the WNBA.
[+] Enlarge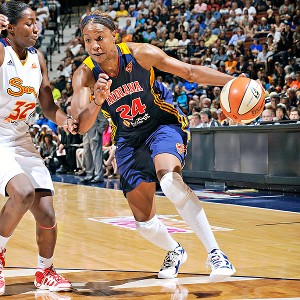 David Dow/NBAE/Getty ImagesIndiana's Tamika Catchings was league MVP last season, but the Fever fell to Atlanta in the East finals.
There's the uncertainty of how teams will jell with new combinations of players. How well players will perform after their overseas experiences; some are tired, some are raring to go. How healthy teams are, and how healthy they will stay. How much impact rookies will have. Then add in the other big unknown that hits every four years for the WNBA: Which teams will deal best with the monthlong break for the Olympics?
"It is a challenge, but the fact that we've experienced it before gives you an idea of what to expect," Indiana coach Lin Dunn said of the July 14-Aug. 15 period when the league pauses for the Summer Games. "You have to look at the season as two parts. We've got 17 games before the break, and you just focus on that early. You rest and recover, then get ready for 17 more."
Dunn's team will be trying to advance to the playoffs for the eighth consecutive season. Last year, franchise icon Tamika Catchings won the season MVP award for the first time, but then suffered a plantar fascia tear in her right foot in the second game of the Eastern Conference finals. With Catchings limited for the deciding game, Atlanta prevailed for its second consecutive berth in the WNBA Finals.
The Dream were swept 3-0 in the Finals by Minnesota, just as had happened at the hands of Seattle in 2010. In this offseason, Atlanta assistant Carol Ross was lured away to become head coach in Los Angeles. Will the Dream, in the fourth season under Marynell Meadors, be as successful in the playoffs as the past two years?
The most intriguing question in the Eastern Conference, though, is whether Chicago will be a postseason team for the first time since the franchise launched in 2006. It's the second year for coach/GM Pokey Chatman, who had a very specific blueprint for what she wanted the 2012 team to look like.
Through trades and free agency, she added players such as Swin Cash, Le'coe Willingham, Ticha Penicheiro and Ruth Riley.
"You look at what Chicago did by deciding to bring in some veteran players who have championship rings," Dunn said. "They can set the tone for what you have to do and show the other players who haven't been that far.
"I expect Chicago to be much more competitive than they were last year. And, actually, they were surely competitive all last season and had a chance to slip into the playoffs. I see them as by far the most improved team during the offseason, not only in the East but the whole league."
Meanwhile, in the Western Conference, Seattle has a gaping hole to fill for the first half of the season with Lauren Jackson training for the Olympics with Australia. In 2010, Jackson was able to stay relatively healthy throughout the summer and was the key factor in the Storm winning their second WNBA title. This year, Agler brought in veterans Tina Thompson and Ann Wauters to help shore up the Storm with LJ absent and Cash and Willingham gone to Chicago.
[+] Enlarge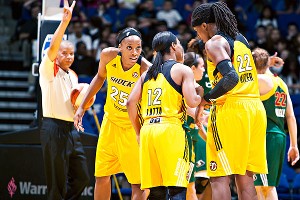 Shane Bevel/NBAE/Getty ImagesIn a season that seems wide open, even Tulsa -- which has won a combined nine games the past two seasons -- has a shot, right?
Did Agler do enough, or is Seattle a bit too long in the tooth in too many roster spots?
In Minnesota, a concern with the defending champions is that three starters -- Seimone Augustus, Lindsay Whalen and Maya Moore -- will have Olympic duty with Team USA.
Actually, that shouldn't be labeled a "concern," should it? It's an honor for those players and that franchise, which has transformed itself from being one of the WNBA's perpetual bumblers into a team that has a shot at back-to-back titles.
Still, to have three such crucial players all with the extra work/travel of the Olympics means Minnesota has to juggle playing time effectively to have them as fresh as possible when the postseason arrives this fall.
And yes, we're confident in saying that the Lynx will be one of the teams in the playoffs. That's in part because of how good they project to be, but also because Tulsa starts the season anchored firmly to the bottom of the West, with little expectation of surfacing. At least not in 2012.
Meaning unless Tulsa stuns us, only one of the other five West teams should be at risk of not making the postseason. It seems highly unlikely Minnesota will be that one. The Lynx were a smooth unit last season, when all the cogs -- big and small -- seemed to fit adeptly. It's impossible to transfer that exact same chemistry to another season, but the Lynx could come pretty close.
Even so, the squad that WNBA followers are likely most intrigued by at the start of the season is Los Angeles. The Lynx are trying to do what the Sparks were the last to do: repeat as WNBA champions.
That was in 2001-02 for Los Angeles, and the Sparks actually had a good run at a three-peat before the then-Detroit Shock beat the Sparks in the '03 Finals. (That Shock team was led by Cash and Riley, who as mentioned are together again in Chicago a decade later.)
Meanwhile, that 2003 season was the last of Michael Cooper's first run as the Sparks' head coach. In his initial four years with the franchise, L.A. went 105-25 and was in the mix for the championship each season.
Since Cooper left, the Sparks have not been back to the WNBA Finals -- not even during the three seasons (2007, '08, '09) that he returned. Four other coaches also have had a turn at the L.A. helm in the last eight seasons along with Cooper. Now Ross will try to bring her brand of defense-first basketball to the Sparks, who seem to have plenty of potential answers on the interior -- including No. 1 draft pick Nneka Ogwumike out of Stanford -- but more questions on the perimeter.
What makes the Sparks so interesting is that the ingredients are all there, at least in theory. Star forward Candace Parker has struggled with injuries in her four WNBA seasons. Alana Beard, a newcomer for the Sparks, hasn't played the last two years in the WNBA because of a lingering ankle injury. Beard, who turns 30 on Monday, could be a high-impact player for the Sparks … or could be a non-factor, depending on her health.
Speaking of players who are turning the big 3-0 this season, Diana Taurasi hits that birthday milestone in June. She has never minded having a lot on her shoulders, but this season in particular, she's carrying a lot for the Phoenix Mercury, as longtime teammate Penny Taylor is out for the summer with a knee injury.
The two-time champion Mercury beat Seattle but fell to Minnesota in the 2011 postseason; just making the playoffs this year would seem a solid accomplishment for Phoenix.
Or at least that's how it looks right now. The rosters will be finalized this week, and that's almost never easy for any team. And as both Dunn and Agler said, there are essentially two seasons to think about: before and after the Olympic break.
"For our situation, we've got more road games and a shortened roster in the 'first' season," Agler said. "When you don't have somebody like Lauren Jackson, it does impact how you perform. So we have to do everything we can early to stay competitive.
"We feel like we have a team that can do that. But all the teams have that break and then come back for Season No. 2. It's a really condensed last half of basketball. All teams will have a heavy dose of games post-Olympics. It's just about how quickly you can regroup and get back up to speed."
espnW.com
Mechelle Voepel joined ESPN.com in 1996 and covers women's college hoops, the WNBA and additional collegiate sports for espnW. Born in Los Angeles, she grew up 40 miles north of St. Louis and is a lifelong Cardinals fan still basking in amazement over their 2011 World Series title.
SPONSORED HEADLINES
MORE WOMEN'S BASKETBALL HEADLINES
MOST SENT STORIES ON ESPN.COM