Commentary
WNBA teams restart their engines
Games resume Thursday; teams have about seven weeks for final playoff push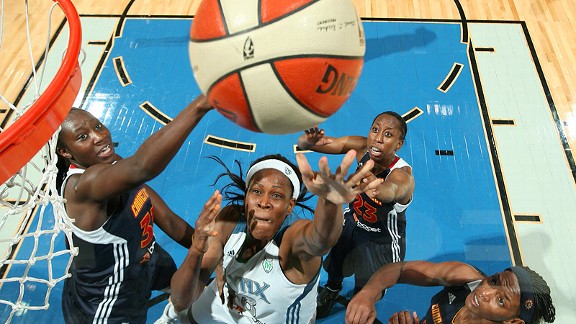 David Sherman/NBAE/Getty ImagesThe East-leading Sun are 15-4, with a four-game advantage over second-place Indiana.
Connecticut's Kara Lawson cut to the chase in regard to what it will be like for the returning Olympians to get back in the swing of things when the WNBA resumes Thursday.
"Players have an easy time separating; I don't think it's that difficult," Lawson said of the transition from international play to the league. "You do what you're supposed to do, and all the emotions are positive. It's not like there's negative emotions coming back. They're excited and ready to go."
Lawson knows from experience; she was on the gold-medal winning U.S. team at the 2008 Summer Games. At that time, she was still with the now-defunct Sacramento Monarchs, with whom she won the 2005 WNBA title.
Now in her third season with the Sun, Lawson hopes to help the franchise win its first playoff game since '08.
Wait a second, you say. What's this talk of playoffs? Aren't we just starting the second half of the season?
[+] Enlarge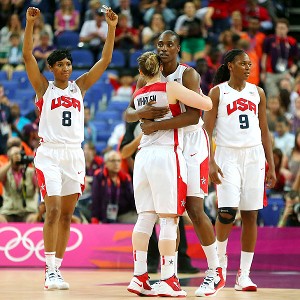 Phil Walter/Getty ImagesWill Sylvia Fowles be healthy enough to try to help Chicago earn its first playoff berth?
Sure, but barring some sort of cataclysmic event (or a couple of them), the Sun will be in the postseason. They're 15-4 atop the Eastern Conference, with second-place Indiana at 10-7.
The WNBA's month-long break ends Thursday with three games, including Connecticut at New York. The Sun won five in a row before play was halted for the London Olympics. Two members of the gold-winning U.S. team, Tina Charles and Asjha Jones, return to Connecticut ready to pick up where they left off.
Charles, averaging 18.7 points and 11.3 rebounds, is in the top five in the league in both categories. Thus far, she's having an MVP-caliber season and was Team USA's second-leading scorer in London. Jones got about half as much playing time as Charles at the Olympics, but she was effective and now returns to the Sun's starting lineup.
Meanwhile, Lawson, who turned 31 in February, is having the best season statistically of her career, averaging 14.5 point, 3.5 rebounds and 3.5 assists. She has made 43.8 percent of her 3-pointers (39 of 89) and seems particularly focused.
"We feel good about the second half of the year -- [while] understanding that everybody feels like they're ready for a good second half," Lawson said of the universal optimism that marked a WNBA conference call Tuesday. "I don't think there's a team out there that doesn't think they're going to improve. I just think the intensity of the games will be a little bit higher as everybody tries to position themselves.
"Hopefully, we'll make the playoffs, and we'll see if we've grown enough to actually win a playoff game."
"

I don't think there's a team out there that doesn't think they're going to improve. I just think the intensity of the games will be a little bit higher as everybody tries to position themselves.

"

-- Connecticut's Kara Lawson, on the WNBA resuming after the Olympics
The Sun won't need to rely on hope. They're averaging 82.9 points per game, tied for second in the league with San Antonio, behind defending champion Minnesota. The Sun probably aren't going to take a tumble all the way out of the playoffs.
But could the likes of Indiana or Atlanta (9-10) possibly catch Connecticut and finish first in the East? That doesn't seem all that likely unless the Sun really slip, but those squads could still be dangerous to Connecticut's ultimate goal of going to the Finals for the first time since 2005.
Angel McCoughtry returns to the Dream after a triumphant performance at the Olympics, where she frequently sparked the Americans off the bench, especially with her defense. Atlanta coach Marynell Meadors, an assistant to Geno Auriemma at the London Games, is back home, too. And joining Atlanta for the first time this season is post player Erika de Souza, who has been with the Brazilian national team. The Dream could be ready to surge.
Indiana welcomes back three-time gold medalist Tamika Catchings, and what the Fever most hope to do is develop consistency. Indy started the season with four consecutive victories but has been up and down since.
Chicago is the other East team that's in the playoff picture, sitting fourth at 8-9 despite a four-game losing streak before the Olympic break. The time off was quite welcome in Chicago. It helped the Sky in regard to a key injury, as leading scorer Epiphanny Prince (22.3 ppg) had time to heal from a fracture in her right foot that she suffered June 16.
"We had a skid going into the break, so it was a blessing to get Pip healthy," said center Ruth Riley, who is in her 12th season in the WNBA, but first with Chicago. "We're a much better team with her on the floor."
The Sky have a concern, though, with center Sylvia Fowles, who was limited to playing in five games at the Olympics by a foot injury.
Whether Chicago can earn that franchise's first playoff berth might depend in part on how much Fowles plays, and whether fifth-place New York (6-12) can make any kind of sustained challenge in the second half.
Are we already writing off last-place Washington, which at 4-14 has struggled with turnovers and closing out games? Yes, because it's pretty hard to picture the Mystics leapfrogging two teams to make the playoffs.
[+] Enlarge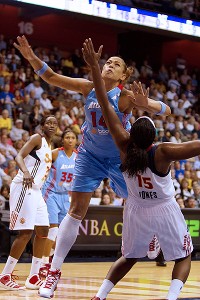 Chris Marion/NBAE/Getty ImagesAtlanta's Erika de Souza missed the first half of the season while training with Brazil's national team.
Fans in D.C. can spend the rest of the season cheering on Crystal Langhorne and thinking of how the 2013 draft might help. Plus arguing about Alana Beard being left off the Mystics' five-member "all-time" team, which was named in honor of the franchise's 15th season. (They're calling it a celebration, although the atmosphere isn't very celebratory right now for the Mystics.)
Meanwhile, Beard probably couldn't care less; she's on the opposite coast attempting to help the Los Angeles Sparks make a run at the Western Conference title. After being sidelined the past two years with a severe ankle injury, Beard signed as a free agent with the Sparks in what looks like the best fresh-start move of the season. She has played in 20 of L.A.'s 21 games, averaging 31.9 minutes, 9.5 points and 3.5 assists.
Candace Parker won her second gold medal in London. And if her performance in the Olympic final is any indication of how well she'll play the rest of this season for the Sparks (15-6), L.A. will be very happy.
Becky Hammon, who fell short of her second bronze medal with Russia at the Olympics, goes back to San Antonio. The Silver Stars (13-5) went into the break as the hottest team in the league, having won nine in a row.
Still, both L.A. and San Antonio remain behind the 15-4 Lynx, who had the most players in the Olympics with Seimone Augustus, Lindsay Whalen and Maya Moore. With a knowing chuckle, veteran Lynx post Taj McWilliams-Franklin acknowledged that the West will get even tougher in the second half of the season.
And not just because of the expected push by the Sparks and the Silver Stars to finish first in the conference. But because the last three teams in the West should also be harder to face.
From the bronze-winning Australian national team, Lauren Jackson goes back to fourth-place Seattle (9-10), whiled Liz Cambage returns to last-place Tulsa (3-15). The Storm might not be able to make a run at finishing first, but they could be formidable in the postseason.
The Shock, in their third season in Oklahoma, aren't going to make a playoff push. There's too much ground to make up. But they could muddy the waters for the other teams because -- trite as it sounds -- they're better than their record would indicate. Shock fans will be eager to see Cambage's improvement, and she'll get to know a third new coach in Tulsa: Gary Kloppenburg.
And what about two-time WNBA champion Phoenix? Diana Taurasi won her third gold medal at the Olympics, where she started all eight games, averaged 24.1 minutes and led the Americans with 12.4 ppg.
Taurasi was visibly emotional on the medal stand in London, no doubt reflecting on the many difficult things she has been through personally in the four years since she'd last won Olympic gold in Beijing.
Now the question that she and the Mercury brain trust face is what her role will be for the rest of the season. Phoenix has been devastated by injuries and lost six games in a row going into the break. At 4-15, could even a heavy dose of Taurasi help the team claw its way back into playoff contention?
Or would it be best to really limit her -- or possibly even sit her the remainder of the season -- to give her much-needed rest, with an optimistic look toward the 2013 season?
Regardless of what Taurasi's role will be with the Mercury, the West is going to be a grind. Which is why McWilliams-Franklin said she was quite happy to have the last month away from games.
"I think most veterans would say that they love the break," said McWilliams-Franklin, who turns 42 in October. "The first seven days that we had off -- where we were relaxing, having some quality down time -- was great for me, I know.
"Coming back in and slowly acclimating back to our normal practice time and speed has helped tremendously as far as saving your legs. In the end, while you're vying for a playoff spot … you can have a bigger push during the final part of the season."
Which is something everybody is going to need to some degree in September.
espnW.com
Mechelle Voepel joined ESPN.com in 1996 and covers women's college hoops, the WNBA and additional collegiate sports for espnW. Born in Los Angeles, she grew up 40 miles north of St. Louis and is a lifelong Cardinals fan still basking in amazement over their 2011 World Series title.
SPONSORED HEADLINES
MORE WOMEN'S BASKETBALL HEADLINES
MOST SENT STORIES ON ESPN.COM