Commentary
Lynx lose in unfathomable fashion
INDIANAPOLIS -- The look on Cheryl Reeve's face at the third-quarter timeout expressed more than any flying jacket. It wasn't passion. Not even anger, really, but unmistakable disgust.
There's being beaten by an Indiana team having a great night. But being beaten like this?
[+] Enlarge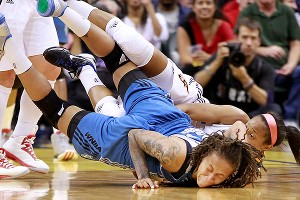 Michael Hickey/Getty ImagesSeimone Augustus and the Lynx lost by 17, but the Fever led 70-33 late in the third to mark the largest lead by any team in WNBA Finals history.
The defending WNBA champion Minnesota Lynx find themselves on the verge of elimination after Friday night's 76-59 drubbing. Sunday's Game 4 (ESPN2, 8 p.m. ET), likely in front of another 18,000 fans at Bankers Life Fieldhouse, will be a chance to regroup, redeem, redo after Friday night's disaster. When you are down by 37 points in the third quarter and your three Olympians spend the final quarter on the bench, what else can you call it?
To say the evening unfolded in an unexpected way for Minnesota is to sell it way short. Unthinkable? Getting warmer. Unfathomable? Now you're hot.
For a team with Minnesota's talent, experience and depth, it was a surreal 40 minutes. At one point, Minnesota was threatening the record for fewest points scored in a WNBA Finals game.
A furious Reeve pulled her starters with 7 minutes, 10 seconds left in the third quarter, her team down 51-29. She played her second-teamers for more than three minutes, and the score ballooned to 61-29. So she put her starters back in.
Not much changed. In fact, the Fever maxed their lead to 70-33, the largest lead by any team at any point in WNBA Finals history. And back to the bench the starters went -- and that's where they finished the game, watching the final quarter from folding chairs while the second team closed the gap to 15 points in the final minute.
HOW PIVOTAL IS GAME 3?
Friday's win put the Fever one victory from their first WNBA title. But a Game 3 victory hardly guarantees a championship.
Each of the teams that won Game 3 of the past three WNBA Finals when the series was tied at one game apiece actually went on to lose the series. Most recently, Indiana won Game 3 in 2009 to take a 2-1 series lead, but Phoenix won the next two games to win the WNBA championship.
WNBA Finals when series is tied 1-all (since 2006):
2006 -- Sacramento wins Game 3, Detroit wins series: Similar to the Fever's Game 3 win Friday, the Monarchs blew out the Shock by 20 at home in Game 3. But Detroit responded with a 20-point road win in Game 4 and a five-point win at home in Game 5 for its second title in three years.
2007 -- Detroit wins Game 3, Phoenix wins series: Looking to win their second straight WNBA crown, the Shock won Game 3 in Phoenix. But Cappie Pondexter hit the game-winning shot with 21 seconds left in Game 4 to keep the Mercury alive. Phoenix won Game 5 in Detroit for its title.
2009 -- Indiana wins Game 3, Phoenix wins series: Two years later, Phoenix found itself in familiar territory, once again down 2-1 after Tangela Smith's game-winning shot and game-saving block gave the Fever a Game 3 victory. Indiana had a chance to win its first WNBA championship, but the Mercury won Game 4 in Indiana and Game 5 in Phoenix for their second title in three years.
-- ESPN Stats & Information
"It's hard when you are not playing well and not helping your team," Maya Moore said.
Even Fever coach Lin Dunn couldn't quite believe what was happening.
"Never in a million years," Dunn said.
It was failure on both ends of the floor for the defending champs. Offensively, Minnesota shot 35.1 percent for the game. Only Rebekkah Brunson finished in double figures, with 12 points. For the first time all season, neither Seimone Augustus nor Moore finished in double digits. The Lynx turned over the ball 18 times and collected only six assists.
Defensively, Minnesota didn't respond to Indiana's assertiveness, particularly in the paint.
"They wanted it more. They worked hard. They came and took," Augustus said. "It was a great environment for them, and they fed off the energy of their fans. Really at this point, it's a matter of who wants it more, and you can clearly see they wanted it more than we did tonight."
Taj McWilliams-Franklin wouldn't buy into the unprecedented nature of the loss.
"I'm pretty pragmatic," she said. "In 20 years, I've pretty much seen everything. This is not the first time I've seen this or the last. You can't get too high or low in this league. One moment you are up and one moment you are down. I'll take our chances on Sunday."
After the game, Reeve, who became the emotional center of the series in Game 2 on Wednesday after ripping off her coat in protest of a technical, was giving away very little.
"I don't have an answer," she said.
Asked what it would take to get a win here Sunday, she responded, "Score more points than them."
Maybe words aren't the way to go here. Action is required if the Lynx are going to climb out of the hole they dug for themselves Friday night.
Brunson said the fixes aren't going to be found in the film room.
"We can look at tape all day, and it isn't going to tell us what we need to fix. What we need to fix is us," she said.
Contributor, espnW.com
Based in the San Francisco Bay area
Has covered pro and college sports for AOL Fanhouse and the San Francisco Chronicle
Founder of leftcoasthoops.com which covers women's basketball on the West Coast
MORE WOMEN'S BASKETBALL HEADLINES

MOST SENT STORIES ON ESPN.COM