Commentary
Mercury find swagger to win Game 1
Diana Taurasi scores 30 points as Phoenix knocks off the Sparks in L.A.
The WNBA's most valuable player walked off the court at Staples Center on Thursday night, jaw set, tugging on her jersey and looking intently at the scoreboard -- which read Phoenix 86, Los Angeles 75.
The look on Candace Parker's face said she too clearly understood the size of the hole that her team dug itself after Game 1 of the Western Conference semifinals. It's big. Really, really big. Bigger, arguably, than the win that Phoenix just pulled off.
And that was pretty big. The Mercury took a 1-0 lead in the best-of-three series, the most compelling matchup of this first round in the WNBA playoffs.
But that fact alone sells it a bit short. What Phoenix did in Los Angeles was take command.
By winning Game 1 on the road, the Mercury can win one game at home and advance. Diana Taurasi can ride her sixth-place finish in the MVP vote to the Western Conference finals for the first time since 2011.
Because one has to imagine that Thursday night's game was just a little bit about that. Phoenix is a team that feeds off the slight -- the call they didn't get, the award they didn't get, the credit they didn't get.
[+] Enlarge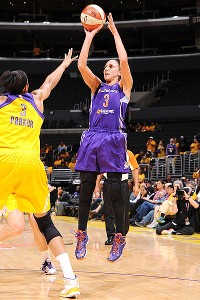 Andrew D. Bernstein/NBAE via Getty ImagesThe night started with Candace Parker winning MVP honors, but Diana Taurasi's 30 points helped Phoenix win Game 1.
When the Mercury were picked to win the league title at the start of the season -- a function of a healthy roster and the addition of No. 1 pick Brittney Griner -- the expectations proved to be a weight rather than a motivator.
But having to rally from a losing record and a coaching change to a third-place finish in the West builds up just the right amount of chip on the shoulder.
Having Candice Dupree passed over as an All-Star adds to the edge.
And having Taurasi finish sixth in the MVP vote -- which was revealed Thursday -- after arguably the best statistical season of her career … well, that is just a big, fat cherry on top.
The Mercury played Thursday like a team that had something to prove, a group that wanted to make a point.
Credit new coach Russ Pennell, who has found a different gear for the Mercury and a new sense of purpose in what they do on the floor, particularly on the defensive end. But the old Mercury swagger, the attitude that defines the Phoenix franchise, that's still there, and it showed up on Thursday night.
Taurasi finished with 30 points, matching her career playoff high, in a statement performance. And you can pick the statement. "Sixth, are you kidding me?" seems about right.
Taurasi scored 14 in the game-turning third quarter and got great support from Dupree, who spent a good portion of the night working to deny Parker the ball. Dupree also scored six straight points during a run that put the game away in the fourth quarter.
It was a game in which the Mercury were outrebounded by a wide margin and Griner sat on the bench for major minutes, but Phoenix won anyway. The Mercury took care of the ball, hit a few 3-pointers, made a handful more shots and took L.A. out of transition in the second half.
"We know this game means nothing if we go back to Phoenix and lose," Taurasi said. "To come back here on Monday would be a very dangerous scenario for us because we know what a great home team they are."
Parker gave Los Angeles her most valuable minutes in the second quarter, but most of the rest of the night was a struggle.
The Sparks were in control for a little while in this game, but spent the rest of their time early and late scrambling to make up for shortcomings -- whether it be Kristi Toliver's poor shooting night (1-for-13 from the floor), Nneka Ogwumike's foul trouble, turnovers (16), a lack of ball movement or the fact that Phoenix buckled down hard on Parker after she propelled the Sparks to the 43-38 halftime lead.
"The third quarter was really the difference-maker. It shifted greatly," Sparks coach Carol Ross said. "I thought we didn't stay as assertive as we needed to be offensively with pace, with pushing. We don't have a choice. That's what we need to do. That's how we need to play; I just thought we gave that up too easily."
But after a disappointing second half, Los Angeles is now staring down a very tough road. Beat Phoenix in Phoenix on Saturday night and then win again at home on Monday.
Parker, who has made her title ambitions abundantly clear, must will it to happen. She can see that pretty clearly.
"We are fortunate that it's a series," Parker said. "We have a lot of reflection to do."
Contributor, espnW.com
Based in the San Francisco Bay area
Has covered pro and college sports for AOL Fanhouse and the San Francisco Chronicle
Founder of leftcoasthoops.com which covers women's basketball on the West Coast
SPONSORED HEADLINES
MORE WOMEN'S BASKETBALL HEADLINES
MOST SENT STORIES ON ESPN.COM
2013 WNBA PLAYOFFS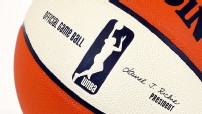 Minnesota went 7-0 in the playoffs, sweeping Atlanta in the WNBA Finals, to win its second title in three seasons. Playoff results »