Commentary
Two motivated clubs meet for title
WNBA Finals open Sunday in Minnesota (ESPN and WatchESPN, 8:30 p.m. ET)
Sorry, Minnesota Lynx, you still don't get to be the underdog. It's your third consecutive year in the WNBA Finals, and you're the favorite again. You wore that mantle well in 2011, but the championship slipped away from you last year.
Yes, Indiana did a lot to make it slip away. It was finally Tamika Catchings' year to win the title in 2012, but it left the Lynx with the feeling that they had not defended well enough nor fought hard enough to repeat as champions.
Sorry, Atlanta Dream, but this is your third trip in the past four years to the WNBA Finals, and you are going to feel underestimated again. The Lynx had a 26-8 regular-season record to your 17-17. They had three players with MVP-like numbers this year (Maya Moore, Lindsay Whalen, Seimone Augustus); you had one (Angel McCoughtry).
Of course, the good thing is that you can use this for fuel: You've got nothing to lose! Everybody's picking Minnesota. (Insert grimace from Lynx coach Cheryl Reeve here.)
[+] Enlarge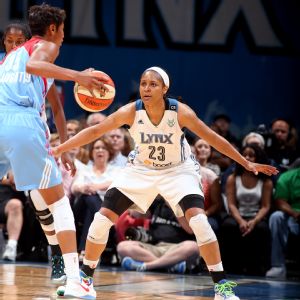 David Sherman/NBAE/Getty ImagesAfter losing in last year's Finals, Maya Moore and the very talented Lynx are extremely focused and motivated.
The WNBA Finals will begin Sunday at Minnesota's Target Center (ESPN and WatchESPN, 8:30 p.m. ET), and at the very least the Dream's goal will be to play more than one game at home during the league's ultimate series.
Atlanta ran into Seattle at its best in the 2010 WNBA Finals, and was swept despite playing well in all three games. It was pretty much the same story in 2011 against Minnesota; the Lynx won those three games by 14, six and six points.
Both times, the series started on the floor of the Western Conference champions, and then the Dream had to watch the Storm and the Lynx celebrate on Atlanta's home court after Game 3 losses.
This time, the Dream came into the postseason on a four-game losing streak and having lost eight of their past 12. Atlanta has played most of this season without forward Sancho Lyttle, and the Dream have had two young players, Jasmine Thomas (third year) and Alex Bentley (rookie) handling point guard responsibilities.
The Dream looked disorganized and frustrated in Game 1 of their Eastern Conference semifinal loss to Washington. But since then, Atlanta has won four games in a row, with McCoughtry averaging 19.6 points in those contests. Atlanta has played like Atlanta can. And once the Dream started doing that, they really did seem to be the best of the East.
But is that going to be enough against the best of the West? Minnesota has swept both of its playoff series, against Seattle and Phoenix, in businesslike fashion.
Even though back in May some of us really did pick Minnesota to win the championship, the Lynx felt Phoenix was getting all the buzz. Or at least Reeve did, although it's likely that didn't actually bother her all that much. Hey, if she could convince the Lynx they should play with a little bit of "we'll show you" chip on their shoulders, all the better.
Reeve was a bit irritated at the start of last season's WNBA Finals because she thought people were underestimating the danger presented by the Fever, in part because Indiana had just lost Katie Douglas to an ankle injury in the East finals.
[+] Enlarge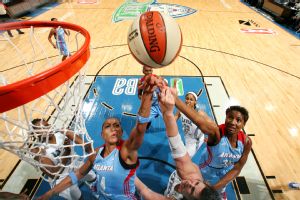 David Sherman/NBAE/Getty ImagesErika de Souza, Angel McCoughtry and Atlanta split their regular-season series with Minnesota at 1-1.
Then Indiana won the opening game in Minnesota, and it changed the whole tone of the series.
So now this is what Atlanta must deal with: A Lynx squad that will be extremely motivated to be completely focused from the tip Sunday. The Lynx are talented and very motivated. It's hard to find any vulnerable spots they might have.
But that said, the Dream did split their regular-season series with the Lynx, losing at Minnesota 94-72 on July 9 (Augustus sat out that game with an injured ankle) and winning 88-75 in Atlanta on Aug. 20. A key factor in that Dream victory over the Lynx was turnovers: Minnesota had 19. And as the Fever could attest -- because they struggled with giveaways against the Dream -- Atlanta can really feast on mistakes.
McCoughtry had 19 points in the August victory over Minnesota, and 16 in the July loss to the Lynx. She led the league in scoring (21.5) during the regular season, but also improved her playmaking as she averaged a career-best 4.4 assists. And she continued to be a force on defense; she also had career-high averages this season in rebounding (5.3) and steals (2.7).
The Fever, who came into the WNBA Finals as underdogs last year, wished the Dream well after losing Game 2 of the Eastern finals to Atlanta. Indiana coach Lin Dunn said she hoped the title could stay with the Eastern Conference, which has been represented in the WNBA Finals by either the Fever or the Dream now for five years in a row.
And Catchings, who knows plenty about overcoming playoff disappointments to win a championship, was asked about McCoughtry's quest to do the same.
"She has to continue to lead her team," Catchings said of her 2012 Olympic teammate. "She does a great job even off the ball, getting to the basket, getting rebounds, putbacks. This year, more than anything, she has played more team ball than she has in the past. And that's what you have to do. You have to play with your teammates to win a championship."
The Lynx stars would no doubt say the same thing about how they won their title in 2011 and also how they lost it in 2012.
So it's the Lynx and Dream again, playing similar roles to what they had in the 2011 WNBA Finals. But can Atlanta get a different ending this time?
espnW.com
Mechelle Voepel joined ESPN.com in 1996 and covers women's college hoops, the WNBA, the LPGA, and additional collegiate sports for espnW.
SPONSORED HEADLINES
MORE WOMEN'S BASKETBALL HEADLINES
MOST SENT STORIES ON ESPN.COM
2013 WNBA PLAYOFFS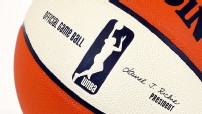 Minnesota went 7-0 in the playoffs, sweeping Atlanta in the WNBA Finals, to win its second title in three seasons. Playoff results »