Commentary
Lynx were the favorite all along
Minnesota wins second title in three years -- now what's next?
DULUTH, Ga. -- A few days before the WNBA Finals got underway, I managed to stir up a hornets' nest.
Uh, no, not with anything I wrote. I mean literally stir up a hornets' nest. Doing yard work on a day off from playoff games, I inadvertently disturbed some bees. Suddenly, buzzing creatures were coming at me from all directions.
I made a frantic run inside, and actually was happy to have escaped with just four stings. So having watched the Minnesota Lynx just win the WNBA title in a 3-0 sweep over the Atlanta Dream, I kind of have of an idea how the Dream feel.
The thing is, the Dream couldn't run yelling into their house to get away from Minnesota. They had to spend three games in the swarm of the Lynx, getting stung again and again.
Game 3 on Thursday at the Gwinnett Arena was the closest of the three contests in the WNBA Finals, an 86-77 victory in which the "local girl," Maya Moore, led Minnesota with 23 points and was named Finals MVP. Moore won three state championships in this building for nearby Collins Hill High school, now she has won a WNBA title here. Maybe they need to rename this place "Maya's House."
[+] Enlarge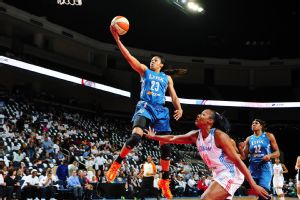 Scott Cunningham/NBAE/Getty ImagesAll season long, Minnesota and Maya Moore looked poised to win their second WNBA championship.
The other two games of this series, at Target Center in Minneapolis, were 25-point blowouts. It's not that Atlanta -- which put up a good battle Thursday -- is a bad team. Yes, the Dream went 17-17 during the regular season. But they were without a key player, forward Sancho Lyttle, for most of the season. They still knocked out the defending champion Indiana Fever in the Eastern Conference finals and made their third appearance in the WNBA Finals.
But when the Lynx play like they have most of this season -- and all of the playoffs -- they are lethal. A title wasn't going to happen for anybody in the WNBA but Minnesota this season.
Part of it was because what went on in the 2012 WNBA Finals, when the Fever shot the ball so well from all over the court -- not their forte, usually, but they pulled it off -- and upset Minnesota 3-1. That gave the Lynx a little extra fuel for this season, not that they really needed a lot.
Minnesota won this year -- and in 2011 -- because the Lynx were the best team and they played like it. Thursday, all five starters scored in double figures. No matter who you try to stop for Minnesota or how well you do it, you can't stop them all. Hornets' nest, indeed.
The Lynx hired the right coach at the right time by bringing Cheryl Reeve on board in 2010. And they made the most of every opportunity that came their way the past few years. That includes getting Rebekkah Brunson in the expansion draft after the Sacramento Monarchs folded in 2009. Making the trade for Lindsay Whalen even though it meant giving up a No. 1 draft pick (Tina Charles). Getting Moore with the No. 1 pick in the 2011 draft. Luring Janel McCarville back to the WNBA.
Sure, some of these things involved good fortune. The New York Liberty took Nicole Powell first in the Monarchs' expansion draft, so Brunson was still available for the Lynx at No. 2. The lottery balls went the Lynx's favor in 2011 giving them the mega-jackpot of Moore. Whalen and McCarville are Minnesota graduates who wanted to be back in Minneapolis.
But getting good luck doesn't matter if you don't do something with it, and the Lynx have. Roger Griffith took his share of arrows (I shot some of those, certainly) for decisions that seemed to inadvertently prolong Minnesota's mediocrity.
However at this point, with two titles and three consecutive appearances in the WNBA Finals, with the core group of the Lynx still in their primes and happy to be playing together, with a still-growing fan base for a franchise that turned a profit this year, I think the past is definitely past.
[+] Enlarge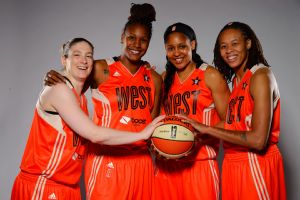 Jesse D. Garrabrant/NBAE/Getty ImagesHow good were the Lynx this season? Minnesota had four players named to the All-Star Game.
Hey, even a certain infamous trade is really no longer relevant in talking about the Lynx. Griffith deserves praise for how this organization didn't just turn itself around, but became tops in the league.
Is there concern for the league that these WNBA Finals weren't really all that competitive? Or that there have been sweeps three of the past four years? Maybe, but that's not a worry for the Lynx. They have been busy setting a standard, and it's up to everyone else to catch them.
Meanwhile, the Dream have been good enough to make the Finals three times, though they were swept each time. Will they eventually get through the door if they keep knocking?
Atlanta has run into Seattle when the Storm were the league's best team (2010) and the Lynx when they were the best twice. Maybe the breaks will come Atlanta's way eventually -- either when the Dream are a little stronger overall -- or when their opponent isn't.
The WNBA offseason will be interesting for what happens and when. The league's collective bargaining agreement has expired, so the WNBA and the players' union will need to continue negotiations. It remains to be seen if there will be any substantial changes. But one mentioned by everyone is the need -- in the view of the players and many of the coaches -- to expand the rosters to 12 and/or implement an injured-reserve system.
The WNBA's draft lottery -- which will be among New York, Connecticut, San Antonio, and Tulsa -- will let us start speculating about which of this year's college seniors might be the No. 1 pick next April. Stanford's Chiney Ogwumike? Maryland's Alyssa Thomas? Baylor's Odyssey Sims? The date for the lottery isn't set yet.
Minnesota fans, of course, probably feel they've won another kind of cosmic lottery -- one that finally gave them not just a good team, but a great one. Reeve didn't want to hear any "dynasty" talk before the WNBA Finals, but it's a word that she just might need to get used to.
Because if you asked me right now who I'd pick to win next year's title, it would be the same team I picked this year. The Lynx may be a "buzz kill" for the rest of the league's teams once again in 2014.
espnW.com
Mechelle Voepel joined ESPN.com in 1996 and covers women's college hoops, the WNBA and additional collegiate sports for espnW. Born in Los Angeles, she grew up 40 miles north of St. Louis and is a lifelong Cardinals fan still basking in amazement over their 2011 World Series title.
SPONSORED HEADLINES
MORE WOMEN'S BASKETBALL HEADLINES
MOST SENT STORIES ON ESPN.COM
2013 WNBA PLAYOFFS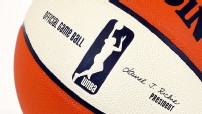 Minnesota went 7-0 in the playoffs, sweeping Atlanta in the WNBA Finals, to win its second title in three seasons. Playoff results »