Category archive:

California Golden Bears
December, 19, 2011
12/19/11
12:28
PM ET
The headlines Monday morning are about Baylor beating Connecticut and Notre Dame beating Kentucky, but there's still cause to consider an abbreviated look at other weekend action.
[+] Enlarge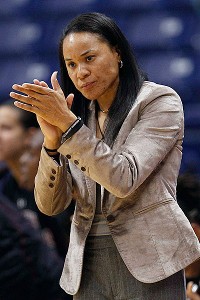 Frank Victores/US PresswireCoach Dawn Staley liked what she saw Sunday when South Carolina held No. 16 North Carolina to 48 points and improved to 9-2.
Best team performance: South Carolina. There wasn't much heft to the 8-2 record South Carolina brought to Myrtle Beach for the neutral-site clash with North Carolina, but a 79-48 win presumably hit the ACC team like a ton of bricks.
The Tar Heels played two games of consequence this season, against Penn State and South Carolina, and lost both of them without being within single digits on the scoreboard over the final 10 minutes.
Dawn Staley's Gamecocks did just about everything right, shooting 47 percent, claiming a 47-30 advantage in rebounds, turning over the ball just nine times and getting 21 points from La'Keisha Sutton and 20 points from Markeshia Grant.
Considering a third of the team's wins came while scoring 60 or fewer points, defense still rules for Staley, but at least it's nice to know the offense has this in it.
Best individual performance: Gennifer Brandon, California. It came in a loss against Ohio State, California's third of the season by three or fewer points against a ranked opponent, but Brandon's line of 24 points and 24 rebounds in 33 minutes jumps off the page. Brandon entered the weekend tied for 48th in the nation in rebounding. Her average went from 9.6 per game to 10.9 per game after her effort against the Buckeyes, the latter average bettered by just 10 players entering the weekend.

Brandon might dwell, as players are wont to do, on the shot she missed in the closing seconds to try to force overtime, but it's safe to say her team wouldn't have been in that position in the first place without her points and rebounds.
Best coaching milestone: Jim Foster. Brandon's super-sized double-double wasn't the only big number that came out of Ohio State's victory against Cal. Buckeyes coach Jim Foster became the ninth Division I coach with 750 career wins.
It's difficult to believe it has been nearly two decades since he took Vanderbilt to the Final Four in 1993, but he keeps piling up victories. He needs 11 more of them to make Ohio State the most successful stop of a career that includes St. Joseph's and Vanderbilt.

Best comeback: Duquesne against West Virginia. Duquesne beat a nationally ranked Ohio State team on the road a season ago during the holiday portion of the schedule and proceeded to miss the NCAA tournament out of the ultra-competitive Atlantic 10. So Dukes coach Suzie McConnell-Serio wasn't ready to put any special labels on Saturday's 61-55 win against an unranked West Virginia team. But it sure beats losing, an outcome that seemed certain when Duquesne trailed by 17 points early in the second half.
Behind clutch 3-pointers from Alex Gensler, big baskets from Wumi Agunbiade, unsung role play from Jocelyn Floyd, Vanessa Abel and Ahjah Hall and a 2-2-1 press that left the Mountaineers flummoxed and coach Mike Carey apoplectic on the bench, the Dukes closed the game on a 38-15 run and claimed the win.

Best early start to the week: Northwestern. Sunday was only the beginning of things for Northwestern, which played UNLV in the first of three games in three days in Las Vegas. But it was a good start. The Wildcats improved to 9-1 with a 79-49 win against a Lady Rebels team that entered with just two losses on the season and a victory against Big Ten side Iowa.
It seems there is life after Amy Jaeschke for Northwestern, in large part because Joe McKeown is still the man in charge. Highly touted freshman Morgan Jones is living up to the hype and finished with 18 points, seven assists and three steals Sunday, but holdover Kendall Hackney is the star so far. Hackney scored 22 against UNLV, her fourth game in a row with at least 20 points. A win Monday against Kansas State and Northwestern would be 4-1 against teams from BCS leagues.
January, 30, 2011
01/30/11
6:48
PM ET
Monday
Oral Roberts at Oakland: With a 76-74 win against IPFW on Saturday, Oral Roberts completed a season sweep of the third-place Mastodons and improved to 10-0 in the Summit League. That leaves Oakland as the biggest obstacle in the way of a conference title. Yet when the teams met in Tulsa on New Year's Eve, Oral Roberts won by 22 points. Kevi Luper is a prolific shoot-first scoring guard who put up 29 in the last meeting, but Jordan Pyle (25 points, 8 rebounds) and Jaci Bigham (18 points, 11 assists) led the way against IPFW. Oakland, which beat Illinois and lost to Penn State in overtime earlier this season, scored 100 points against Centenary on Saturday without a single player attempting more than eight field goals.
Tuesday
Georgetown at Louisville: The Cardinals secured one important victory Saturday against Rutgers; Tuesday brings an opportunity to add a second of supreme postseason importance. Jeff Walz's team wasn't in Charlie Creme's Jan. 18 Bracketology, but the subsequent win against the Scarlet Knights moved the Cardinals to 5-3 in the Big East. And while there are no guarantees in the league, Louisville has three winnable road games remaining at Villanova, South Florida and Providence, as well as a home game against Seton Hall. It's difficult to imagine a team with 10 Big East victories missing the NCAA tournament, and Tuesday's game could end up being No. 10 when all is said and done.
Wednesday
North Carolina at Florida State: The Tar Heels got well after last week's loss against Maryland with predictable victories at home against Virginia and Virginia Tech. The two games produced six double-digit rebound performances for the Tar Heels. That's worth noting because, well, it's a lot of rebounds, but also because Florida State hammered North Carolina on the boards in an 83-72 win in Chapel Hill last season with Jacinta Monroe. For its part, Florida State was outrebounded by both Boston College and NC State last week, despite winning both games. It was a curious week for Alexa Deluzio, who entered with 34 fouls in her team's first 20 games and then picked up nine against the Eagles and Wolfpack.
Oklahoma at Baylor: If you want evidence as to why Sherri Coale might just be the best coach in college basketball, look at Oklahoma's recent victories against Texas Tech and Oklahoma State. In both cases, Coale maneuvered her team to victory despite seeing the Sooners beaten on the boards and struggling to contain opposing offenses. If you want evidence as to why it's still not clear exactly what Oklahoma is this season, well, look at Texas Tech and Oklahoma State beating the Sooners on the boards and shooting 46.8 percent from the field. The Sooners won two of three games against Baylor last season, and hit just seven 3-pointers in 125 minutes in doing it. With Whitney Hand healthy and Aaryn Ellenberg and Morgan Hook around, will they be able to spread Baylor's suffocating defense?
Wyoming at BYU: TCU's penchant for puzzling losses (Air Force joining New Mexico on that list) opens the door for a first-place showdown between two teams that already lost to the Horned Frogs. The Cowgirls still don't have a road win against a team with a winning record, but they're statistically dominant, leading in scoring margin and field goal differential in conference play. Four days should be ample recovery time, but four Wyoming players played at least 38 minutes in Saturday's victory against San Diego State. BYU guard Mindy Bonham is coming off a productive week, totaling 14 points, 9 assists and 8 rebounds in a win at San Diego State and 18 points and 10 assists in a home victory against New Mexico.
Thursday
Auburn at Kentucky: Nell Fortner's team left itself a lot of work to do after understandable early losses against the likes of Florida State and Duke mushroomed into a funk that included neutral-site losses against South Florida and Sacred Heart, but things seem to quietly be coming together. Sunday's victory against South Carolina made it 6-2 in the SEC for an Auburn squad whose field goal offense and field goal defense are both improving in conference play. And with Kentucky riding a six-game winning streak in advance of Tennessee's visit on Feb. 7, might the Wildcats fall into the proverbial trap game? Kentucky loves to harass guards, so the matchup against Morgan Toles (2.9 assist-to-turnover ratio) should be fun to track.
Penn State at Michigan: Both teams beat preseason conference favorite Ohio State within the past week. The problem for Michigan is that it followed up that performance with a loss at cellar-dwelling Minnesota on Sunday. Penn State beat the Buckeyes by following a familiar script: shoot the ball well enough to offset a propensity for turnovers. Freshman sensation Maggie Lucas hit 6 of 8 3-pointers for Penn State against Ohio State. The Lady Lions are running a turnover deficit in conference play after accumulating a significant surplus early in the season, but as long as they shoot 45.9 percent from the 3-point line, they can get away with it.
California at Arizona: It's too early for an elimination game, but this sure feels like something close as both teams begin the second half of Pac-10 play. The Bears play the league's bottom four teams at home down the stretch, and their five toughest games on the road. The Wildcats face the opposite scenario, making this a hinge game for each side. When these two teams met in the Bay Area, Cal nearly doubled up Arizona on the boards in an 80-60 victory. The Wildcats might be the worst rebounding team not currently running in the red in rebound margin. In addition to that game against Cal, they were outrebounded against USC and UCLA over the weekend by 14 and 24, respectively.
Friday
Princeton at Harvard: Few teams were more dominant relative to their conference competition last season than Princeton. Friday night will reveal whether a repeat is in order. The Tigers improved to 3-0 in Ivy play with a victory at Yale on Saturday. All three wins came by double digits and all came without star forward Niveen Rasheed, out for the season with a knee injury. Without Rasheed, Addie Micir and Lauren Edwards have taken the scoring lead, and with the exception of the Yale victory, Princeton has relied more heavily on 3-pointers. Harvard point guard (and phenomenally named) Brogan Berry has 14 assists and just two turnovers during Harvard's 3-0 Ivy start.
February, 8, 2010
02/08/10
10:33
AM ET
It's time to take a quick tour -- two by two this year -- through some of the best teams out there.
No. 7 California
Coming off a second consecutive appearance in a super regional, despite having to win back-to-back regionals on another team's field, Cal's momentum appears headed solidly in one direction. Not least because in addition to losing just two starters from last season's team, the Bears add Washington transfer Jace Williams, who managed a .914 OPS as a freshman for the Huskies in 2008, and a freshman class highlighted by the EA Sports All-America battery of Jolene Henderson and Lindsey Ziegenhirt.
[+] Enlarge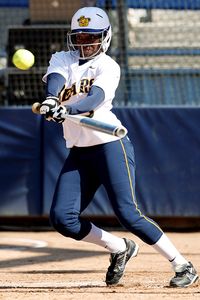 California AthleticsIn 19 conference games last season, Reid hit .377, seventh in the league, and stole 13 bases.
And you don't have to look very far in Berkeley to see that even in the country's best conference, newcomers can prosper without much of an apprenticeship.
The Pac-10 season can knock the wind out of just about any freshman. Like the SEC in football or the ACC in women's soccer, there are no easy games but ample opportunities for tailspins. So it's not without note that the conference grind is also where Cal freshman Jamia Reid caught her second wind during a successful debut for the Bears.
In 19 conference games last season, Reid hit .377, seventh in the league, and stole 13 bases, tied for the lead with Washington's Ashley Charters. The former came on the heels of a .352 batting average in her 37 nonconference games. Granted, the Pac-10 might not have featured its usual assortment of aces last season, and 19 games is a tiny sample size. But Reid still stood out, even in the company of other freshmen who wasted little time putting themselves among the elite.
In addition to Reid, five other freshman in the Pac-10 hit at least .300 for the entire season: Ashley Hansen (.400), Stanford; Kimi Pohlman (.360), Washington; Lini Koria (.352), Arizona; Katelyn Boyd (.308), Arizona State; Andrea Harrison (.303), UCLA. Of that quintet, only Pohlman's average improved during conference play, from .359 to .361.
No. 8 Oklahoma
Amber Flores spent her first three seasons at Oklahoma proving she's one of the nation's best players no matter where she plays -- second base, shortstop, outfield, wherever she's needed. Last season, her on-base percentage (.594) ranked second in the nation, trailing only Katie Cochran; Flores was seventh nationally in slugging percentage (both were career highs but right in line with her previous production).
It doesn't take very long to come to appreciate the slugger.
"She's just such a competitor," Oklahoma freshman Keilani Ricketts said of her first impressions. "And you can tell how much she loves the game; she just makes it look so easy."
Already a patient hitter, Flores will have that virtue tested without Samantha Ricketts behind her in the order (opponents intentionally walked Flores just four times last season). But just about the only thing the All-American doesn't do is pitch, and that is where Ricketts can provide some cover.
It's not entirely fair to lay Oklahoma's postseason disappointments at the feet of the pitching staff. In 2008, D.J. Mathis threw three NCAA tournament shutouts, and Mathis wasn't on the hook for the stunning 1-0, 11-inning loss against North Dakota State that threw open last year's regional in Norman, Okla. (she pitched 8.1 shutout innings in that game).
But it's also true that since Kami Keiter graduated after the 2005 season, no pitcher for the Sooners has put herself in the mix for the program's top five in career ERA. There have been some good pitchers recently; there haven't been great pitchers. That's a high bar to set, but it's what happens when you add a national championship to the trophy case.
With a four-person staff, including the much-sought freshman duo of Ricketts and Michelle Gascoigne, the resources at least appear to be in place for a change.
Graham Hays covers softball for ESPN.com. E-mail him at Graham.Hays@espn3.com.