Category archive:

Purdue Boilermakers
January, 15, 2012
01/15/12
9:40
PM ET
Monday morning headline: Big Ten basketball is fun again.
As drama goes, the weekend in women's college basketball would merit at least a passing grade on Rotten Tomatoes. Perhaps the schedule didn't offer anything on the Oscar-worthy scale of Notre Dame beating Connecticut in overtime last weekend, or Kentucky edging Tennessee during the week, but thrills and spills were abundant.
On the heels of a big win at home against Maryland on Thursday, Miami earned a 60-57 victory at Florida State on Sunday when Stefanie Yderstrom hit a 3-pointer in the waning seconds to support Shenise Johnson's 24 points, six rebounds, four assists and four steals. Yderstrom hit 7 of 13 shots from behind the arc in the two wins.
[+] Enlarge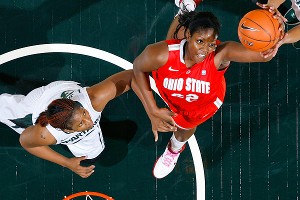 AP Photo/Al GoldisPurdue is unbeaten in Big Ten play, but Ohio State, Michigan State and Nebraska are right behind with 4-1 marks.
Rutgers rallied from a nine-point halftime deficit and held off Louisville in an overtime thriller, easily the biggest win of the season for a team that found itself in the top 10 with just one victory against a ranked team before Saturday's game.
Baylor needed only a half to dismantle Texas behind 32 points and 13 rebounds from Brittney Griner.
But for collective entertainment value, nothing topped the Big Ten. And that sentence has been a long time coming.
As painful as it is to write for someone who is at heart a Midwesterner, the Big Ten has been both boring and bad in recent seasons. At various times since Michigan State last represented the league in the Final Four, the Mountain West, Atlantic 10 or Colonial Athletic Association surpassed it in entertainment value -- and quite possibly in quality.
We won't really know about the quality part until March, when a league with two regional finals appearances and a 26-26 record in the past six NCAA tournaments tries to do something about those numbers. But Sunday offered hope that the race to be the best of whatever the Big Ten is will be worth watching in the weeks ahead.
Purdue, the league's stingiest defense, was at it again against Iowa. The Boilermakers (5-0) claimed sole possession of first place with a 57-53 win in which the Hawkeyes -- inconsistent but far from short on offense this season -- shot just 36 percent from the field. Only one team has reached 70 points against the Boilermakers this season (and curiously, for a team that played Duke, Notre Dame and Texas A&M, among others, it was Central Michigan).
At the other end of the pace spectrum in a game between teams in the top 25 nationally in scoring offense, Penn State evened the season series against Nebraska with a 93-73 road win in Lincoln that bunched up the standings with the Lady Lions at 3-2 and the Cornhuskers at 4-1. In two games, the teams combined for 300 points.
Right there with Nebraska in the one-loss club are Ohio State and Michigan State after the Buckeyes beat the Spartans 64-56 in East Lansing. As poorly as the Spartans played early -- and coach Suzy Merchant pulled out the word "soft" to describe her team's start -- they cut the lead to three points with a little more than five minutes to play. That's when Tayler Hill hit a momentum-crushing 3-pointer en route to 21 points on 8-of-12 shooting, the kind of shot All-Americans make on the road when games start to slip away.
And not too far off the radar, quirky Michigan overcame 28 points from Minnesota freshman Rachel Banham -- who looks at times like the next coming of a familiar Big Ten face, Katie Douglas -- to earn a 61-57 win behind 20 points from Rachel Sheffer and more turnover-free basketball from Jenny Ryan.
Contrasting styles, close games and emerging stars. The weekend didn't prove the Big Ten is ready to win a title again, but it showed it's worth the price of admission.

Johnson
Best individual performance:
Glory Johnson, Tennessee. It wasn't the most breathtaking line, but Johnson's 16 points, 13 rebounds and five steals in an 87-64 victory against Vanderbilt added up to the most impressive half of a senior tandem for the Lady Vols that hopefully isn't about to be separated for any length of time after Shekinna Stricklen sustained a knee injury late in the game (more on Stricklen from the
Knoxville News Sentinel
). A last-seconds loss at Kentucky midweek that ended Tennessee's 36-game SEC winning streak wasn't coming off the boards regardless of the outcome Sunday, so the challenge was to avoid letting that loss linger against a Commodores team capable of exploiting an opening. Just such a scenario was in play for much of the game's first 30 minutes, but thanks in large part to Johnson, Stricklen and fifth-year player Vicki Baugh (and, yes, a healthy dose of freshman Ariel Massengale), the Lady Vols were good enough early to be able to put the game out of reach with some inspired play late.
Best individual performance, below the radar: Lauren Lenhardt, Boise State. Three days after scoring 23 points to lead Boise State to a 65-46 victory against New Mexico, the first game in the Mountain West Conference for the Broncos, Lenhardt topped that effort with 29 points in an 81-75 win at Air Force, her team's first conference road game. The Broncos won a total of three conference games last season in the Western Athletic Conference, but they lead the MWC in scoring by more than six points per game this season behind Lenhardt, a 6-foot-3 junior averaging 13.8 points per game, and senior guard Kati Isham, averaging 15.6 points per game.
Best streak: Courtney Hurt, VCU. Hurt totaled 28 points and 15 rebounds in Virginia Commonwealth's 83-80 win against William and Mary. That's six games in a row for Hurt with at least 15 rebounds and 11 of 12 games with double-digit rebounds, propelling her to the national lead at 12.7 boards per game.
Best team performance: Saint Mary's (Calif.). The Gaels staked themselves to at least a share of West Coast Conference frontrunner status with a 66-63 road win against No. 23 Gonzaga, getting 18 points from Alex Carbonel, almost eight better than her season average. The result marked the first conference loss for Gonzaga since the 2008-09 season, ending the team's 34-game conference winning streak. Saint Mary's now owns wins against both Gonzaga and BYU this season and has lost just once in its past 10 games.
Best team not enough people are paying attention to: St. Bonaventure. More on the Bonnies in the days to come, but a 64-52 win against St. Louis moved them to 3-0 in the Atlantic 10 for the first time in program history, and 16-2 overall. With wins against Marist, Duquesne, St. John's, Temple and West Virginia, and losses against only Delaware and Villanova (the latter without second-leading scorer Megan Van Tatenhove, because of injury), St. Bonaventure has earned more support in the polls than it's getting at the moment. Seven days ago, before a midweek win at Temple and the weekend win against St. Louis, it received just one vote in the AP poll and none in the coaches' poll -- in which St. John's and West Virginia each received votes.
The week ahead
North Carolina at Connecticut (ESPN2, 7 ET Monday): The margin of victory for Connecticut in recent seasons makes it easy to forget that the Huskies claimed the all-time series lead for the first time last season. Despite a soft schedule, North Carolina turns over the ball 19.3 times per game. That's less of a problem when foes like USC-Upstate or Savannah State turn it over 20-plus times, but it is a big problem against teams that aren't physically overmatched, as in blowout losses against Penn State and South Carolina earlier this season. There aren't many imposing post players left on Connecticut's schedule, so a matchup against Clay Shegog is an important test for Stefanie Dolson. Of course, the same is true in reverse for Shegog, who has hit just 4 of 19 shots in three career games against the Huskies.
Rutgers at St. John's (Tuesday): Rutgers kicked off a potentially season-defining three-week stretch with an overtime win against Louisville on Saturday. Games loom against Connecticut, DePaul, Georgetown and Notre Dame before the Super Bowl. But St. John's had quietly been building up a head of steam of its own, including a win against Louisville on Jan. 8 and a win at Syracuse last week, before a setback against Marquette on Sunday. Neither team can afford to lose this one.
Duquesne at Temple (Wednesday): There's quite a crowd forming in the Atlantic 10 when it comes to NCAA tournament positioning. Five A-10 teams were ranked between Nos. 38-54 in last week's RPI, not including Temple at No. 66 or current league co-leaders Charlotte and La Salle. It's difficult to see the league getting more than one or perhaps two at-large bids (Charlie Creme had St. Bonaventure as the only at-large pick in his most recent Bracketology), so every game between contenders takes on the feel of something close to a playoff.
Baylor at Texas Tech (Wednesday): Baylor has lost two regular-season games since the start of last season. One defeat came in Hartford against Connecticut. The other came against Texas Tech in Lubbock on Feb. 19, 2011, a 56-45 setback in which the Lady Bears shot just 26 percent and were beaten on the boards. So far this season, only Tennessee beat Baylor on the boards in a game, and only Iowa State held the Lady Bears to anything less than 40 percent shooting. And yes, it's the last meeting in Lubbock between Griner and Lady Raiders senior Jordan Barncastle.
LSU at Tennessee (Thursday): Kentucky's trip to Georgia the same night might arguably be the bigger game in the SEC, especially after LSU's loss at Florida and Kentucky's win against South Carolina on Sunday, but Nikki Caldwell's first trip to Knoxville as an SEC coach stands out as a must-see game.
Loyola at Marist (Friday): Is this on the list because it's on ESPNU at 6 p.m. ET? Well, yes, now that you mention it. But the combination of a typically light schedule and television provides an opportunity to check in on one of the more familiar mid-major names. It's a longer list than the Red Foxes are used to, but there isn't a bad loss among setbacks against Villanova, Princeton, Boston University, Hofstra, St. Bonaventure and Kansas State. So push back the dinner reservation an hour and watch Red Foxes star Corielle Yarde.
December, 4, 2011
12/04/11
10:25
PM ET
Monday morning headline: Statements or suggestions?
Statement wins. They're not just for college football anymore! Thankfully, since the only subjective judgment used in basketball's postseason is between No. 64 and No. 65, not No. 2 and No. 3, style points from Sunday's games are nothing more than conversation fodder. But four games between ranked teams make for a lot of fodder.
Ranking the statements made:
1. Purdue beating Texas A&M: More on the Boilermakers in a minute.

2. Ohio State beating Oklahoma: A year is a long time to wait for a mulligan, but that's what Ohio State earned with a big win at Oklahoma. The Buckeyes beat the Sooners a year ago to improve to 7-0 and promptly lost four of their next five games, and six of their next nine, locking in the script for a team that was never as consistent or as good as you got the feeling it should have been with Jantel Lavender and Samantha Prahalis. The schedule through the end of the month is much kinder this time around, and after adding a victory in Norman to home wins against Temple, Florida State and LSU, it's once again tempting to believe this team has some long-range potential. Averaging a shade more than 21 points per game for the season, Tayler Hill averaged 24.5 points in those four signature wins. She also shot 48.2 percent in those games.
[+] Enlarge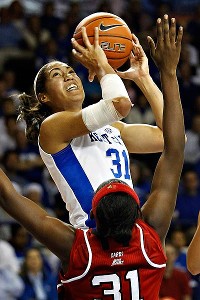 AP Photo/James CrispSamantha Drake shoots over Louisville's Asia Taylor in the Wildcats' 74-54 victory Sunday.
3. Kentucky beating Louisville: A'dia Mathies got the best of Shoni Schimmel in a battle of Bluegrass State guards (albeit one a transplant), and Kentucky's 74-54 win just about evened the score in the series after last season's 78-52 drubbing at the hands of Louisville. This one matters most because Kentucky's schedule was lighter than a helium balloon floating in the International Space Station coming into Sunday, making it tough to know what to think of life after Victoria Dunlap (and before Connecticut transfer Samarie Walker becomes eligible following the fall semester). The problem is Sunday seemed to prove Kentucky can turn people over and play hard for Matthew Mitchell, two things we already knew. If the Wildcats repeat the 3-point shooting (10-for-19) at Duke on Thursday, then we've got a statement.
4. Tennessee beating Texas: Don't get angry, Lady Vols Nation. You're only fourth because your team's elite credentials mean beating Texas is more taking care of business than making a statement. The rebounding (49-38) is what we expect. The 3-point shooting (11-for-21) can't be counted on every game, but it's nice to know it's there. The impressive part? Just nine turnovers. Against its three toughest opponents this season, Tennessee now has just 33 turnovers (including 13 against Miami and 11 against Baylor). Tennessee didn't play Miami a season ago, but if you substitute Louisville in its place, the Lady Vols had 58 turnovers in three similar games.
Best team weekend performance: Purdue. A season ago, Purdue lost a tough home game against Maryland in the ACC/Big Ten Challenge. It then lost its next two games at Notre Dame and Texas A&M. There's no shame in those defeats, but losing by 21 points in South Bend and a cringe-inducing 45 points in College Station pushed the Boilermakers completely out of the national conversation the rest of the way. Well, Purdue had ample reason to look at Thursday's loss at Duke as one that got away, a 40-39 lead with 11:58 to play vanishing in a game-ending 25-13 run by the Blue Devils. Purdue couldn't buy a shot, couldn't get a rebound and couldn't stop turning over the ball when it mattered.
So what did Sharon Versyp's team do three days later against the defending national champion? Turn a nine-point deficit with 15:39 to play into a 60-51 win. Purdue matched Texas A&M on the boards, getting 12 rebounds from Sam Ostarello, in addition to four steals and two blocks. Brittany Rayburn and Courtney Moses hit 5 of 10 shots from behind the arc and matched seven turnovers against a tough defense with seven assists.
It's a statement win all on its own. It's an even better one given what preceded it.

Best individual weekend performance: Chucky Jeffery, Colorado. The number of unbeaten teams is already dwindling toward single digits, with few real surprises amid names like Baylor, Connecticut, Delaware and Green Bay. One name that does jump out is Colorado, it of the 18-16 record last season. Playing a schedule that nobody will confuse with those favored by teams like Rutgers or Tennessee helps, and Sunday's 68-59 victory against Idaho might not rank high on the statement scale, but unbeaten is unbeaten. Jeffery ensured the Buffaloes still fit the category with 30 points and 10 rebounds against the Vandals. For the season, she's averaging 18.3 points. 9.4 rebounds and 4.1 assists while shooting 54 percent from the floor and 44 percent from the 3-point line, so, you know, expect to see her name here again at some point.

Best individual off-the-radar weekend performance: JaQuayla Berry, North Carolina A&T. It's never too early to start conference play. All right, it's ridiculously early to start conference play, but the MEAC is one of several leagues doing it anyway. Berry gets the nod here for filling up the stat sheet with 28 points, 14 rebounds, five assists and three steals in a game that mattered, North Carolina A&T's 84-74 win against North Carolina Central. Berry was third in the nation in steals per game last season.

Best mid-major team: Green Bay. The next mid-major top 10 isn't until next week, but consider this an unofficial change at the top. Gonzaga dropped a 58-51 decision against USC at home Sunday, while Green Bay completed a weekend that began with a win Friday against in-state rival Marquette and ended with a 74-67 victory over Northern Iowa on Sunday. Senior post Julie Wojta was at it again, with a double-double against Marquette and a career-best 26 points against Northern Iowa, but keep an eye on redshirt freshman Megan Lukan. Phoenix coaches last season compared Lukan to Celeste Hoewisch at the same point in her career (both redshirted their first season in Green Bay). Lukan had 12 points and three steals against Marquette and 13 points against Northern Iowa. Lukan is a keeper.
Setting up the week ahead (Monday-Friday)
Rutgers at Miami (Monday): Not a single Rutgers player averaged 30 minutes per game through the team's first eight contests, which is saying something for a program that recently seemed capable of using players for 30 minutes a half. It's early, and there have been a couple of bench-friendly wins against teams like Lehigh and La Salle, but will depth actually be an asset for the Scarlet Knights? Speaking of spreading the wealth, Miami's Morgan Stroman led the Hurricanes with 20 points in last week's win at Michigan State, the first time a player other than Shenise Johnson or Riquna Williams led them in scoring since Dec. 18, 2010 (Stroman against UC Riverside).
Texas A&M at Connecticut (ESPN2, 7 p.m. ET Tuesday): There's something about the Women's College Cup, college soccer's version of the Final Four, that doesn't sit well with the Aggies. Long the Big 12's flagship soccer team, Texas A&M has a strong claim to being the best program never to reach the signature event. And now for the second year in a row, Gary Blair's basketball team dropped its first game of the season over College Cup weekend. OK, maybe I've been around too much soccer this weekend. The Aggies bounced back from a loss at Duke last season with a big victory against Purdue in their next game. Now coming off a loss at Purdue, they need Sydney Carter and Adrienne Pratcher (combined 3-for-21 versus Purdue) to at least play Bria Hartley and Caroline Doty to a standstill to have a chance in Hartford in the Jimmy V Classic.
Duke at Kentucky (Thursday): Duke's Chelsea Gray is in the middle of any conversation about the weekend's best performance after going for 14 points, 13 assists, 11 rebounds and six steals (and just one turnover) in a 92-43 rout of Pittsburgh on Sunday. Now the challenge is to see how she and Chloe Wells hold up against the pressure Kentucky applies. This has all the makings of a game in which both teams approach 30 turnovers, but if Wells and Gray take care of the ball and get looks inside for Elizabeth Williams and at the 3-point line for Tricia Liston, look out. For the season, the Blue Devils are still running a positive assist-turnover ratio.
November, 21, 2010
11/21/10
11:46
PM ET
BURLINGTON, Vt. -- If Boston College is going to make a run at its first NCAA tournament appearance since 2006 with just nine players on the roster, it's going to need to steal a game or two from the six teams picked to finish ahead of it in the ACC.
The good news is that if the first four games of Kristen Doherty's college career are any indication, the Eagles have a thief as entertaining to watch as anything this side of the "Oceans" movie franchise.
[+] Enlarge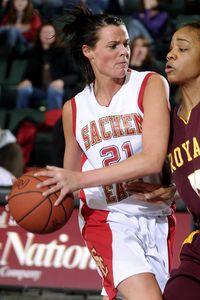 AP Photo/Hans PenninkKristen Doherty, who played for Sachem East (New York) in high school, was HoopGurlz's No. 12 recruit last year.
Doherty and Boston College breezed through the TD Bank Women's Basketball Classic over the weekend, beating Dartmouth 87-61 on Friday and host Vermont 85-50 on Sunday to improve to 4-0 this season after earlier wins against Boston University and Hartford. The competition will get considerably more difficult (mid-major powers last season, Hartford and Vermont are both off to slow starts in rebuilding seasons), but Doherty's numbers so far this season would turn heads if they came against YMCA weekend warriors, let alone Division I teams.
In four games, the freshman who was ranked No. 12 nationally among incoming recruits by HoopGurlz has 23 rebounds, 20 assists, 22 steals and just two turnovers in 129 minutes.
A one-dimensional freshman can still be a valuable commodity if she's consistent within those limitations. A freshman whose game spans the number of dimensions usually reserved for something written by Stephen Hawking or the late Carl Sagan is something else entirely.
"She's not really a freshman," Boston College coach Sylvia Crawley said. "She is a special player. She gets what we're doing defensively; she just gets it. She knows where to be at the right time, anticipates very, very well. We're pressing a lot, and we put her in positions where she's able to see the floor and anticipate for steals at the end of the press. She just kind of steadies our team, even though she's a freshman."
That Doherty, who averaged close to 30 points per game in high school, is also an elite scoring prospect was on display Saturday, when she hit 7 of 10 shots from the field, including all five of her 3-point attempts, to lead all scorers with 21 points. But what made her earlier box score stuffing all the more impressive is that it came while she was working through a cold shooting start, hitting just 10 of 33 shots in her first three games. Rather than get flustered or unnerved by the misses, she made up for it -- and them some -- in other areas.
"I was getting frustrated, but that's not the whole part of the game, so I really focused on my defense," Doherty said. "Each game, Coach gave me specific defensive assignments and told me to lock down, stop them from scoring. I really focused on that, and I knew once I got into the flow of things and really got comfortable, my shot would just fall. But I really focused on defense."
A valuable lesson in bringing an all-around game with you to college? Well, sure, but ask Doherty about the roots of her defensive prowess and she takes on the embarrassed look of someone who just banked in a 3-pointer from the corner. She got a lot of steals in high school, but she is the first to admit that end of the court wasn't exactly a priority until the Boston College coaches called her in during preseason and told her she could be -- and the team needed her to be -- a stopper.
"She was not a defensive player at all in high school," Crawley said. "But when I was recruiting her, I could tell that she was capable of playing good defense. She's smart enough to be a good defender. Not the quickest player in the world but she understands her body and what she can and cannot do. And because she's so smart and anticipates so well, she gets more steals than players who are twice as fast as her."
At least against Vermont, Doherty's steals weren't the result of a player poaching at the expense of neglecting an assignment elsewhere, even if she has some freedom to roam in Crawley's system. More representative was a play in which she started to move toward trapping a Vermont player on the sideline, only to sense the play developing too quickly away from her, retreat back to the weak side to be in position for a rebound, push the ball up the court on the dribble and deliver a perfect pass to facilitate a teammate's layup.
The short-staffed Eagles have their work cut out for them trying to run with some of the rosters in the ACC. But adding Doherty to a mix that already includes posts Carolyn Swords and Stefanie Murphy and a pass-first point guard in Jaclyn Thoman makes for a compelling development.
Four things that caught my eye
1. The Preseason WNIT champions won't need to go for a WNIT double this season. To put this in the context of the coming week, it's a lot easier to be picky about apples if you're on the hook for only four apple pies, not 40 of them. A season ago, Purdue's Brittany Rayburn took 134 more shots -- roughly four more per game -- than anyone else on her team and shot worse than 40 percent. Rayburn might be an Indiana native, and thus born with an urge to shoot, but that volume wasn't due to any lack of conscience. Purdue simply didn't have a lot of scoring options.
Capped by Sunday's win against DePaul in the championship game of the Preseason WNIT, the Boilermakers spent their first four games hinting that that's no longer the case. Drey Mingo, eligible after sitting out last season as a transfer from Maryland, scored 21 points and stepped outside to knock down three key 3-pointers. Freshman Courtney Moses beat DePaul's pressure and hit three big free throws to give Purdue the lead for good at 47-44. And even on an otherwise off night offensively, Antionette Howard, eligible after sitting out last season as a transfer from Florida State, followed Moses' free throws with a big basket. All of which followed the same script as wins against Austin Peay, Toledo and South Dakota State. And all of which helped Rayburn score 21 points on 5-of-11 shooting, keeping her at 50 percent this season.
[+] Enlarge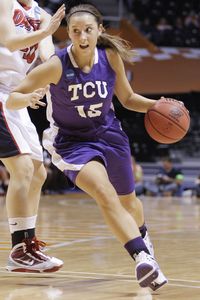 AP Photo/Mark HumphreyTCU's Emily Carter scored a school-record 43 points in a double-overtime win over SMU last Wednesday.
2. We might learn how big a star Emily Carter is this week. TCU has a big week ahead, with games against West Virginia, Iowa State and Virginia in the U.S. Virgin Islands offering a chance to either solidify or lose its place in the top 25. Helena Sverrisdottir, Iceland's best import this side of Siggi's yogurt, has long been the main attraction for the Horned Frogs, and rightly so. But it's not Sverrisdottir averaging 30 points per game.
Carter, a senior, isn't exactly a secret, earning first-team All-Mountain West honors after last season and again this preseason, but she wasn't part of any of the notable award preseason watch lists. That won't be the case after the season if she keeps producing like she did this past week, following a school-record 43-point performance in TCU's double-overtime win against SMU and 22 points in a win against Texas-San Antonio. A consistent 40 percent shooter from the 3-point line through most of her time at TCU, Carter has also gotten to the free throw line 37 times through three games (hitting 35 of those attempts).
3. It's easy to see why Jeff Walz is excited about Shoni Schimmel. Connecticut's Bria Hartley showed nerves of steel in knocking down big shots at the end of the Huskies' win against Baylor, but at least she got a warm-up game. Louisville freshman Schimmel had no such luck, playing her first official college game in front of more than 22,000 fans and with Pat Summitt and the iconic Tennessee Lady Vols on the other bench.
But after a tough, seven-turnover first half in that game, Schimmel has come on strong. She had just one turnover in the second half against Tennessee and has 16 assists against two turnovers in three subsequent games. Granted, Ohio, Houston Baptist and SE Missouri State aren't the toughest assignments, but those will come in upcoming games against Xavier, Old Dominion, Kentucky, Dayton, Marist and Nebraska, among others. And Schimmel should be ready.
4. Was Sunday a turning point for Glory Johnson? It kind of has to come with a question mark when it involves the übertalented Johnson, right? It's possible that Tennessee can reach the Final Four and win a championship getting exactly what it always has from Johnson -- the occasionally great, frequently good and sometimes mystifying. There certainly isn't a shortage of talent in Knoxville, with or without Johnson leading the way inside. But if you're going to pick one player who can swing the season, the junior from Knoxville is a good one with which to start. According to the recap of Sunday's win against Arizona State, Summitt said she was too hard on Johnson at halftime, after pulling her in the first half, but the message seemed to hit home. Johnson's 14 points and 15 rebounds marked her first double-double since Jan. 28 of last season against Auburn, a span of 19 games. The points are good, and double figures should be within reach almost on putbacks alone most nights, but if coach and player really are on the same page, Johnson can affect a game through defense and rebounding like few others in the country.
The week ahead
Monday: Raised in Oklahoma, Adrian Wiggins brings his Fresno State team to Norman to face the Sooners in a clash between major and mid-major. The Bulldogs aren't shooting the ball well thus far (39.7 percent overall and 26.5 percent from the 3-point line in four games), but the matchup between Fresno State star Jaleesa Ross and Danielle Robinson should be a good one. … Off to a 4-0 start, Portland looks for a second consecutive victory against a Pac-10 opponent when it visits Oregon (the Pilots beat Washington State on Thursday). Portland's ReZina TecleMariam has been fantastic, averaging 14 points, 6.3 assists, 4.5 rebounds and 3.5 steals.
Tuesday: Maybe Georgia's football team doesn't want to travel across the country anymore, but credit to Andy Landers for going to Los Angeles to face USC in advance of a Thanksgiving visit to Loyola Marymount's tournament. USC had more than twice as many turnovers as assists in its first two games (a win against Gonzaga and a loss at Duke), but it kept things under control in Sunday's 82-60 win against Long Beach State by at least matching 20 turnovers with 20 assists. … In-state bragging rights haven't been much of an issue for LSU since about the time Louisiana Tech slipped out of the national championship picture, but Tulane visits Baton Rouge with thoughts of adding its name to the mix. The Green Wave already blitzed one SEC team, Mississippi State, by 20 points and pair five double-digit scorers with a defense limiting opponents to 32 percent shooting. Tulane is 3-0 for the first time since the 2001-02 season, when it reached the second round of the NCAA tournament.
Wednesday: Not every team is getting an early start on the holiday, with a good night of basketball on tap. Duke's visit to Pittsburgh might be the marquee matchup, with the Blue Devils looking to impress in their second road game of the season (and the first of four in a row away from Cameron) after a 75-62 win at Auburn in which the Tigers were within single digits inside the final six minutes. … Wisconsin will look to avoid going 0-2 against in-state foes when it welcomes Marquette to Madison. The Badgers got blitzed in Green Bay on Thursday and then lost in overtime at home against Kansas on Sunday, despite 27 points from Alyssa Karel in her season debut. … Mid-major fans will want to keep an eye on Illinois State's visit to South Dakota State. The Redbirds followed a big opening win at Illinois with home wins by double digits against Eastern Illinois and SIU-Edwardsville. They're turning the ball over more than in recent seasons, but they also have five players averaging between 9.7 and 11.3 points per game and own the boards thus far.
Thursday: Enjoy your turkey.