Category archive:

TCU Horned Frogs
November, 21, 2010
11/21/10
11:46
PM ET
BURLINGTON, Vt. -- If Boston College is going to make a run at its first NCAA tournament appearance since 2006 with just nine players on the roster, it's going to need to steal a game or two from the six teams picked to finish ahead of it in the ACC.
The good news is that if the first four games of Kristen Doherty's college career are any indication, the Eagles have a thief as entertaining to watch as anything this side of the "Oceans" movie franchise.
[+] Enlarge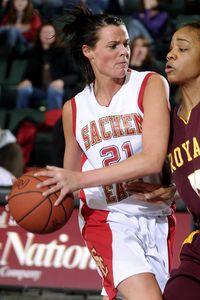 AP Photo/Hans PenninkKristen Doherty, who played for Sachem East (New York) in high school, was HoopGurlz's No. 12 recruit last year.
Doherty and Boston College breezed through the TD Bank Women's Basketball Classic over the weekend, beating Dartmouth 87-61 on Friday and host Vermont 85-50 on Sunday to improve to 4-0 this season after earlier wins against Boston University and Hartford. The competition will get considerably more difficult (mid-major powers last season, Hartford and Vermont are both off to slow starts in rebuilding seasons), but Doherty's numbers so far this season would turn heads if they came against YMCA weekend warriors, let alone Division I teams.
In four games, the freshman who was ranked No. 12 nationally among incoming recruits by HoopGurlz has 23 rebounds, 20 assists, 22 steals and just two turnovers in 129 minutes.
A one-dimensional freshman can still be a valuable commodity if she's consistent within those limitations. A freshman whose game spans the number of dimensions usually reserved for something written by Stephen Hawking or the late Carl Sagan is something else entirely.
"She's not really a freshman," Boston College coach Sylvia Crawley said. "She is a special player. She gets what we're doing defensively; she just gets it. She knows where to be at the right time, anticipates very, very well. We're pressing a lot, and we put her in positions where she's able to see the floor and anticipate for steals at the end of the press. She just kind of steadies our team, even though she's a freshman."
That Doherty, who averaged close to 30 points per game in high school, is also an elite scoring prospect was on display Saturday, when she hit 7 of 10 shots from the field, including all five of her 3-point attempts, to lead all scorers with 21 points. But what made her earlier box score stuffing all the more impressive is that it came while she was working through a cold shooting start, hitting just 10 of 33 shots in her first three games. Rather than get flustered or unnerved by the misses, she made up for it -- and them some -- in other areas.
"I was getting frustrated, but that's not the whole part of the game, so I really focused on my defense," Doherty said. "Each game, Coach gave me specific defensive assignments and told me to lock down, stop them from scoring. I really focused on that, and I knew once I got into the flow of things and really got comfortable, my shot would just fall. But I really focused on defense."
A valuable lesson in bringing an all-around game with you to college? Well, sure, but ask Doherty about the roots of her defensive prowess and she takes on the embarrassed look of someone who just banked in a 3-pointer from the corner. She got a lot of steals in high school, but she is the first to admit that end of the court wasn't exactly a priority until the Boston College coaches called her in during preseason and told her she could be -- and the team needed her to be -- a stopper.
"She was not a defensive player at all in high school," Crawley said. "But when I was recruiting her, I could tell that she was capable of playing good defense. She's smart enough to be a good defender. Not the quickest player in the world but she understands her body and what she can and cannot do. And because she's so smart and anticipates so well, she gets more steals than players who are twice as fast as her."
At least against Vermont, Doherty's steals weren't the result of a player poaching at the expense of neglecting an assignment elsewhere, even if she has some freedom to roam in Crawley's system. More representative was a play in which she started to move toward trapping a Vermont player on the sideline, only to sense the play developing too quickly away from her, retreat back to the weak side to be in position for a rebound, push the ball up the court on the dribble and deliver a perfect pass to facilitate a teammate's layup.
The short-staffed Eagles have their work cut out for them trying to run with some of the rosters in the ACC. But adding Doherty to a mix that already includes posts Carolyn Swords and Stefanie Murphy and a pass-first point guard in Jaclyn Thoman makes for a compelling development.
Four things that caught my eye
1. The Preseason WNIT champions won't need to go for a WNIT double this season. To put this in the context of the coming week, it's a lot easier to be picky about apples if you're on the hook for only four apple pies, not 40 of them. A season ago, Purdue's Brittany Rayburn took 134 more shots -- roughly four more per game -- than anyone else on her team and shot worse than 40 percent. Rayburn might be an Indiana native, and thus born with an urge to shoot, but that volume wasn't due to any lack of conscience. Purdue simply didn't have a lot of scoring options.
Capped by Sunday's win against DePaul in the championship game of the Preseason WNIT, the Boilermakers spent their first four games hinting that that's no longer the case. Drey Mingo, eligible after sitting out last season as a transfer from Maryland, scored 21 points and stepped outside to knock down three key 3-pointers. Freshman Courtney Moses beat DePaul's pressure and hit three big free throws to give Purdue the lead for good at 47-44. And even on an otherwise off night offensively, Antionette Howard, eligible after sitting out last season as a transfer from Florida State, followed Moses' free throws with a big basket. All of which followed the same script as wins against Austin Peay, Toledo and South Dakota State. And all of which helped Rayburn score 21 points on 5-of-11 shooting, keeping her at 50 percent this season.
[+] Enlarge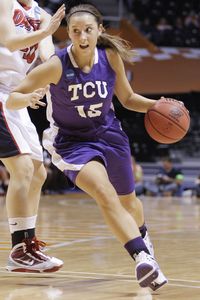 AP Photo/Mark HumphreyTCU's Emily Carter scored a school-record 43 points in a double-overtime win over SMU last Wednesday.
2. We might learn how big a star Emily Carter is this week. TCU has a big week ahead, with games against West Virginia, Iowa State and Virginia in the U.S. Virgin Islands offering a chance to either solidify or lose its place in the top 25. Helena Sverrisdottir, Iceland's best import this side of Siggi's yogurt, has long been the main attraction for the Horned Frogs, and rightly so. But it's not Sverrisdottir averaging 30 points per game.
Carter, a senior, isn't exactly a secret, earning first-team All-Mountain West honors after last season and again this preseason, but she wasn't part of any of the notable award preseason watch lists. That won't be the case after the season if she keeps producing like she did this past week, following a school-record 43-point performance in TCU's double-overtime win against SMU and 22 points in a win against Texas-San Antonio. A consistent 40 percent shooter from the 3-point line through most of her time at TCU, Carter has also gotten to the free throw line 37 times through three games (hitting 35 of those attempts).
3. It's easy to see why Jeff Walz is excited about Shoni Schimmel. Connecticut's Bria Hartley showed nerves of steel in knocking down big shots at the end of the Huskies' win against Baylor, but at least she got a warm-up game. Louisville freshman Schimmel had no such luck, playing her first official college game in front of more than 22,000 fans and with Pat Summitt and the iconic Tennessee Lady Vols on the other bench.
But after a tough, seven-turnover first half in that game, Schimmel has come on strong. She had just one turnover in the second half against Tennessee and has 16 assists against two turnovers in three subsequent games. Granted, Ohio, Houston Baptist and SE Missouri State aren't the toughest assignments, but those will come in upcoming games against Xavier, Old Dominion, Kentucky, Dayton, Marist and Nebraska, among others. And Schimmel should be ready.
4. Was Sunday a turning point for Glory Johnson? It kind of has to come with a question mark when it involves the übertalented Johnson, right? It's possible that Tennessee can reach the Final Four and win a championship getting exactly what it always has from Johnson -- the occasionally great, frequently good and sometimes mystifying. There certainly isn't a shortage of talent in Knoxville, with or without Johnson leading the way inside. But if you're going to pick one player who can swing the season, the junior from Knoxville is a good one with which to start. According to the recap of Sunday's win against Arizona State, Summitt said she was too hard on Johnson at halftime, after pulling her in the first half, but the message seemed to hit home. Johnson's 14 points and 15 rebounds marked her first double-double since Jan. 28 of last season against Auburn, a span of 19 games. The points are good, and double figures should be within reach almost on putbacks alone most nights, but if coach and player really are on the same page, Johnson can affect a game through defense and rebounding like few others in the country.
The week ahead
Monday: Raised in Oklahoma, Adrian Wiggins brings his Fresno State team to Norman to face the Sooners in a clash between major and mid-major. The Bulldogs aren't shooting the ball well thus far (39.7 percent overall and 26.5 percent from the 3-point line in four games), but the matchup between Fresno State star Jaleesa Ross and Danielle Robinson should be a good one. … Off to a 4-0 start, Portland looks for a second consecutive victory against a Pac-10 opponent when it visits Oregon (the Pilots beat Washington State on Thursday). Portland's ReZina TecleMariam has been fantastic, averaging 14 points, 6.3 assists, 4.5 rebounds and 3.5 steals.
Tuesday: Maybe Georgia's football team doesn't want to travel across the country anymore, but credit to Andy Landers for going to Los Angeles to face USC in advance of a Thanksgiving visit to Loyola Marymount's tournament. USC had more than twice as many turnovers as assists in its first two games (a win against Gonzaga and a loss at Duke), but it kept things under control in Sunday's 82-60 win against Long Beach State by at least matching 20 turnovers with 20 assists. … In-state bragging rights haven't been much of an issue for LSU since about the time Louisiana Tech slipped out of the national championship picture, but Tulane visits Baton Rouge with thoughts of adding its name to the mix. The Green Wave already blitzed one SEC team, Mississippi State, by 20 points and pair five double-digit scorers with a defense limiting opponents to 32 percent shooting. Tulane is 3-0 for the first time since the 2001-02 season, when it reached the second round of the NCAA tournament.
Wednesday: Not every team is getting an early start on the holiday, with a good night of basketball on tap. Duke's visit to Pittsburgh might be the marquee matchup, with the Blue Devils looking to impress in their second road game of the season (and the first of four in a row away from Cameron) after a 75-62 win at Auburn in which the Tigers were within single digits inside the final six minutes. … Wisconsin will look to avoid going 0-2 against in-state foes when it welcomes Marquette to Madison. The Badgers got blitzed in Green Bay on Thursday and then lost in overtime at home against Kansas on Sunday, despite 27 points from Alyssa Karel in her season debut. … Mid-major fans will want to keep an eye on Illinois State's visit to South Dakota State. The Redbirds followed a big opening win at Illinois with home wins by double digits against Eastern Illinois and SIU-Edwardsville. They're turning the ball over more than in recent seasons, but they also have five players averaging between 9.7 and 11.3 points per game and own the boards thus far.
Thursday: Enjoy your turkey.
March, 5, 2010
03/05/10
12:27
AM ET
1. Xavier (24-3, 14-0 Atlantic 10)
Notable wins: USC, Arizona State, Kansas, Minnesota, Middle Tennessee St., Temple, Dayton (twice)
Losses: Michigan State, Michigan, LSU
The frontcourt lived up to all expectations, especially as Amber Harris continued to make her way back from the knee injury that kept her out last season. She fell just six rebounds shy of giving Xavier two players who averaged double-doubles in league play (Ta'Shia Phillips managed that feat for the third season in a row). But the outside shooting provided by Katie Rutan, Tyeasha Moss and Special Jennings was also noteworthy. The Musketeers shot 37.7 percent from the 3-point line overall this season, up from 32.5 and 31.5 percent the previous two seasons, respectively.
2. Gonzaga (25-4, 14-0 West Coast Conference)
Notable wins: USC
Losses: South Dakota State, Stanford, Baylor, Texas A&M
Did Gonzaga do enough to merit an at-large bid to the NCAA tournament should it fail to win the WCC's automatic bid? It missed out two seasons ago after going 23-7 during the regular season, including 13-1 in the WCC, but that team didn't beat league opponents by more than 30 points per game, as this edition did in sweeping the slate. In addition to leading the nation in assists, Courtney Vandersloot overcame an early-season shooting funk to hit 57.5 percent of her total shots and 44.2 percent of her 3-point attempts in conference games. And for all the attention Vandersloot and Heather Bowman get and deserve, Vivian Frierson gives the team a third spotlight player.
3. Hartford (25-3, 16-0 America East)
Notable wins: Temple, Bowling Green, Vermont (twice)
Losses: Providence, Connecticut, Marist
The state of Connecticut nearly had two teams allow fewer than 50 points per game during the regular season, the Hawks nearly matching the undefeated team from Storrs in that regard. Erica Beverly and Diana Delva don't have the size of Xavier's Harris and Phillips, but they're perfect complements for each other. Delva is a terrific offensive rebounder with a good touch around the basket and Beverly is a phenomenal defensive player. If they hit some outside shots -- and Jackie Smith came on strong from the 3-point line in America East play -- the Hawks can make some noise the first weekend of the NCAA tournament.
4. Princeton (23-2, 11-0 Ivy League)
Notable wins: Delaware, Lehigh, Drexel
Losses: UCLA, Rutgers
Without a conference tournament in the Ivy League, Princeton still has some regular-season work to do, but the league hasn't proved much of a challenge for the Tigers thus far. Led by a freshman with nearly unlimited potential in Niveen Rasheed but also possessing good balance, a strong post presence in Devona Allgood and a steady, pass-first point guard in Lauren Polansky, there are some similarities between this Princeton team and the Marist team in Rachele Fitz's freshman season -- the one that advanced to the Sweet 16 before losing to eventual national champion Tennessee.
5. Fresno State (25-5, 16-0 WAC)
Notable wins: Louisiana Tech (twice)
Losses: USC, TCU, Stanford, West Virginia, Boston College
The Bulldogs have a distinct style and one they execute well, averaging nearly 25 3-point attempts and forcing 20 turnovers per game. They aren't necessarily equipped to win games in March in the paint -- they were outrebounded in four of their five high-profile losses, often by significant margins -- but they still finished with a positive rebounding margin for the season. That accomplishment, combined with the perfect conference record, seems suggestive of a team that isn't going to lose focus or beat itself. Junior star Jaleesa Ross fits that bill, doing pretty much everything well.
6. Dayton (23-6, 11-3 Atlantic 10)
Notable wins: Michigan State, Georgetown, Purdue, Temple
Losses: Louisville, Toledo, Vermont, Saint Joseph's, Xavier (twice)
How does a team respond to adversity? Dayton dropped a tough game at home against Louisville early in the season and bounced back to beat Georgetown and Purdue on consecutive days. It lost a surprising decision at Saint Joseph's in league play and obliterated a pretty good Richmond team 83-31 three days later. It lost twice to Xavier, once in a rout and once in an overtime heartbreaker, and came back with wins against Charlotte and Temple, respectively. This is a tough, deep, adept defensive team that can play with a lot of postseason-caliber teams when it gets some shots to go down.
7. TCU (22-6, 12-3 Mountain West)
Notable wins: Texas A&M, Fresno State, Kansas, BYU, San Diego State, Utah (twice)
Losses: Oklahoma, NC State, Minnesota, Wyoming, New Mexico, San Diego State
The Mountain West was not an easy league this season, and the Horned Frogs still finished two games clear of the closest competition. Helena Sverrisdottir is a stud in any setting. One of the few worrying signs for the Horned Frogs was a 6-5 record on the road (7-6 including neutral-court games). Perhaps that's not fair for a team that nearly beat Oklahoma in Norman and survived four overtimes at Utah, but it can't be ignored after last season's postseason flame out in the conference and NCAA tournaments.
8. Arkansas-Little Rock (24-5, 17-1 Sun Belt)
Notable wins: Middle Tennessee
Losses: Nebraska, Oklahoma State, Drake, Mississippi, South Alabama
Nebraska and Connecticut are the only perfect teams over the entire season at the moment, but they aren't the only team perfect in 2010. Arkansas-Little Rock has been rolling since a loss at South Alabama on Dec. 16. Like league rival Middle Tennessee, it's a team constructed perfectly around a star. Chastity Reed averages 24.8 points and 7.9 rebounds, but she's complemented by three guards in Kim Sitzmann, Asriel Rolfe and Shanika Butler. Sitzmann and Rolfe provide 3-point cover and the trio has combined to total 333 assists and just 139 turnovers, astounding ball control.
9. Green Bay (25-3, 14-3 Horizon League)
Notable wins: DePaul, Wisconsin, Marquette
Losses: Loyola, Illinois-Chicago, Detroit
The heady times when Green Bay appeared headed toward the top 10 nationally (and the slightly less heady feat of topping these rankings) are long gone, but the Phoenix have quietly gone about righting the ship after a midseason slump. They still need to win the Horizon's automatic bid to make the NCAA tournament, but they've won five of their last seven games by 19 or more points, the lone single-digit victory a 61-54 win at Butler with first place on the line. All but two of their opponents in those seven games shot worse than 40 percent from the floor, and one of the two that fared better turned over the ball 30 times, noticeable improvement for Green Bay's defense.
10. Middle Tennessee (22-5, 17-1 Sun Belt)
Notable wins: Kentucky
Losses: LSU, Tennessee, Xavier, South Dakota State, Arkansas-Little Rock
It was a long climb back from what was a bit of a disappointing start for a team with tremendous potential. It wasn't the losses so much as the scale of defeat that surprised. But with the constant of All-America candidate Alysha Clark to rally around, the Blue Raiders started doing what they can do so well -- bury teams who pay too much attention to Clark from the perimeter. Middle Tennessee shot just 29.2 percent from the 3-point line out of conference, including just 29-for-108 in four nonconference losses. In Sun Belt play, it hit 41.9 percent of its 3-point attempts.
Next five: Illinois State (22-5), James Madison (23-6), Vermont (23-6), Old Dominion (16-12), Marist (23-7)
February, 15, 2010
02/15/10
1:32
AM ET
1. Xavier (20-3, 10-0 Atlantic 10): It dealt with a scare at home against Saint Joseph's -- a three-point game with less than a minute to play -- but Xavier mostly keeps rolling through the Atlantic 10. After a bit of a rough patch, Special Jennings had 18 points and only three turnovers in 30 minutes at Duquesne. A game at home against Charlotte near the end of the month can't be overlooked, but the biggest hurdle remaining between the Musketeers and a sweep of the conference is Wednesday's Ohio derby at Dayton.
2. Gonzaga (21-4, 10-0 West Coast): Another installment of mid-major rankings, and another record for the Bulldogs. This time it's point guard Courtney Vandersloot taking possession of the assists record in the West Coast Conference -- midway through her junior season. The wins also keep coming, and although the margins shrank in recent tilts, winning three straight by double digits on a road swing through Saint Mary's, Portland and San Diego isn't easy. Tiffanie Shives hit 10 of 17 from behind the arc in the three games.
3. Hartford (21-3, 12-0 America East): Entering Thursday's game against Binghamton, Hartford has held back-to-back opponents to fewer than 40 points and its past eight opponents to fewer than 50 points. Sparking things on the other end, Jackie Smith had 16 assists and just five turnovers in three games since the last rankings. Three of the Hawks' final four games are at home, including the regular-season finale against Vermont. (The America East tournament is also a home affair for them.)
4. Princeton (19-2, 7-0 Ivy League): The biggest conference tests for Princeton come in the first week of March, with trips to Harvard and Dartmouth on back-to-back nights as per Ivy League scheduling norms, but the Tigers keep taking care of business. Dartmouth kept things close at Princeton on Feb. 6 but still came out on the wrong end of a double-digit margin, something true in each of Princeton's first seven league games. Freshman Niveen Rasheed is averaging 13.3 points and 9.4 rebounds per game in conference play.
5. TCU (19-5, 9-2 Mountain West): TCU finally got a big win on the road in conference play, outlasting Utah 105-96 in a four-overtime thriller at Utah that landed Utes star Kalee Whipple on "SportsCenter" for one buzzer-beating 3-pointer to prolong the night. Tuesday's game at San Diego State could effectively wrap up the regular-season title for the Horned Frogs. Stretching over the past four games (she played all but two minutes in the four-overtime game), Helena Sverrisdottir has just five turnovers in her past 134 minutes of basketball.
6. Fresno State (20-5, 11-0 WAC): Here's how Fresno State coach Adrian Wiggins made his case recently: "If you flipped and put our name on Arizona State's stats or UCLA's stats and changed the names, I think you'd be amazed at what you'd think about our team." He has a point. The lack of a signature win hurts in raising the profile, but the Bulldogs played Stanford close into the second half and acquitted themselves well on the road at TCU and USC without guard Emma Andrews early on. The next hurdle comes with Nevada, second in the WAC, at home on Saturday, followed by trips to Louisiana Tech and Boise State in the week that follows.
7. Dayton (20-5, 8-2 Atlantic 10): The game against Xavier in Cincinnati two weeks ago ended up a rout, but home court and keeping point guard Patrice Lalor out of early foul trouble this time could at least give the Flyers some sense of optimism. Lalor has 19 assists against just six turnovers in four games since the Xavier loss, and the Flyers are averaging just 12 turnovers per game in their past three games, all wins.
8. Green Bay (20-3, 9-3 Horizon): The Phoenix have more important things to worry about than mid-major rankings or even Top 25 rankings. They trail Detroit by 1½ games in the Horizon standings and don't have the luxury of another game against the leaders in the race for potential hosting duties in the conference tournament. (The teams split their games this season, each winning on its home court.) It's very strange to look at conference statistics and find Green Bay next to last in field goal defense.
9. Illinois State (18-5, 11-1 Missouri Valley): The Redbirds beat Missouri State on Sunday, their 11th win in a row and a result that keeps them two games clear of Creighton in the loss column in the Missouri Valley. (The Bluejays handed Illinois State its only conference loss, a decisive 69-44 decision in early January, and the two teams meet at Creighton during the final weekend of the regular season.) Missouri State's Casey Garrison might be hard to displace, but Illinois State's Ashleen Bracey is making a run of her own at player of the year honors. Bracey is second in the league in points and rebounding and shooting 37 percent on 3-pointers.
10. Arkansas-Little Rock (20-5, 13-1 Sun Belt): A preseason contender, Arkansas-Little Rock dropped off the radar a bit after early losses to Oklahoma State, Nebraska, Drake and Ole Miss, and again after the Trojans lost their conference opener at South Alabama. But since that last one, more than a week before Christmas, Arkansas-Little Rock hasn't done anything but win, and the streak stands at 13 after Saturday's victory over Western Kentucky. Chastity Reed is averaging 24.6 points per game, while guards Shanika Butler and Asriel Rolfe are averaging a combined 8.2 assists against just 3.0 turnovers per game.
Next five: Vermont, Old Dominion, Drexel, Middle Tennessee, Marist