Looking back, looking ahead
December, 12, 2010
12/12/10
10:01
PM ET
Four things that caught my eye
1. Morgan Hook might be the nation's most dangerous H-O-R-S-E player. Oklahoma football coach Bob Stoops briefly joined color analyst Billy Tubbs on the regional television call of Sunday's game between Sherri Coale's Sooners and New Mexico, meaning they were short only Barry Switzer and possibly the spirit of the late Bud Wilkinson in putting together a heck of a panel on how to make the most of home-field or home-court advantage in Norman, Okla.
[+] Enlarge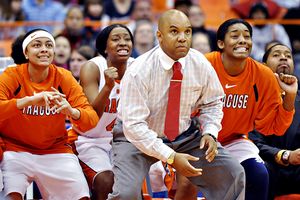 AP Photo/Kevin RivoliSyracuse coach Quentin Hillsman might get criticized for a lack of travel before the conference season starts, but Saturday's home upset of Ohio State was huge.
Then again, by the time the game was over, Sooners freshman guard Morgan Hook might have ranked as the foremost expert on the subject in attendance.
Hook scored her first 15 points on 3-pointers against a Lobos team that refused to play the role of sacrificial lamb. Hook has scored 32 of her 40 field goals this season from behind the arc -- a number that includes hitting 19 of her last 25 3-point attempts at home. But it was her field goal from point-blank range that saved the day for the Sooners and suggested she's more than a shooter.
With the Sooners down one with 10.2 seconds remaining, she got the ball back after making a sideline inbounds pass (the Lobos doubled Danielle Robinson) and needed just three dribbles to get to the opposite side of the paint and finish a long, scooping layup in traffic.
Oklahoma looks like the dictionary definition of a young team that's going to be better in March than it is right now, particularly if Whitney Hand returns from a long injury layoff as anything close to her old self. But between Hook and Aaryn Ellenberg, who struggled Sunday but more than proved her potential in last week's loss against Ohio State, the present isn't too bad alongside Robinson.
And just as last year's escape at Marist early in the season marked a step in that team's evolution and in Nyeshia Stevenson's development as a go-to option, Sunday might prove the same for Hook and the Sooners.
2. Tennessee has more options than an Army-Navy football game. Chelsea at Tottenham was an enjoyable Sunday morning appetizer for the main course of Tennessee at Texas, so perhaps I just had depth on the brain after Chelsea afforded itself the luxury of bringing on Didier Drogba and Frank Lampard as subs. But even as Pat Summitt shortened her bench on the road at Texas, playing four players for 30-plus minutes and giving double-digit minutes to just six players in all, two fewer than in any previous game this season, Tennessee's depth stood out -- even if only in the form of potential energy.
It wasn't that Summitt couldn't go deeper; it's that she had the luxury not to, having found a lineup that the Longhorns couldn't stop and having kept those players fresh in previous games. Consider one of the answers on the postgame quote sheet from Texas coach Gail Goestenkors after her team's 92-77 loss.
"We didn't know what kind of lineup they would start," Goestenkors said. "They have changed their lineups a little bit recently. When [Kelley] Cain's in there they are so big and strong, and when [Shekinna] Stricklen is out on the perimeter, they are one of the toughest, tallest teams to guard. Lately they have been going a little bit smaller, with Kamiko [Williams] in there and [Meighan] Simmons. They have one of the quickest backcourts in the country, so they aren't as big."
And so after Angie Bjorklund got all of her 20 points in the first half, Williams and Simmons took over in the second, with Stricklen and Johnson doing all that was needed inside against the small Longhorns.
To a large degree, we know what Connecticut is. It's just nobody has figured out how to stop that for the past two-plus seasons. And while Baylor and Stanford have taken the occasional loss (albeit mostly at the hands of Connecticut), the same is essentially true of those two teams, the next tests on Tennessee's schedule. The Lady Bears and Cardinal are going to get better at being who they are between now and March, but the basic essence of what they are isn't going to change -- doesn't need to change. What's intriguing about Tennessee is it's not entirely clear what the Lady Vols are -- or that they need to be the same thing every time out. Maybe the Georgetown loss suggests the Lady Vols are still working through it themselves, but when you've got perhaps the deepest roster out there, you've got a lot of looks to throw at opponents.
3. Syracuse showed its doubters something. Syracuse still needs to schedule some road games to be played before Auld Lang Syne is retired each year, but folks like me need recipes for crow with all the leftovers from the Orange knocking off Ohio State on Saturday. Soft early schedule notwithstanding, Syracuse showed off a tough interior in owning the glass against an Ohio State team with Jantel Lavender collecting 14 offensive rebounds despite shooting a more-than-respectable 43.8 percent from the floor and holding an overall 43-33 rebounding edge. And in a battle of New York-area point guards that precedes the coming weekend's showdown at Madison Square Garden between Ohio State's Samantha Prahalis and Connecticut's Bria Hartley, Syracuse senior Erica Morrow got the best of Prahalis with 27 points and just two turnovers in 39 minutes.
Syracuse gets another chance to make a statement when it faces Baylor on a neutral court in the Bahamas on Dec. 21, but the Orange and coach Quentin Hillsman deserve their due. It's easy to play the bully against the likes of Cornell, Maryland-Eastern Shore and Delaware State. It's not easy against Ohio State, and it deserves a tip of the cap.
4. April Sykes is still here. Rutgers sophomore Monique Oliver had the starring role in Rutgers' biggest win of the young season, totaling 21 points and 17 rebounds against Georgetown on Dec. 9, but that game and Sunday's loss at Boston College offered a glimpse at an April Sykes long rumored but rarely seen. Sykes scored 17 points against Georgetown and 32 points against Boston College, and finished the two games a combined 11-of-21 on 3-point attempts. Those two efforts alone total more than a quarter of the points she scored all last season, and she's just 32 points shy of matching her single-season high. It's not the big game next Sunday, but Rutgers matching up with Texas A&M as the opening act for Connecticut and Ohio State looks more and more intriguing.
The week ahead
Monday: The Windy City derby between DePaul (11-1) and Northwestern (8-1) merits the spotlight for reasons beyond a light schedule. DePaul's Keisha Hampton became the program's 25th player to reach 1,000 points during Saturday's win against Northern Illinois, and the junior has scored 20 percent of those points during this season's first 12 games. Forced by injuries to play 38 minutes a game last season, DePaul point guard Sam Quigley's assist-to-turnover ratio has gone from 1.34 last season to 2.15 in much more manageable minutes this season. For Northwestern, which beat DePaul last season for the first time in more than a decade, senior center Amy Jaeschke is coming off a 37-point, 17-rebound effort against Central Michigan on Saturday.
New Mexico State's trip to Michigan marks the day's only other game between teams with winning records. The Wolverines' four losses this season came against Xavier, Marquette, Texas A&M and Iowa State (with only the Xavier game in Ann Arbor), hardly an embarrassing state of affairs. And particularly in wins against Wake Forest and Kansas, they seem to be playing Kevin Borseth's brand of basketball.
Tuesday: Whatever rotation Tennessee uses when it travels down the road from Austin to Waco and a matchup against Baylor, everyone who gets on the court better bring something to the table. Of course, where Brittney Griner is concerned, it will help the Lady Vols if Kelley Cain is one of those players on the court. Cain left Sunday's game with what was described on the broadcast as a right hip contusion. Baylor hasn't played since beating Minnesota on Dec. 5, but Griner is working on a string of four consecutive games with at least 20 points. Perhaps just as impressively, she had a total of five turnovers in those games. Griner doesn't get enough credit for taking care of the ball better than most posts. There might be times when she's still too cautious in making an offensive move, or when she shoots going away from the basket, but she doesn't give away possessions.
Saint Mary's (Calif.) at Arkansas-Little Rock isn't quite the game it could have been before Thanksgiving, but it's still an inter-region mid-major clash. And it still features a pair of intriguing leads in Little Rock's Chastity Reed and Saint Mary's Louella Tomlinson. Reed didn't travel to her team's weekend loss at Memphis, its third defeat in a row, for what the Memphis Commercial Appeal described as disciplinary reasons.
Wednesday: Wisconsin and Washington State aren't making reservations for Indianapolis, but they're the first and last BCS conference schools on Wyoming's schedule, starting with the Badgers traveling to Laramie for Wednesday's game (the Cougars visit on Saturday). So while it would be fun to see Wyoming's dynamic duo of Hillary Carlson and Aubrey Vandiver (33.3 points and 17.8 rebounds per game between them) play some higher-profile games, this will have to do.
What says Big East like an Ohio River rivalry between Louisville and Cincinnati? Just wait until TCU joins the mix. But geography aside, Wednesday's conference game is the third tough test in a row for the Bearcats, who started the season with five consecutive wins before losses at Dayton and at home against Xavier. It's also an intriguing individual matchup of breakout backcourt stars between Louisville freshman Shoni Schimmel and Cincinnati senior Shareese Ulis, who put up 24 points on 8-of-16 shooting in the 69-61 loss against Xavier a week ago.
Thursday: Stanford has a key stretch looming with a road trip to Tennessee this coming weekend and home games against Xavier and Connecticut after Christmas, but the Cardinal aren't taking it easy in advance of all of that, instead heading to Chicago to face DePaul on Thursday. They didn't look rusty Sunday against Fresno State after a long layoff for finals, including 10 points and 11 rebounds off the bench from Sarah Boothe. Because if there's one thing Stanford didn't have enough of on a roster with more double-double potential than In-N-Out, it's size.
Put Arizona State's Charli Turner Thorne on the list of coaches willing to go where so many others fear to tread -- tough mid-major gyms. Arizona State's visit to South Dakota State starts a nice weekend of basketball for fans in Brookings, where the hometown Jackrabbits also host Iowa on Saturday. Reserve Steph Paluch (17 assists, 14 turnovers) is the only South Dakota State player with more assists than turnovers, something reflected in a loss at Northern Iowa on Saturday in which the Summit League team had 26 turnovers and nine assists.
Friday: Tulane already knocked off LSU and gets a shot at sweeping the state's big names when Louisiana Tech comes calling Friday. The Green Wave will be coming off more than a week and a half without a game, an annual break that has generally been pretty kind to them (winning the first game back in four of the past five seasons, including at South Florida last season).
Speaking of Tulane and Louisiana Tech, those are the two teams to beat Mississippi State this season, a fact the Lady Bulldogs will find it difficult to keep true on the road against Xavier (not to mention Wednesday's game at Southern Miss).