Diggins digs deep to defeat Tennessee
March, 28, 2011
03/28/11
8:20
PM ET
DAYTON, Ohio -- If old rivals are to meet in the Final Four, it will have to be the fourth meeting of the season between Notre Dame and Connecticut instead of the first meeting in four years between Pat Summitt and Geno Auriemma.
But the Fighting Irish will gladly let their Big East rivals worry about settling those details against Duke on Tuesday night. The team in green had another college basketball dynasty in its sights on Monday night in Dayton, and it got the job done as it had all season -- suffocating its opponent on defense while showing off an efficient offense.
[+] Enlarge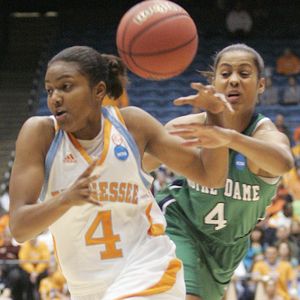 AP Photo/Skip PetersonTennessee players will have nightmares about Skylar Diggins after her performance Monday.
In other words, Notre Dame played like the team it was all season. Tennessee played like the teams Notre Dame beat all season.
Some initial thoughts on Notre Dame's 73-59 win to become the first entrant in the Final Four.
Key player: Skylar Diggins. What more do you want out of your lead guard than to score points (24 to lead all players) shoot better than 50 percent from the floor (9-of-17 from the field), keep others involved (four assists) and generally maintain her composure in a game that at times had all the poise of the minutes after a Best Buy opens on Black Friday.
Best supporting actress: Becca Bruszewski. Playing with a brace on her left knee as a result of an injury sustained in the regional semifinal against Oklahoma, and with fellow frontcourt presence Devereaux Peters in foul trouble for most of the night, Bruszewski did a little bit of everything in a lot of minutes. She finished with 13 points and eight rebounds, but her presence on the court against Tennessee's big bodies exceeded those numbers.
Turning point: With a little more than five minutes to play and her team in the midst of a rally that had trimmed its deficit to four points, Tennessee's Kelley Cain drew a foul on Bruszewski while posting up on offense. But after getting to her feet, Cain stepped back toward the still prone Bruszewski and was whistled for a technical foul for taunting. Natalie Novosel converted only one of two free throws before the ball reverted to Tennessee on the original foul, but the entire sequence seemed to take some wind out of the Lady Vols' sails.
X factor: Notre Dame built its lead largely without the services of Peters, as a result of the aforementioned fouls, but she was in the middle of things to provide the soul-crushing plays with Tennessee on the ropes. The first came when she took a perfect pass from Novosel on a fast break to earn a chance for a three-point play with four minutes to play (even if she missed the free throw). The next came barely 20 seconds later, when she converted a layup over a defender on Diggins' alley-oop to push the lead to 12 points. Those were the only two baskets arguably the most athletic player on the court scored, but they effectively put away a game that appeared headed to the wire.
Key stat: Six turnovers. That's all Notre Dame had in the second half after a sloppy first half in which it committed 10 turnovers that led to nine of Tennessee's 24 points (and might have led to more if the Lady Vols hadn't been equally sloppy with the ball). It was never a pretty game, but Notre Dame stopped feeding Tennessee's best offense and settled into its own, shooting nearly 50 percent from the floor in the second half.
Freshman jitters: Meighan Simmons didn't score her first field goal until fewer than three minutes remained in the game and finished 1-of-11 from the floor. After a nice drive on one of the game's opening possessions, absolutely nothing went right for the talented freshman -- including the end of that first drive, when the ball rolled off the rim for a miss. Simmons picked up two quick fouls, watched most of the first half from the bench and then seemed to be too eager to make up for lost time in forcing shots in the second half. Part of what made Simmons' season remarkable was how little she looked like a freshman down the stretch, but unfortunately for Tennessee, her inexperience was apparent in this game.
What's next: A short road trip down US-31 from South Bend to Indianapolis for Notre Dame, which is back in the Final Four for the first time since winning a national championship in 2001. The Fighting Irish earned that trip with a win in a regional final against an SEC team from Tennessee, albeit Vanderbilt. It is Notre Dame's third Final Four appearance in all.
As for possible opponents, Notre Dame is 4-1 all-time against Duke, although the two teams have played just once since 1998, a win for the Fighting Irish in 2004. Connecticut, as you may gather, is a more familiar opponent. The teams played three times this season, and although the Huskies won all three, the games in South Bend in January and in the Big East tournament earlier this month were two of the tougher tests provided Connecticut all season.