Category archive:

Maryland Terrapins
March, 24, 2012
03/24/12
9:47
PM ET
RALEIGH, N.C. -- A few things I'll be watching at Sunday's regional semifinals:
(3) Texas A&M vs. (2) Maryland
ESPN/ESPN3, noon ET Sunday
Star power: Maryland's Alyssa Thomas will be the best player on the floor, but Texas A&M's Sydney Carter is a ferocious defender. If you want to teach a kid how to play hard, have him/her watch these two stars.
Stat power: Rebounds. The Terps are second in the country in rebounding margin (plus-13.9). The Aggies will have to focus on keeping the Maryland bigs off the boards.
What I'm looking for:
1. A&M "defensive coordinator" Vic Schaefer is one of the best defensive minds in the game. What can he come up with to slow down Thomas and the Maryland backcourt?
2. Who will dominate inside? Will it be A&M's Kelsey Bone or Tianna Hawkins and Lynetta Kizer for Maryland?
3. How will the game be officiated? Maryland is a different team with Thomas in foul trouble. She picked up early ones versus Louisville and it affected her the rest of the game.
(5) St. Bonaventure vs. (1) Notre Dame
ESPN2/ESPN3, 2:30 p.m. ET Sunday
Star power: Notre Dame's Skylar Diggins is one of the best point guards in the nation, but the Bonnies' Jessica Jenkins might be the purest shooter.
Stat power: Turnovers. The Fighting Irish force 22.8 turnovers a game, but St. Bonaventure leads the nation in fewest giveaways at only 12 a game.
What I'm looking for:
1. Will Notre Dame have any difficulty defending the Bonnies' 5-out motion offense? (I'll let you in on a secret: No big really likes defending on the perimeter.)
2. Will St. Bonaventure -- playing in its first NCAA tournament -- be able to keep the game close for a while? It is undersized and doesn't have much tournament experience, but plays as well together as any team in the tourney.
3. Does Megan Van Tatenhove's family really own a cheese factory? (Tune in to get the answer to that one.)
March, 6, 2012
03/06/12
5:36
PM ET
Check back later Tuesday night for our full bracket. But for now, here are the main changes after Tuesday's Sun Belt championship game:
NOTABLE
• Middle Tennessee lost in the Sun Belt final to Arkansas-Little Rock but stays in the field.
• As a result, North Carolina falls out of the field.
• Middle Tennessee slips to the No. 10 seed line, Princeton rises to the No. 9 line and UALR enters as a No. 14 seed.
LAST FOUR IN
Temple
Iowa State
Michigan State
Texas
FIRST FOUR OUT
North Carolina
Southern California
Michigan
James Madison
NEXT FOUR OUT
Oklahoma State
Kansas
Wake Forest
Arizona State
CONFERENCE BREAKDOWN
Big East (8)
SEC (8)
Big Ten (6)
Big 12 (6)
ACC (5)
Atlantic 10 (3)
Pac-12 (2)
WCC (2)
Sun Belt (2)
AUTOMATIC QUALIFIERS
Arkansas-Little Rock (Sun Belt)
BYU (WCC)
Florida Gulf Coast (Atlantic Sun)
Dayton (Atlantic 10)
Marist (MAAC)
Maryland (ACC)
Princeton (Ivy)
Purdue (Big Ten)
Tennessee-Martin (OVC)
Tennessee (SEC)
Samford (Southern)
South Dakota State (Summit)
March, 4, 2012
03/04/12
8:15
PM ET
A lot of things could have happened to give Georgia Tech its first ACC tournament title. Instead, the pendulum swung just enough to give Maryland its 10th. And while the most celebrated performance of Sunday's title game -- for obvious reasons -- was that of ACC player of the year Alyssa Thomas, maybe the most gratifying for the Terps was that of Kim Rodgers.
In No. 3 seed Maryland's down-to-the-wire 68-65 victory over No. 4 seed Georgia Tech, the sophomore Thomas had a career-high 29 points and ultimately proved to be the force the Yellow Jackets just couldn't overcome. She will be a major handful for whoever has to face the Terps in the NCAA tourament.
But the 10 points, three assists and two rebounds Rodgers provided off the bench were very crucial for Maryland as well. Rodgers came out of Princess Anne High in Virginia Beach, Va., back in 2007 as one of the better prep guards in the nation. She's about to close out her Terps career as a fifth-year senior who is a model of perseverance and courage.
The great promise of her high school career was never realized in full because of injuries. After a serious knee injury in the preseason in 2007, Rodgers sat out what was to have been her freshman year. Of course, we always say "sat out" when in fact, those who are rehabbing injuries are never just sitting around. They are going through the painful, frustrating and often lonely process of getting their bodies back as close as possible to the way they used to be.
[+] Enlarge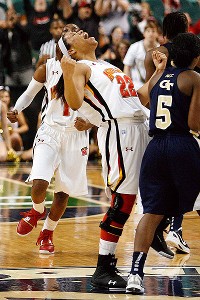 Mark Dolejs/US PresswireKim Rodgers doesn't start and might not play much, but she delivered back-to-back 3-pointers when Maryland needed it most Sunday.
Rodgers went through that and other injury setbacks. She never gave up. Brenda Frese talked about what an inspirational player she was, because of how much effort Rodgers had put into every minute she got on the floor.
Rodgers saw action in 17 games as a redshirt freshman, when the team led by then-seniors Kristi Toliver and Marissa Coleman won the 2009 ACC tournament. Then Rodgers played more regularly the next two years. She averaged more than 20 minutes per game as a sophomore and junior, when the Terps went to the WNIT and then the NCAA tournament second round.
This season, on a deeper and more talented Maryland team, Rodgers played just less than 11 minutes a game. But she was there Sunday in Greensboro Coliseum right when the Terps needed her. And Maryland definitely had to have all the help it could get in this tough battle.
Georgia Tech, playing in the program's first ACC final since 1992, was not about to back down at all. Always overshadowed in this league that has been so dominated by the North Carolina schools and Maryland, Georgia Tech was the sentimental favorite in Sunday's game. It seemed like it might finally be the Yellow Jackets' turn.
Led by standouts Tyaunna Marshall and Sasha Goodlett -- who finished with 25 and 20 points, respectively -- Georgia Tech was trying to win its first automatic bid into the NCAA tournament. It has been a grueling season for the team, with its home games moved to the Arena at Gwinnett, outside of Atlanta proper, because of construction to renovate Alexander Memorial Coliseum into a different facility.
Georgia Tech will move next season into its new home, renamed McCamish Pavilion, and would have loved to raise an ACC banner in there.
Instead, Maryland got its 10th ACC tournament championship, meaning Rodgers opened and closed her ACC career with tourney titles. On Sunday, she played 18 minutes. She scored all 10 of her points in about a five-minute stretch of the second half, going 4-for-4 from the line and 2-for-2 from behind the arc. She made every shot she took, and the two 3-pointers -- at the 7:58 and 7:23 marks -- were important both for the points they provided and for how they stretched the Georgia Tech defense.
Rodgers already has her bachelor's degree in communication and is working on a second degree in psychology. And whenever she looks at her two ACC tournament rings, she'll know just how much sweat (and some tears, too) went into winning both of them.
Rodgers is not the one who stands out most from Sunday's box score … but for Terps fans, she's a player they won't forget.
March, 3, 2012
03/03/12
5:51
PM ET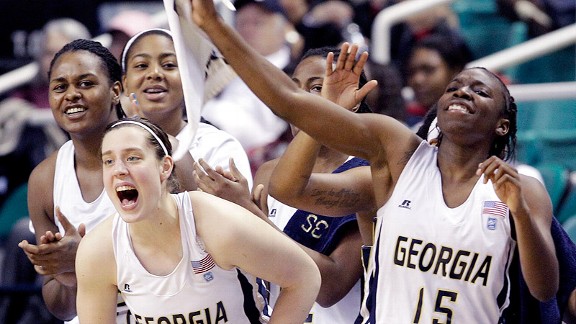 AP Photo/Chuck BurtonTyaunna Marshall, right, and Georgia Tech take aim at Maryland in Sunday's ACC final.
It's always kind of fun to look at these things from a where-were-they-then perspective. The last time Georgia Tech was in the final of the ACC women's tournament, current Yellow Jackets coach Machelle Joseph was finishing her senior season at Purdue as Big Ten player of the year. That was 1992.
Sunday, No. 4 seed Georgia Tech will meet No. 3 seed Maryland for the ACC title (ESPN2, 2 p.m. ET) in Greensboro, N.C. This is very familiar territory for the Terps as a program; they are playing in that program's 13th ACC title game, although it is just the third since 1993. They have a 9-3 record in the league finals; winning the most recent in 2009. The year Maryland won the national championship, 2006, it lost in the ACC final.
But the Yellow Jackets, as mentioned, haven't been this far in a long, long time. Back in 1992, the ACC had two of the best teams in the nation: Virginia and Maryland, both of which were ranked No. 1 during that season, with the Cavaliers a No. 1 seed in the ACC tourney and then the NCAA tournament.
Georgia Tech, coached at the time by Agnus Berenato, was overshadowed by the league's giants that year … until the Yellow Jackets got to the ACC tournament, which was then in Rock Hill, S.C. There, they went on a tear as the No. 7 seed, beating No. 2 seed Maryland and No. 3 Clemson, then falling to the top-seeded Cavaliers. Each of those games was decided by one point.
Had Georgia Tech been able to knock off Dawn Staley-led Virginia, the Yellow Jackets would have earned their first-ever berth into the NCAA tournament. Instead, they ended up in the WNIT -- the NCAA field was still just 48 teams then -- and ended up winning that title. Their Big Dance debut didn't come until the following year, when the Final Four was in Atlanta.
All told, Georgia Tech now has been to the NCAA tournament seven times, including the last five years in a row under Joseph, who took over the program in 2003-04. The Yellow Jackets will make it six straight NCAA appearances later this month, but might do something else they've never done: get the automatic berth.
To do so, though, they'll have to upset Maryland, a team they've already lost to twice this year: 77-74 in January at College Park, Md., and 64-56 in February in Atlanta. The Terps have looked good in their two victories in Greensboro, beating Virginia 70-58 and Wake Forest -- which took out No. 2 seed Miami on Friday -- 73-58.
Georgia Tech got this far after a nail-biter over No. 5 seed North Carolina 54-53 in the quarterfinals, then an 87-61 romp over No. 9 seed and surprise semifinalist NC State.
The Wolfpack did some of the heavy lifting for the Yellow Jackets by upsetting No. 1 seed Duke in the quarterfinals. But Georgia Tech (24-7 overall, 12-4 ACC), deserves a little good luck. Injuries, bad bounces, unfortunate placement/seeding, and some ill-timed poor performances all have prevented the Yellow Jackets from ever advancing past the NCAA tournament's second round.
Sophomore guard Tyaunna Marshall, along with center Sasha Goodlett and point guard Metra Walthour, both seniors, have been the stalwarts for Georgia Tech this year. They hope to make this the Yellow Jackets' most memorable season yet.
March, 3, 2012
03/03/12
1:30
AM ET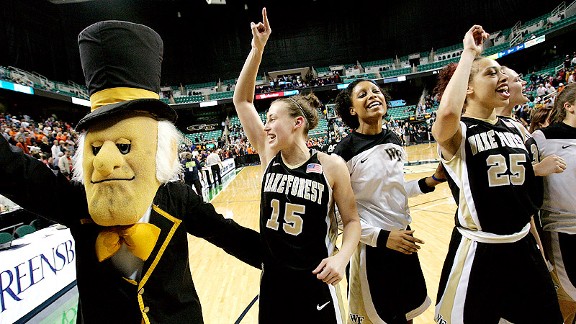 Mark Dolejs/US PresswireWake Forest knocked off No. 2 seed Miami in Friday's ACC quarterfinals.
Quarterfinal Friday at the ACC tournament was the perfect example of why conference tournaments are terrific. And it was also the perfect example of why they aren't. It all depends on your point of view, of course.
If you were wearing NC State red or Wake Forest black on Friday, then you're singing the praises of that extra chance to do something special in a second season that the league tourney provides.
But if you were clad in Duke blue or Miami green/orange, guess what? You overpacked for the trip to Greensboro, N.C., because your team's stay is finished. Then again, you can stick around to grumpily watch the 9-seed Wolfpack meet 4-seed Georgia Tech, followed by No. 3 Maryland -- the Terps avoided the upset bug in their quarterfinal nightcap victory over Virginia -- versus No. 7 Wake Forest.
Now who out there would have picked those matchups for semifinal Saturday? Probably nobody. Duke and Miami were the Nos. 1 and 2 seeds in the ACC tournament and projected as No. 2 seeds in the NCAA field, along with Maryland. Now we'll see how that holds up with both the Blue Devils and Hurricanes forced into spectator status so early.
How odd was all this? The top seed at the ACC tournament previously had never been eliminated before the semifinals. And how unlikely was it that NC State would be the one to bounce Duke? The Wolfpack were just 5-11 in conference play this season, losing 83-59 to the Blue Devils back in early January.
Furthermore, there was nothing results-wise in the last month to suggest the Wolfpack would make any noise in Greensboro: They had lost six of their eight games in February. Yet they are in the ACC semifinals thanks to a 74-71 win over Florida State, a mild upset, and a 75-73 win over Duke, a major surprise.
Meanwhile, Wake Forest's 81-74 win over Miami was actually a bit less of a surprise. The Demon Deacons had a pretty good February, winning five of eight. That came after a rough January when Wake went 2-7, but seemed to figure out some things. So have the Deacs now done enough to nudge themselves into NCAA tournament discussion? Also, did No. 5 seed North Carolina, which fell to No. 4 seed Georgia Tech 54-53 in Friday's first quarterfinal, move to the wrong side of the bubble?
One thing is for sure: The big winner seems to be Maryland, which now might well end up getting the best seeding/placement of all the ACC squads. That is, if the Terps can avoid the fate that befell Duke and Miami.
March, 1, 2012
03/01/12
9:43
AM ET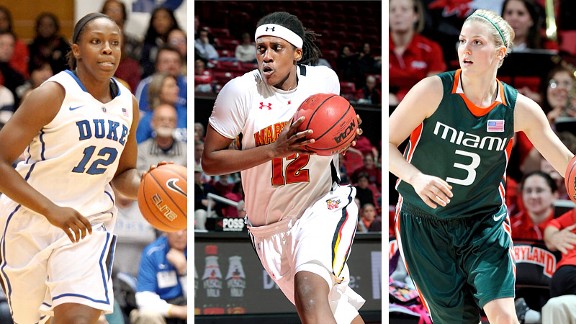 Getty ImagesTeams from the ACC -- Duke, Maryland and Miami -- have a hold on three of the No. 2 seeds.
Championship Week has arrived. For some, it is the best 11 days of the college basketball season. For others, conference tournaments are a way to kill time until the magic of March known as the NCAA tournament gets started.
But this year, even in the big conferences in which so many teams have already secured bids, the games still have huge meaning. The ACC, Big Ten and SEC tournaments, among others, open Thursday, and for some teams the ramifications are obvious. For others, the value isn't as evident, but these outcomes are no less important.
ACC
Virginia and North Carolina both must win their opening-round games to feel secure, but the Tar Heels could also really use a quarterfinal upset of Georgia Tech. UNC's résumé is OK, but there are bad parts: a lower RPI and some alarming margins of defeat. The Heels' status in the field is largely built on the limited competition for the final few spots, so beating a Top 25 team like the Yellow Jackets could go a long way.
But the ACC tournament will do more than decide the fate of teams on the bubble; it could actually have a lasting effect on how the NCAA tournament plays out. Here's why: Duke and Miami both figure to be at least No. 2 seeds in the NCAA tournament, and if chalk holds this week, they would meet in the ACC final. If when the time comes the Blue Devils and Hurricanes are both 2-seeds, whichever one (and remember, Maryland is in the mix to win the ACC, too) wins the ACC tournament is also likely to be higher on the selection board (right now, Duke is five, and Miami is six).
With so many host schools (Oklahoma, Vanderbilt, DePaul, LSU and Iowa State) as potential No. 7 or No. 10 seeds, and Maryland (another host) also being projected as a No. 2, there might be only one spot for another No. 2 seed not to be playing a potential second-round game on the road (Nos. 7, 10, 2 and 15 seeds are in the same subregional). So whichever team fairs better in the ACC will be given higher consideration to avoid that road situation. For example, in the most recent Bracketology posted Monday, Duke was higher-ranked on the selection board and therefore -- with only one subregional in that 7, 10, 2, 15 segment unoccupied by a host -- was given that one slot of two truly neutral opening games. Miami, because the Canes came in behind Duke in the ACC standings and on the selection board, got saddled with a potential second-round game against Vanderbilt in Nashville. If the Hurricanes win the ACC tournament, they would leapfrog Duke and get that higher consideration.
So you see, even though both are obviously in the field, and both are No. 2 seeds, triumphing this weekend could make a huge difference in how difficult a team's path is in the NCAA tournament. Not all same seeds are necessarily created equal.
Big Ten
The weekend in Indianapolis is big for a few teams, but for different reasons. Michigan needs to right the ship. Beating Illinois is a must. Beating Ohio State would really help create some safety for the Wolverines if there are some upsets in some smaller leagues (CAA, Horizon, Sun Belt).
The Buckeyes, meanwhile, also need a little bit of a run, probably to the Big Ten final, just to show the committee that what once made them a 23-3 team isn't gone. The blowout losses at Penn State and Nebraska last week have likely left some doubt, and Ohio State's seed will hinge on erasing it.
Penn State is the conference champ but might need to win the tournament title as well to be a No. 3 seed. With anything short of reaching the final, the Lady Lions are probably staring at a No. 4 and the potential burden of playing a No. 1 seed in the Sweet 16.
SEC
Tennessee and Kentucky are the two best candidates for the final No. 2 seed at this point. Given how evenly the résumés stack up, the better team in Nashville will win out. A meeting in the final would be the rubber match and would be the easiest way to solve any question as to which should be seeded higher. Of course, Georgia, South Carolina, LSU and Arkansas will have plenty to say about preventing that matchup, while improving their seed position for the NCAA tournament at the same time.
Arkansas and South Carolina might have the most to gain. Florida also can't afford a stumble against Auburn, and while a quarterfinal loss to Kentucky wouldn't hurt the Gators' chances to make the field, a win would seal the deal.
February, 25, 2012
02/25/12
11:32
AM ET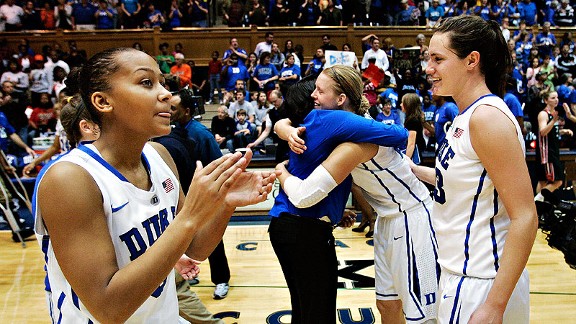 Mark Dolejs/US PresswireDuke clinched the No. 1 seed in the ACC tourney and at least a share of the league title.
Friday morning, I listed some of the candidates for the coach of the year … but, of course, there are always others who deserve mentioning. One, in fact, got a big victory Friday night.
Duke maintained its mastery over Miami, and in the process earned the No. 1 seed in the ACC tournament and at least a share of the league's regular-season championship.
The No. 7 Blue Devils' 74-64 victory over the No. 5 Hurricanes moved Duke's all-time record over Miami to 9-0. And Duke coach Joanne P. McCallie did it with a team that doesn't really look like what she was hoping/expecting it to when the school year began.
The two biggest puzzle pieces -- sophomore guard Chelsea Gray and freshman center Elizabeth Williams -- have stayed in place all season for Duke. And they were excellent Friday at Cameron Indoor Stadium. Williams had 19 points, nine rebounds and four steals. Gray had 12 points and nine assists.
Even more weight has been on them because Duke has taken such a large personnel hit. The Blue Devils have lost two forwards to injury -- freshman Amber Henson is redshirting the season with a knee injury and sophomore Richa Jackson suffered a torn ACL on Feb. 15 -- and guard Chloe Wells was suspended for this semester because of a violation of university policy.
Add in the fact that Duke lost three senior starters from last season: Jasmine Thomas, Krystal Thomas and Karima Christmas. There also are two assistant coaches in their first year in that role with the Blue Devils, both of whom previously played for McCallie: Candace Jackson at Michigan State and Joy Cheek at Duke.
As a result of all of this, McCallie has needed to do as much nurturing of young talent as any coach of a top program this season. Duke is 23-4 overall and 14-1 in the ACC. Friday, the Blue Devils showed both the defensive prowess that McCallie's teams are know for … but also more of a needed consistency on offense. Duke shot 48.5 percent from the field.
All things considered -- including the fact that Miami was riding a 13-game winning streak -- Duke appeared vulnerable coming into this game. But that didn't manifest itself the way the Hurricane would have hoped.
One of Duke's primary storylines this season is how a young squad is playing older than its years. Yet Friday showed that some credit does go to Duke's two seniors, Kathleen Scheer and Shay Selby, too. Both had a memorable senior night Friday, starting and combining for 12 points and nine rebounds.
It's been a decade since Duke's "Eight is Enough" team made it to the Women's Final Four in 2002. This squad is also down to eight scholarship players, and Friday's win gives the Blue Devils just a little more cushion come NCAA tournament time in regard to seeding.
That said, Duke still has to face North Carolina in Chapel Hill on Sunday (ESPN2, 3 p.m. ET). The Tar Heels -- who lost by 20 points Friday at Maryland -- definitely have something to play for in terms of adding more security to their postseason position. UNC is 19-9 overall and 9-6 in the ACC.
Duke absolutely shellacked the Tar Heels 96-56 in Durham on Feb. 6, so there is a bit of a pride factor for UNC, too.
Duke has displayed a lot of pride this season. This past Sunday -- just four days after the disappointment and sadness of seeing Jackson get hurt -- the Blue Devils played a gutsy game at Maryland. Though Duke lost 63-61 for its first ACC defeat this year, it showed the Blue Devils' resiliency.
Meanwhile, Miami could still share the ACC title if the Hurricanes (24-4, 13-2) beat Boston College at home Sunday and UNC defeats Duke. But the top seed in next week's ACC tournament is set, as Duke secured it for the third consecutive season.
McCallie's Blue Devils have won the league tournament title the last two years, and were expected to challenge for it again this season, of course. But to still be in such strong position to do that despite the setbacks Duke has faced is one of the national success stories that perhaps has been underappreciated this season.