Category archive:

California Golden Bears
March, 5, 2012
03/05/12
12:28
AM ET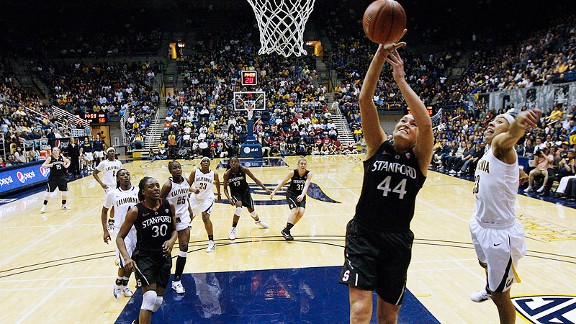 AP Photo/Marcio Jose SanchezJoslyn Tinkle scored 16 points Sunday for Stanford, which has won 24 consecutive games.
BERKELEY, Calif. -- Sunday's game between No. 2 Stanford and California meant nothing in the Pac-12 standings, affected not a single seed or matchup in the upcoming conference tournament.
But to say it meant nothing, well, that's simply not the case.
It meant something to Stanford, still in line for a No. 1 seed in the NCAA tournament after an 86-61 win in Haas Pavilion over the same Cal team that took it to overtime at home in late January.
It meant something to Cal (22-7, 13-4), the Bears still looking for one signature win for their NCAA résumé and smarting from a nationally televised pasting by their rival.
But the biggest question of the day is, what does it mean to the NCAA selection committee and its view of the Cardinal in the NCAA bracket?
Stanford coach Tara VanDerveer has been on the defensive for a few weeks now, advancing her opinion that her team has not been respected enough for what it has done this season -- a 28-1 record, 24 consecutive victories and a 79-game home-court winning streak.
But it's this last impressive stat that is the crux of the problem. Stanford has collected 75 straight wins over conference opponents, first in the Pac-10 and now in the new, but not-so-improved Pac-12.
So the question becomes, are the Cardinal padding their record against an inferior league, or are they just that much better than some decent teams? And does a 25-point victory over the second-place team in the Pac-12 cement the perception that the Cardinal are a powerhouse ready to go toe to toe with Baylor and Notre Dame, or show them to be the very biggest fish in a underwhelming pond?
"I hope people saw that we have a really strong team," VanDerveer said. "What do people look at? Yes, Nneka and Chiney [Ogwumike] are great players, we've got perimeter shooting, we worked really hard defensively -- Cal is an excellent offensive team -- I feel like we just need to keep everyone healthy. Our team knows we can play with anyone. We just want the chance."
"

Our team knows we can play with anyone. We just want the chance.

"

-- Stanford coach Tara VanDerveer
VanDerveer was upset several weeks ago when ESPN studio analyst Carolyn Peck suggested Duke should get consideration for a No. 1 seed because Stanford hadn't been challenged in the Pac-12, which has no other ranked teams and might get only two teams into the NCAA field. (Editor's note: Charlie Creme's March 5 Bracketology includes three Pac-12 teams, California, Stanford and Southern California.)
Over the past few days, in the San Francisco Chronicle, VanDerveer voiced frustration that her team likely will have to travel two time zones for the first and second rounds of the NCAA tournament, and could well end up playing on the home court of a lower seed -- while in all likelihood the other No. 1 seeds will be playing either at home (Notre Dame) or close to home on a neutral court (Connecticut in Bridgeport, Conn., and Baylor in Little Rock, Ark.).
But none of it would have mattered if the Cardinal couldn't win Sunday. Because a loss in Berkeley probably would have cost Stanford a No. 1 seed.
That scenario, however, was quickly irrelevant. Stanford ran to a double-digit lead less than nine minutes into the game, and led 43-24 at the half thanks to strong perimeter shooting (five first-half 3-pointers) and 19 points off nine Cal turnovers.
The Bears couldn't mount a comeback in the second half because they couldn't stop the Ogwumike sisters (who finished with a combined 34 points and 21 rebounds), and they didn't contain sophomore guard Toni Kokenis, who finished with 23 points, six rebounds and four assists. Junior post Joslyn Tinkle added 16 points and five blocks for Stanford, which also was 24-of-27 from the free throw line.
"I told Tara before the game that I almost called her after she made those comments to say 'Good for her,'" Cal coach Lindsay Gottlieb said. "If you put [the Cardinal] in any BCS conference, they are successful, they are at the top, they are really, really good. And I think the separator with them is that they have some of the best players in the country and they are incredibly well-coached. Period.
"I do think they don't get the credit they deserve, and I hope the rest of the country will not knock the conference, but give Stanford the respect that they deserve."
Cal has been a team on the fringes of the rankings all season. The Bears played close against Rutgers, Texas and Ohio State, and Stanford earlier in Pac-12 play, losing 74-71 in overtime at Maples.
But Stanford thoroughly outclassed the Bears on Sunday, and that's going to require a regroup heading into the conference tournament, where Stanford is an overwhelming favorite, and Southern California looms as a talented and desperate team that could be a dark horse candidate to snare the automatic bid.
"I hope that we can use this to teach us a lesson that we have to be the team that plays the hardest for 40 minutes," Gottlieb said. "Hopefully we can use this to kick-start us into the postseason."
November, 9, 2011
11/09/11
2:20
PM ET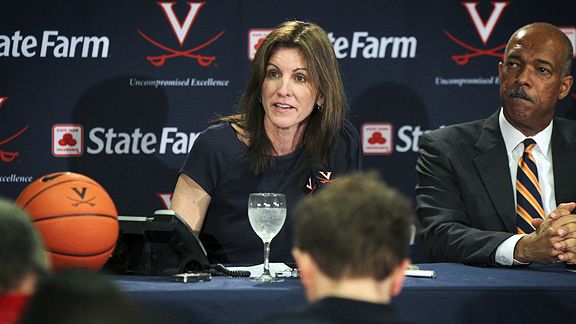 AP Photo/University of Virginia/Matt RileyJoanne Boyle gives Virginia a new coach for the first time since 1977-78.
There are always different faces in new places every college season. But it's still strange to get used to it when very familiar faces aren't in the same places anymore.
For the first time since the year of the Bicentennial and Jimmy Carter's election as president, Virginia's women's basketball team will be starting a season without Debbie Ryan as head coach.
She took over for the 1977-78 season, and led the Cavaliers to three Final Four appearances in her time in Charlottesville, Va. Those came in consecutive years -- 1990 through 1992 -- and represented the peak of her program. Ryan really wasn't ready to leave after last season, which ended in the WNIT for the Cavs. But she stepped down because the athletic department wanted a fresh start for Virginia, which had not advanced past the second round of the NCAA tournament since 2000.
Enter Joanne Boyle, a Duke graduate who previously had been head of another program in the state, Richmond, from 2002 to 2005. Boyle passed on a chance to coach at her alma mater in 2007, when her former boss Gail Goestenkors went to Texas. Boyle said then she was committed to what she was building in Cal, a program she took over in 2005.
[+] Enlarge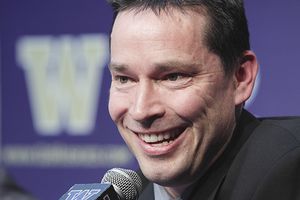 AP Photo/Elaine ThompsonAmong the many coaching changes, Kevin McGuff left Xavier to take over at Washington.
But Boyle ended up wanting to get back to the East Coast. Virginia -- with its still-like-new John Paul Jones Arena and high academic standards -- was a perfect chance for her to return.
Boyle's move created an opening at Cal, which was filled by her former assistant Lindsay Gottlieb, who spent the past three years at UCSB.
Boyle had brought a new energy to the Pac-10 (now 12), as did Nikki Caldwell when she came to UCLA. But Caldwell also moved back east this spring. Like Boyle with the ACC, Caldwell went to the conference she'd both played and coached in, the SEC. Caldwell took over for Van Chancellor at LSU, which seems a logical fit.
The Bruins had given Caldwell her first head-coaching job in 2008. When she left, they once again filled the job with a longtime assistant: Cori Close, who played collegiately at UC Santa Barbara, then was an assistant for 18 seasons with UCLA, UCSB and Florida State. While being a California native wasn't a requirement for the Bruins job, it certainly helped that Close is from the Golden State and immediately knew the recruiting landscape.
Another important figure in the coaching merry-go-round was Kevin McGuff going to Washington to try to re-establish success at that program.
McGuff, an Ohio native, moved with his wife and five children to the Pacific Northwest after spending his career in the Midwest as an assistant at Miami of Ohio and Notre Dame, and head coach at Xavier.
Tia Jackson had gone 45-75 in four seasons at Washington, a program that a long time ago seemed like it might be at least an occasional strong challenger to conference giant Stanford. Now we'll see if McGuff, whose Xavier team lost a heartbreaker in the 2010 Elite Eight to Stanford, can make that happen.