Category archive:

UCLA Bruins
November, 9, 2011
11/09/11
2:20
PM ET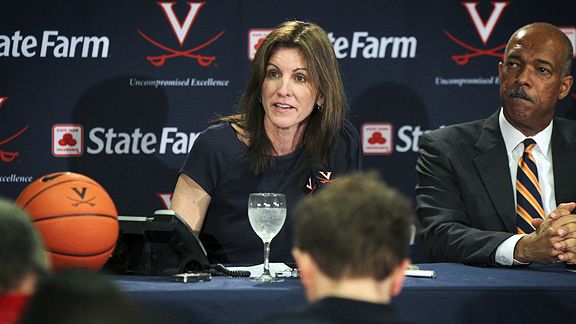 AP Photo/University of Virginia/Matt RileyJoanne Boyle gives Virginia a new coach for the first time since 1977-78.
There are always different faces in new places every college season. But it's still strange to get used to it when very familiar faces aren't in the same places anymore.
For the first time since the year of the Bicentennial and Jimmy Carter's election as president, Virginia's women's basketball team will be starting a season without Debbie Ryan as head coach.
She took over for the 1977-78 season, and led the Cavaliers to three Final Four appearances in her time in Charlottesville, Va. Those came in consecutive years -- 1990 through 1992 -- and represented the peak of her program. Ryan really wasn't ready to leave after last season, which ended in the WNIT for the Cavs. But she stepped down because the athletic department wanted a fresh start for Virginia, which had not advanced past the second round of the NCAA tournament since 2000.
Enter Joanne Boyle, a Duke graduate who previously had been head of another program in the state, Richmond, from 2002 to 2005. Boyle passed on a chance to coach at her alma mater in 2007, when her former boss Gail Goestenkors went to Texas. Boyle said then she was committed to what she was building in Cal, a program she took over in 2005.
[+] Enlarge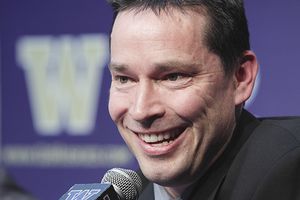 AP Photo/Elaine ThompsonAmong the many coaching changes, Kevin McGuff left Xavier to take over at Washington.
But Boyle ended up wanting to get back to the East Coast. Virginia -- with its still-like-new John Paul Jones Arena and high academic standards -- was a perfect chance for her to return.
Boyle's move created an opening at Cal, which was filled by her former assistant Lindsay Gottlieb, who spent the past three years at UCSB.
Boyle had brought a new energy to the Pac-10 (now 12), as did Nikki Caldwell when she came to UCLA. But Caldwell also moved back east this spring. Like Boyle with the ACC, Caldwell went to the conference she'd both played and coached in, the SEC. Caldwell took over for Van Chancellor at LSU, which seems a logical fit.
The Bruins had given Caldwell her first head-coaching job in 2008. When she left, they once again filled the job with a longtime assistant: Cori Close, who played collegiately at UC Santa Barbara, then was an assistant for 18 seasons with UCLA, UCSB and Florida State. While being a California native wasn't a requirement for the Bruins job, it certainly helped that Close is from the Golden State and immediately knew the recruiting landscape.
Another important figure in the coaching merry-go-round was Kevin McGuff going to Washington to try to re-establish success at that program.
McGuff, an Ohio native, moved with his wife and five children to the Pacific Northwest after spending his career in the Midwest as an assistant at Miami of Ohio and Notre Dame, and head coach at Xavier.
Tia Jackson had gone 45-75 in four seasons at Washington, a program that a long time ago seemed like it might be at least an occasional strong challenger to conference giant Stanford. Now we'll see if McGuff, whose Xavier team lost a heartbreaker in the 2010 Elite Eight to Stanford, can make that happen.
March, 21, 2011
03/21/11
8:49
PM ET
It was as if Gonzaga's Courtney Vandersloot wanted to put a highlight reel of her entire career into one basketball game. A contest that would be her last on her home court at the McCarthey Athletic Center, but not her last in a Bulldogs uniform.
That's because No. 11 seed Gonzaga, for the second season in a row, will be going to the Sweet 16 -- thanks to a great point guard, a very strong team … and some good fortune with geography.
The Bulldogs beat No. 3 seed UCLA 89-75 Monday in Spokane, Wash., taking advantage of being at home to knock off the Pac-10's Bruins. The setup of predetermined sites for the first and second rounds of the NCAA women's tournament means that sometimes, a worse-seeded team gets a home-court advantage over a team with a better seed because it submitted a winning bid to host.
Would No. 11 Gonzaga have defeated sixth-seeded Iowa in the first round or UCLA in the second on a neutral court? Hard to say, but the Bulldogs did make the Sweet 16 away from home last year. Of course, then Gonzaga had a home-state advantage -- the subregional was played across the state in Seattle -- and defeated No. 2 seed Texas A&M in the 2010 second round.
But no one can argue that Gonzaga coach Kelly Graves has built a terrific program in Spokane, and Vandersloot has been the centerpiece. The senior guard was sensational Monday: 29 points, 17 assists, 7 rebounds, 5 steals. During the game, she scored the 2,000th point of her career. Are you watching, WNBA scouts?
And it's not too often that a player could score 30 points and be overshadowed by her teammate, but Gonzaga's Kayla Standish was. Not that she minded.
UCLA is a very good defensive team, but it didn't look so against the high-octane offense of Gonzaga, which shot 55.8 percent from the field.
Now the Bulldogs will have the support of the entire city with them -- including Gonzaga alum John Stockton, who was in attendance Monday appreciating the skills of a fellow point guard -- as they play in the upcoming regional at Spokane Veterans Memorial Arena.
The Bulldogs will face either No. 2 seed Xavier -- the team they lost to last year in the Sweet 16 -- or seventh-seeded Louisville.
And the idea that the Bulldogs are underdogs? They sure aren't looking like it.
January, 21, 2011
01/21/11
9:41
AM ET
Stanford coach Tara VanDerveer is in this somewhat odd position a lot: talking up teams that her squad has every intention of going out and beating handily.
The Cardinal have consistently been at the top of the totem in the Pac-10 for so long that excitement bubbles anytime there's even a hint that they might be challenged. VanDerveer likes the idea that eyes are focused on the Pac-10 … but she still wants the result to be same old, same old.
While few realistically thought UCLA would go into Maples Pavilion on Thursday and end the Cardinal's 55-game home winning streak, a lot of folks really wanted to believe it could be a battle.
But it wasn't. The Cardinal won 64-38 with a score that could have been lifted from just about any other Stanford domination of any Pac-10 foe in any year. On paper, it was the nation's No. 4 team vs. No. 8 -- the first time these programs had ever met when both were in the top 10 -- but it didn't play out that way on the court.
Before the game, UCLA coach Nikki Caldwell conceded the obvious: The Bruins couldn't compete size-wise with Stanford but would still have to try to find a way to defeat the Cardinal.
"Your go-to [players] have to match their go-tos," Caldwell said. "You have to be able to cancel out certain things. You can't give them everything; you have to make a commitment on how you're going to play them."
That's a pragmatic -- and, I think, correct -- way to approach Stanford. But that doesn't mean it will work, no matter how committed you are to it. And it didn't work Thursday.
Stanford's go-to players did what they do at a high level. Kayla Pedersen had 18 points and 10 rebounds, Jeanette Pohlen had 14 points and four assists, Nneka Ogwumike had 13 points and Chiney Ogwumike had nine points and 11 rebounds.
Few teams in the country can match that kind of go-to power, and UCLA certainly couldn't Thursday. Jasmine Dixon was the only Bruin to score in double figures, with 12. UCLA came in shooting just better than 45 percent from the field this season but hit only 29.4 percent against Stanford.
So this wasn't the game that many hoped it would be. UCLA can view it as a type of reality check without letting it become discouraging. After all, this is a Stanford team that crushed Xavier at Maples late last month and then, two days later, ended UConn's 90-game winning streak.
Stanford hasn't lost at home since March 2007, when Florida State knocked the Cardinal out of the NCAA tournament. So the Bruins have to realize just what a powerful force they were trying to overcome at Maples.
By the same token, though, they also got a harsh lesson in how much they need to improve to be competitive with Stanford.
"It's interesting to see how far we've come since last year," Caldwell said prior to the game. "We seem to be turning the corner in terms of competing at a level of intensity that you have to have. Last year, we were the team trying to get the recognition of being nationally ranked. Now, as a staff, we're trying to make sure they understand, 'You're going to be the hunted as opposed to the hunter.' That's a different role for them."
Against Stanford, though, the Bruins were still in the same old position: trying to pull an upset. They'll get another chance Feb. 20, when Stanford visits UCLA.
VanDerveer will, most certainly, talk before that game about the Bruins' improvement and their climb in the Pac-10. But it will be up to UCLA to prove if the Bruins really are getting closer to where Stanford has been for a long, long time.