Category archive:

LSU Lady Tigers
March, 4, 2012
03/04/12
8:15
PM ET
Tennessee's Glory Johnson and Shekinna Stricklen talk about winning another SEC tournament title for coach Pat Summitt.
Tennessee's Vicki Baugh talks about how she and her fellow seniors have played in recent weeks, plus the team's greater commitment to defense, and how that helped in winning the SEC tournament title.
LSU coach Nikki Caldwell talks about her pride in the Lady Tigers making the SEC title game and their hopes for the NCAA tournament.
Tennessee associate coach Holly Warlick talks about what Pat Summitt continues to mean to the team, and how Summitt cut down the net Sunday after the SEC title game.
March, 3, 2012
03/03/12
8:00
PM ET
Courtney Jones talks about how LSU has dealt with injuries and the impending arrival of coach Nikki Caldwell's baby, all while making it to the SEC tournament final.
NASHVILLE, Tenn. -- LSU coach Nikki Caldwell has certainly had an interesting first season in Baton Rouge, La. And the most exciting stuff hasn't even happened yet.
On March 24, Caldwell is due to deliver her first child … although she wouldn't mind if the little one showed up before that. But not too soon, considering her team is still playing in the SEC tournament.
The fourth-seeded Lady Tigers upset No. 1 seed Kentucky 72-61 in Saturday's semifinal at Bridgestone Arena. LSU has had the Wildcats' number this year, having also defeated Kentucky 61-51 back on Feb. 5 in Baton Rouge. That game marked the end of LSU's midseason skid -- the Lady Tigers had lost five of their previous six games -- and the start of a six-game winning streak.
Caldwell, the former Tennessee player and assistant coach who spent the past three seasons guiding UCLA, also has dealt with losing the most irreplaceable player on her roster. Point guard Destini Hughes, one of five seniors for LSU, suffered a knee injury in a Jan. 19 defeat at Tennessee. That ended her college career, but not the hopes of the Lady Tigers.
Caldwell told senior forward LaSondra Barrett -- one of the team's better ball handlers despite being 6 feet, 2 inches -- that she'd need to start spending some time at point guard. Others would have to help out with that, too. But Barrett -- whose nickname is "Boogie" -- had to accept her expanded role. Especially because at that point, LSU was also without guard Jeanne Kenney.
"That was a big adjustment," Caldwell said. "There's not too many players you can move from the 5 or 4 all the way to the point guard. Usually, you'll move a swing guard into that situation, but we had also lost Jeanne during that stretch with a concussion.
"By [Barrett] stepping up at that point and playing the point guard, it really helped us. It gave us a different sense of ball security. And we had to move Courtney Jones out to the perimeter, too. We were really shuffling players around, and I think it took us a little bit to settle in. Once we did, we started on that run."
The only game the Lady Tigers have lost since Feb. 2 was the regular-season finale at Georgia, 62-46 on Feb. 26. They got a scare here during the quarterfinals Friday, when it took a rally in the last two minutes to win a defensive war with Arkansas, 41-40. The Razorbacks finished that game on an 0-of-16 drought from the field.
Kentucky shot 40.7 percent (24 of 59) from the field Saturday, but the game was played at LSU's pace the whole way. After holding a 26-16 (yuck) lead at halftime, LSU shot 73.3 percent (11 of 15) in the second half, leaving Kentucky coach Matthew Mitchell with some steam coming out of his ears and his team needing to regroup before heading into the NCAA tournament.
Last year, Kentucky beat LSU in the SEC quarterfinals, and that ended the Lady Tigers' season. They didn't get an NCAA at-large berth at 19-13, and coach Van Chancellor stepped down after four seasons in Baton Rouge.
Caldwell came in after having made the NCAA field in two of her three seasons at UCLA. She immediately gave LSU a dose of needed optimism and confidence.
Jones led LSU with 18 points Saturday, and Barrett had 15. LSU outrebounded the Wildcats 38-23, and now at 22-9, relishes the opportunity to play for the SEC tourney crown Sunday (ESPN2, 6 p.m. ET).
Plus, the Lady Tigers are all looking forward to being "big sisters" to the baby. Just as Caldwell once was to Tennessee coach Pat Summitt's son, Tyler.
"You know that your path may have some … well, I wouldn't call them obstacles," Caldwell said of everything that has happened this season. "There are just things that come your way, and you deal with them the best you know how and trust in the foundation that you have as a person.
"As for the baby, people have said, 'Enjoy it, it will change your life.' Of course, in college, I had the opportunity to watch Tyler grow up. He was around all the time; it allowed us as players to see Pat as not only our coach, but as a mother. It definitely imprinted on all of us, having Tyler around.
"And I know this little one will have an unbelievable support system. It's an enjoyment that we're all enjoying right now. The kids high-five me, and they high-five my belly for the baby."
November, 9, 2011
11/09/11
2:20
PM ET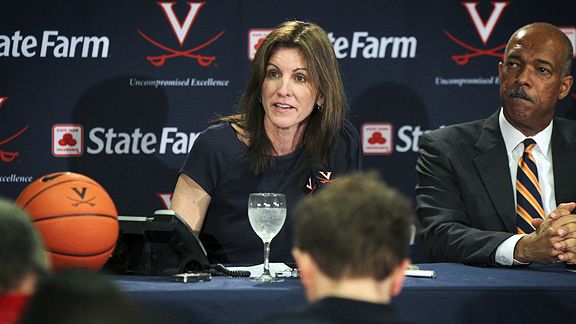 AP Photo/University of Virginia/Matt RileyJoanne Boyle gives Virginia a new coach for the first time since 1977-78.
There are always different faces in new places every college season. But it's still strange to get used to it when very familiar faces aren't in the same places anymore.
For the first time since the year of the Bicentennial and Jimmy Carter's election as president, Virginia's women's basketball team will be starting a season without Debbie Ryan as head coach.
She took over for the 1977-78 season, and led the Cavaliers to three Final Four appearances in her time in Charlottesville, Va. Those came in consecutive years -- 1990 through 1992 -- and represented the peak of her program. Ryan really wasn't ready to leave after last season, which ended in the WNIT for the Cavs. But she stepped down because the athletic department wanted a fresh start for Virginia, which had not advanced past the second round of the NCAA tournament since 2000.
Enter Joanne Boyle, a Duke graduate who previously had been head of another program in the state, Richmond, from 2002 to 2005. Boyle passed on a chance to coach at her alma mater in 2007, when her former boss Gail Goestenkors went to Texas. Boyle said then she was committed to what she was building in Cal, a program she took over in 2005.
[+] Enlarge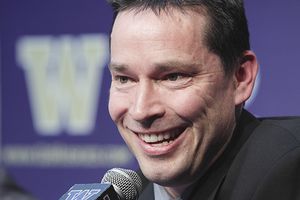 AP Photo/Elaine ThompsonAmong the many coaching changes, Kevin McGuff left Xavier to take over at Washington.
But Boyle ended up wanting to get back to the East Coast. Virginia -- with its still-like-new John Paul Jones Arena and high academic standards -- was a perfect chance for her to return.
Boyle's move created an opening at Cal, which was filled by her former assistant Lindsay Gottlieb, who spent the past three years at UCSB.
Boyle had brought a new energy to the Pac-10 (now 12), as did Nikki Caldwell when she came to UCLA. But Caldwell also moved back east this spring. Like Boyle with the ACC, Caldwell went to the conference she'd both played and coached in, the SEC. Caldwell took over for Van Chancellor at LSU, which seems a logical fit.
The Bruins had given Caldwell her first head-coaching job in 2008. When she left, they once again filled the job with a longtime assistant: Cori Close, who played collegiately at UC Santa Barbara, then was an assistant for 18 seasons with UCLA, UCSB and Florida State. While being a California native wasn't a requirement for the Bruins job, it certainly helped that Close is from the Golden State and immediately knew the recruiting landscape.
Another important figure in the coaching merry-go-round was Kevin McGuff going to Washington to try to re-establish success at that program.
McGuff, an Ohio native, moved with his wife and five children to the Pacific Northwest after spending his career in the Midwest as an assistant at Miami of Ohio and Notre Dame, and head coach at Xavier.
Tia Jackson had gone 45-75 in four seasons at Washington, a program that a long time ago seemed like it might be at least an occasional strong challenger to conference giant Stanford. Now we'll see if McGuff, whose Xavier team lost a heartbreaker in the 2010 Elite Eight to Stanford, can make that happen.
March, 20, 2010
03/20/10
2:53
PM ET
Tennessee coach Pat Summitt uttered the De Niro-like "You talkin' to me?" line the other day. OK, it really wasn't said with Travis Bickle attitude and she was, um, only speaking to a teleconference operator to see if it was her turn to talk but still …
Tennessee means business. The eight-time national champs opened the NCAA tournament Saturday the way they always have … except last season, that is. The Orange Crush had never failed to advance to at least the NCAA Sweet 16 until last season's Knoxville-shaking 71-55 loss to No. 12 seed Ball State in the first round.
Summitt's team was almost immediately back in practice after that loss, worked harder than ever during the summer and re-established itself as the SEC's power with the regular-season and tournament titles.
Now a No. 1 seed for the 20th time in the 29 years of the NCAA tournament, Tennessee dismissed overwhelmed Austin Peay -- the alma mater of two of Summitt's brothers -- 75-42 on Saturday.
With that, Tennessee started its quest for a ninth title, and despite so much attention being focused on fellow No. 1 seed Connecticut's 72-game winning streak, it would be folly to dismiss Summitt as anything but a strong contender.
Tennessee knows it will need a consistent performance from center Kelley Cain, and she got off to a great start with 18 points on 9-of-11 shooting, with 12 rebounds and two blocked shots.
Guards Angie Bjorklund and Shekinna Stricklen combined for 26 points, and the Tennessee bench scored 23 points. Taber Spani, whom Summitt has praised for coming in more prepared than a "normal" freshman, began the season in the starting lineup but eventually moved to the bench as she dealt with a foot injury.
But Spani might be an important part of Tennessee's fate in the tournament, with her size, versatility and shooting potential as a reserve. Against Austin Peay, she had nine points, two rebounds and two assists.
So there wasn't much at all for Summitt to be upset about Saturday … which was not the case for Hartford coach Jen Rizzotti. The former UConn point guard has always been known as fiery, and Saturday her kettle boiled over. Rizzotti was ejected after her second technical, so she wasn't on the floor at the end as No. 10 seed Hartford fell to seventh-seeded LSU 60-39 in Durham, N.C.
The Hawks lost second-leading scorer and defensive standout Erica Beverly to an ACL injury suffered during the America East tournament semifinals. Hartford then fell to Vermont in the final, yet still got an NCAA at-large bid. But it wasn't a long stay for the Hawks, who held LSU to 32 percent shooting … but shot just 29.6 percent themselves.
St. John's, whose No. 6 seed is the program's best ever in the NCAA tournament, had no problem with Ivy League champ Princeton, winning 65-47. And now the Red Storm will try for a program first: winning two games in the same NCAA tournament.
The closest game to an upset among the four openers came from an expected source: No. 12 seed Bowling Green, which made the Sweet 16 as recently as 2007. The Falcons gave No. 5 seed Michigan State a lot to worry about, but the bigger Spartans prevailed 72-62 behind Aisha Jefferson's 17 points.
Michigan State survived a scare from a mid-major school in the first round last year, too, when the Spartans edged Middle Tennessee 60-59. Then, though, Michigan State knocked out the top seed in its region, Duke.
Michigan State has been to the Final Four before, in 2005 when it won the Kansas City Regional. This season, the Spartans are again in the KC region and will see what kind of run they can put together in 2010.
Meanwhile, Tennessee will not have to leave the Volunteer State if it is to make a 19th Final Four appearance. If Tennessee wins its second-round game in Knoxville, it moves across the state to the regional in Memphis.