Lady Lions get just what they need
February, 20, 2012
02/20/12
11:23
PM ET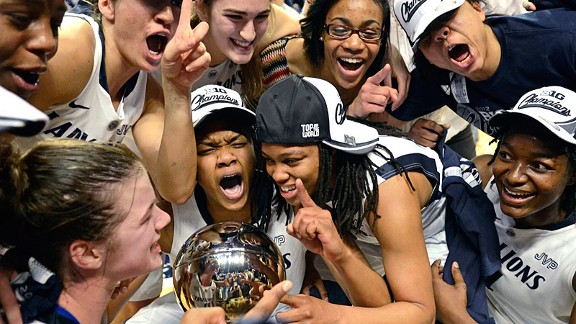 AP Photo/John BealePenn State has won six consecutive games, and 11 of its last 12 contests overall.
It might be trite to say Penn State needed this, but it's still true. The school, buried under so much harsh publicity in the last three months, needed it. The program, which hadn't won a Big Ten championship since 2004, needed it. The players, who this season lost two of their first three league games (both at home), needed it. And coach Coquese Washington, who took over at Penn State in 2007 hoping to give the program a completely fresh outlook and atmosphere, needed it.
You also can say that Washington and the players didn't just need it, they deserved it and earned it.
"It" is the Big Ten regular-season title, which No. 17 Penn State has at least a share of now after an 84-66 victory over No. 11 Ohio State on Monday.
This game felt like it had an even greater margin than 18 points. In fact, the Buckeyes looked so lethargic during stretches that you were reminded of Joaquin Phoenix's infamous appearance on David Letterman's show back in 2009. Phoenix's fake catatonic-like behavior prompted Letterman to quip, "Joaquin, I'm sorry you couldn't be here tonight."
Ohio State coach Jim Foster probably felt that way about his team's defense against Penn State, which had five players score in double figures Monday. Nikki Greene led the way with 25 points and 15 rebounds. Fellow junior post player Mia Nickson had 18 points and 15 boards.
It's not a regular occurrence for three players from the same team to pull down double-digit rebounds. But it happens when you clobber your opponent 60-32 on the boards, as Penn State did. Guard Maggie Lucas joined Greene and Nickson in Monday's double-double effort, with 12 points and 10 rebounds.
Penn State (22-5 overall, 12-3 in the Big Ten) has just one regular-season game left: Sunday at home against Minnesota, a team in the lower half of the league. Technically, Penn State still might have to share the regular-season championship -- if the Lions slip up against the Gophers and Ohio State wins Thursday versus Minnesota and Sunday versus Nebraska. To win those games, though, the Buckeyes will have to play with a lot more purpose and energy than they did against Penn State.
But the Lady Lions should get some credit for that, too: They came out Monday clearly determined to put their hands on the Big Ten trophy. And even if that title is shared, Penn State -- with this win over Ohio State -- has the tiebreaker and No. 1 seed in the upcoming Big Ten tournament, March 1-4 in Indianapolis.
Ohio State, which won or shared six regular-season Big Ten titles from 2005 to '10, has won in the league tournament the past three years in a row. Last season, the Buckeyes prevailed 84-70 in the final over Penn State.
In fact, it has been quite a long time since the Lady Lions won that particular title. Penn State triumphed in the first two Big Ten tournaments, in 1995 and '96, but hasn't won that championship since.
But right now, Penn State certainly looks like the favorite for next month in Indy.