ESPN.com's top five at each position
Updated:
November 11, 2011, 8:46 PM ET
ESPN.com
BEST OF THE BUSINESS
Connecticut and Notre Dame led the way with three players apiece among our picks for the best players at each position. Baylor, Miami, Stanford, Tennessee and Texas A&M each had two players selected. The player listed first below was voted the top player at her position, as determined by a panel consisting of ESPN.com's Mechelle Voepel, Graham Hays, Charlie Creme and Melanie Jackson. The other four honorees are listed alphabetically.
Point guard
Shooting guard
Small forward
Power forward
Center
Skylar
Diggins
Notre Dame
5-9, junior



Has the rare ability to make everyone around her better but also do it by herself when the need arises.
-- Graham Hays
Riquna
Williams
Miami
5-7, senior



So explosive and has the rare ability to go on scoring runs all by herself.
-- Charlie Creme
Elena
Delle Donne
Delaware
6-5, junior



The dominant player on Team USA alongside Ogwumike, Diggins and others this summer.
-- Graham Hays
Nnemkadi
Ogwumike
Stanford
6-2, senior



As good as she's been on offense, expect her to be even better, plus improved on defense.
-- Mechelle Voepel
Brittney
Griner
Baylor
6-8, junior



Gained more confidence in time with U.S. team and is ready to be true leader for Baylor.
-- Mechelle Voepel
Bria Hartley
UConn
5-7, sophomore
Briana Gilbreath
USC
6-1, senior
Keisha Hampton
DePaul
6-2, senior
LaSondra Barrett
LSU
6-2, senior
Kelsey Bone
Texas A&M
6-4, junior
Shenise Johnson
Miami
5-11, senior
Tiffany Hayes
UConn
5-10, senior
Katelan Redmon
Gonzaga
6-1, senior
Courtney Hurt
VCU
6-1, senior
Carolyn Davis
Kansas
6-3, junior
Samantha Prahalis
Ohio State
5-7, senior
Natalie Novosel
Notre Dame
5-11, senior
Shekinna Stricklen
Tennessee
6-2, senior
Glory Johnson
Tennessee
6-3, grad stud.
Stefanie Dolson
UConn
6-5, sophomore
Odyssey Sims
Baylor
5-9, sophomore
Sugar Rodgers
Georgetown
5-11, junior
Tyra White
Texas A&M
6-0, senior
Devereaux Peters
Notre Dame
6-2, grad stud.
Chiney Ogwumike
Stanford
6-3, sophomore
The following players received at least one vote from our contributors: Cierra Bravard, Florida State; Stephanie Holzer, Vanderbilt; Lynetta Kizer, Maryland; Jaime Printy, Iowa; Monique Reid, Louisville; Shoni Schimmel, Louisville; Kayla Standish, Gonzaga; Alyssa Thomas, Maryland; Julie Wojta, Green Bay.
2011-12 Season Preview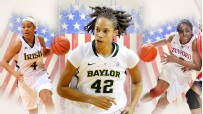 Get ready for 2011-12 with ESPN.com's women's college basketball preview.
Friday, Nov. 11
Thursday, Nov. 10
Wednesday, Nov. 9
Tuesday, Nov. 8
Monday, Nov. 7
espnW