ESPN.com's Preseason All-Americans
Originally Published:
November 11, 2010
ESPN.com
There is a lot of basketball still to be played this season. But here are ESPN.com's top 10 players heading into the opening games of 2011-12, as determined by writers Mechelle Voepel, Graham Hays and Charlie Creme and editor Melanie Jackson. Notre Dame's Skylar Diggins, Baylor's Brittney Griner and Stanford's Nnemkadi Ogwumike were unanimous selections to the first team.
ALL-AMERICA FIRST TEAM
Player
Résumé
SKYLAR DIGGINS, NOTRE DAME


5-9, junior, guard | 15.0 ppg, 4.0 rpg, 4.8 apg

She fueled the Irish's NCAA tournament run a season ago in what turned into a coming-out party. Diggins might now be the sport's most recognizable player.
-- Charlie Creme

She can get to the line or hit 3-pointers. She can lead the break or direct traffic. But more than anything, last season proved she will make the big play, whatever form it takes. -- Graham Hays

Will she be an even more effective playmaker with another year of experience? You can bet on it.
-- Mechelle Voepel

(Photo: Michael Hickey/US Presswire)
BRITTNEY GRINER, BAYLOR


6-8, junior, center | 23.0 ppg, 7.8 rpg, 4.6 bpg

Simply the most dominant player in the game today. The opportunity now exists for Griner to be the most dominant player in the game's history. -- Charlie Creme

Just look at her free throw shooting (68 percent as a freshman to 77 percent as a sophomore) for proof that she both wants to, and is capable of, maximizing her gifts. -- Graham Hays

She said she has figured out that she doesn't need tons of moves inside. She just needs to keep perfecting what works best. Those are devastating enough to foes.
-- Mechelle Voepel

(Photo: Mark D Smith/US Presswire)
KEISHA HAMPTON, DEPAUL


6-2, senior, forward | 16.0 ppg, 4.9 rpg, 42 FG percent

She has quietly become a versatile scorer whom even the game's best defenders struggle to slow down.
-- Charlie Creme

Filling the leadership vacuum left by departing seniors will be a challenge, but not nearly as much of a challenge as defenses have against a player who scores from anywhere. -- Graham Hays

She has really blossomed as a scorer, and this season will look to improve her rebounding and cut down on turnovers. -- Mechelle Voepel

(Photo: Michael Tureski/Icon SMI)
SHENISE JOHNSON, MIAMI


5-11, senior, guard | 19.6 ppg, 8.3 rpg, 3.8 apg

Her ability to excel in so many areas is staggering. How many players can average eight-plus rebounds and more than three steals a game and still score and run a team? -- Charlie Creme

She wasn't her team's leading scorer last season, but she is one of the nation's most efficient big-time scorers. Did I mention the eight rebounds and three steals per game? -- Graham Hays

She's the complete package as a good-sized guard: a top-notch shooter, passer, rebounder and defender.
-- Mechelle Voepel

(Photo: Richard C. Lewis/Icon SMI)
NNEMKADI OGWUMIKE, STANFORD


6-2, senior, forward | 17.5 ppg, 7.6 rpg, 59 FG percent

She is the latest example of the talent, smarts and dignity that have come to define the Stanford program. Oh, and no one has figured out how to stop her, either. -- Charlie Creme

All that has changed is that she has gone from the wise young star to the wise old star. She's a 20-10 threat every night if healthy. Heck, she's a 20-10 threat when she isn't. -- Graham Hays

You'll likely notice her great athleticism on display defensively even more than ever this season. She leads the way as a senior for a pretty young Cardinal team.
-- Mechelle Voepel

(Photo: AP Photo/Chris Pietsch)
ALL-AMERICA SECOND TEAM
Player
Résumé
ELENA DELLE DONNE, DELAWARE


6-5, junior, forward | 25.4 ppg, 7.8 rpg, 95 FT percent

The numbers will be gaudy as the restoration of her passion for the game appears to be complete.
-- Charlie Creme

One-dimensional scorer? Playing for Team USA, she was second on the World University team in assists. She just might be the most complete player in college basketball. -- Graham Hays

She really is one of the most talented offensive players in women's college basketball. Will her defense catch up? -- Mechelle Voepel

(Photo: AP Photo/Ann Heisenfelt)
CHINEY OGWUMIKE, STANFORD


6-3, soph., forward | 11.7 ppg, 8.0 rpg, 57 FG percent

She got better and better as her freshman season progressed and could be ready to explode in Year 2.
-- Charlie Creme

Her sister has been an All-American from just about the day she arrived on campus. Chiney is taller and more explosive. So good luck with that, Pac-12.
-- Graham Hays

She was terrific as a freshman, but look for her this year to eradicate some of the inconsistency she went through as a rookie. -- Mechelle Voepel

(Photo: Jason O. Watson/US Presswire)
ODYSSEY SIMS, BAYLOR


5-9, sophomore, guard | 13.1 ppg, 3.0 rpg, 3.1 apg

Forms a great duo with Griner, and even as a freshman sharing the court with the her dominant teammate, Sims was, at times, Baylor's best player. -- Charlie Creme

Freshman point guards aren't supposed to shoot 45 percent from the 3-point line or 48 percent from the field. Or keep getting stronger in conference play, as Sims did. -- Graham Hays

She stepped right into the fray as a freshman and proved fearless. She has an all-business approach, as well as the confidence of her coach and teammates.
-- Mechelle Voepel

(Photo: AP Photo/Eric Gay)
SHEKINNA STRICKLEN, TENNESSEE


6-2, senior, guard/forward | 12.8 ppg, 7.3 rpg

Her career has been outstanding, but fair or not, its exact place in the Tennessee annals will be determined by what the Lady Vols do come March. -- Charlie Creme

Said Stricklen in August: "When you are on a USA team, you are expected to win a gold medal." The nation's most versatile player accomplished that mission in the 2011 World University Games, and now has a final shot to live up to the same expectation in a Tennessee uniform. -- Melanie Jackson

She has been valued for her versatility, but Tennessee might be able to keep her mostly in her comfort zone this season. Either way, she's the Lady Vols' MVP.
-- Mechelle Voepel

(Photo: AP Photo/Lance Murphey)
TYRA WHITE, TEXAS A&M


6-0, senior, guard | 13.8 ppg, 5.1 rpg, 49 FG percent

She hit the two biggest shots in the history of Texas A&M basketball in Indianapolis in April and should make plenty more big ones in her final season. -- Charlie Creme

White is most memorable for a pivotal Final Four performance -- a team-high 18 points in the semifinals and then 7-of-9 shooting in the NCAA title game -- but she has been a consistent force all along. -- Melanie Jackson

Coach Gary Blair compliments the senior's decision-making and says that's why she almost never takes a bad shot. Her leadership will be on display this year.
-- Mechelle Voepel

(Photo: Anthony Gruppuso/US Presswire)
The following players each received one vote from our panel: Kelsey Bone, Texas A&M; Stefanie Dolson, Connecticut; Tiffany Hayes, Connecticut; Samantha Prahalis, Ohio State; Shoni Schimmel, Louisville; Kayla Standish, Gonzaga.
2011-12 Season Preview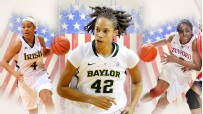 Get ready for 2011-12 with ESPN.com's women's college basketball preview.
Friday, Nov. 11
Thursday, Nov. 10
Wednesday, Nov. 9
Tuesday, Nov. 8
Monday, Nov. 7
espnW