espnW's top five at each position
Updated:
November 7, 2013, 10:55 AM ET
espnW.com
BEST OF THE BUSINESS
Connecticut leads the way with four Huskies among our picks for the best players at each position. Tennessee had three players selected; Duke and Notre Dame each had two players picked. The player listed first below was voted the top player at her position, as determined by espnW's Charlie Creme, Kate Fagan, Graham Hays, Michelle Smith and Mechelle Voepel.

• The other four honorees at each position are listed alphabetically.
Point guard
Shooting guard
Small forward
Power forward
Center
Odyssey
Sims
Baylor
5-8, senior



Lone starter back for Baylor, she'll be the tone-setter on a team looking to establish a new identity.
-- Mechelle Voepel
Kayla
McBride
Notre Dame
5-11, senior



All-around scorer who still gets her points against great defenses. Tough, physical competitor.
-- Graham Hays
Alyssa
Thomas
Maryland
6-2, senior



Perhaps the nation's best all-around player. An impossible matchup for opposing defenses.
-- Charlie Creme
Breanna
Stewart
Connecticut
6-4, soph.



Can do it all: shoot 3s, post up on the block and face up from the perimeter.
-- Kate Fagan
Elizabeth
Williams
Duke
6-3, junior



One of the few go-to centers in the game this year. Can score and defend the paint.
-- Michelle Smith
Rachel Banham
Minnesota
5-9, junior
Aaryn Ellenberg
Oklahoma
5-7, senior
Hallie Christofferson
Iowa State
6-3, senior
Natalie Achonwa
Notre Dame
6-3, senior
Asya Bussie
West Virginia
6-4, senior
Tiffany Bias
Oklahoma State
5-6, senior
Maggie Lucas
Penn State
5-9, senior
Jordan Hooper
Nebraska
6-2, senior
Bashaara Graves
Tennessee
6-2, sophomore
Stefanie Dolson
Connecticut
6-5, senior
Chelsea Gray
Duke
5-11, senior
Shoni Schimmel
Louisville
5-9, senior
Kaleena Mosqueda-Lewis
Connecticut
6-0, junior
Chiney Ogwumike
Stanford
6-4, senior
Isabelle Harrison
Tennessee
6-3, junior
Bria Hartley
Connecticut
5-7, senior
Meighan Simmons
Tennessee
5-9, senior
Arielle Roberson
Colorado
6-1, sophomore
DeNesha Stallworth
Kentucky
6-3, senior
Imani McGee-Stafford
Texas
6-7, sophomore
The following players received at least one vote from our contributors: Ashley Adams, Ohio State; Brittany Boyd, California; Crystal Bradford, Central Michigan; Gennifer Brandon, California; Jerica Coley, Florida International; Cassie Harberts, Southern California; Alexis Jones, Duke; Tyaunna Marshall, Georgia Tech; Nikki Moody, Iowa State; Theresa Plaisance, LSU; Michelle Plouffe, Utah; Ebony Rowe, Middle Tennessee; Mercedes Russell, Tennessee.
2013-14 SEASON PREVIEW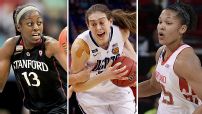 Get ready for 2013-14 with espnW's women's college basketball season preview.
TOTAL ACCESS
VIDEO
MORE WOMEN'S BASKETBALL HEADLINES
MOST SENT STORIES ON ESPN.COM