Commentary
Dixon shoots Hawkeyes into rankings
Junior guard steps into starting lineup, leads Hawkeyes to 10-1 start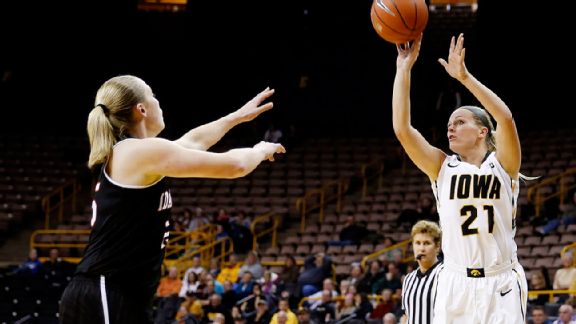 Darren MillerMelissa Dixon and Iowa, off to its best start in six seasons, have won six straight games.
Iowa guard Melissa Dixon's story is one of those that coaches everywhere surely love to hear told. She waited her turn to start, excelling so well in her role off the bench last season that she was the Big Ten's sixth woman of the year.
Now in the Hawkeyes' starting lineup as a junior, Dixon leads the team in scoring (16.0 PPG) and is one of the key reasons No. 21 Iowa is off to a 10-1 start.
The 5-foot-8 Dixon is a sharpshooter who ascribes her success to the tried and true "putting in the time at the gym." Also, she credits something that has aided women's hoops players for generations: the older brother whom she'd play against in the backyard/driveway, etc. That helped her hone a natural gift: a quick release on her shot.
How many kids have learned this lesson courtesy of an elder sibling? Pull the trigger fast, or you won't be able to pull it at all. Now Dixon's brother Mike, who is a year older and also attends Iowa, can watch his sister's games with pride, knowing he definitely had something to do with why she's on the court.
Big Games On Horizon
Iowa has two in-state "rivalry" games upcoming before the Christmas break. One of them is pretty fun for Hawkeyes coach Lisa Bluder, because it always means a big crowd and a lot of competitive emotion.
The other one is … not fun at all for Bluder.
The first is against Iowa State on Thursday night. The No. 21 Hawkeyes and No. 17 Cyclones are both ranked, and it should be a rollicking atmosphere inside Iowa State's Hilton Coliseum in Ames.
"It is one of the best women's basketball venues in the country," Bluder said, complimenting the Cyclones' fans. "So it poses some different problems: communication problems, maintaining your confidence, etc. All those things challenge teams going in there; it is a high-energy and high-emotion game."
Then on Dec. 21, Drake travels to Iowa City to face the Hawkeyes. Iowa has to include this game on its schedule, but Bluder doesn't look forward to it for two reasons: She is very fond of both Drake and Bulldogs coach Jennie Baranczyk, a former Hawkeyes standout.
"I coached at Drake for 10 years. And when you spend a decade of your life trying to build a program, the last thing I want to do is try to beat them," Bluder said. "Then I'm going against one of my favorite players of all time; she was a great player for us here at Iowa.
"I'd rather cheer for Drake and Jennie, and I will do that for every other game they play. Except for this one."
-- Mechelle Voepel
"What makes Melissa such a good 3-point shooter?" Iowa coach Lisa Bluder said. "Well, she really works at it. And she gets off her shot so quickly.
"Our game against Syracuse, she had zero points at halftime, and then 27 in the second half. She's got that short-term memory you have to have as a shooter. She can certainly get on a roll and snowball."
Against Syracuse, Dixon's snowball turned into an avalanche. Iowa's 97-91 comeback victory against the Orange on Dec. 5 followed a successful Thanksgiving trip to Cancun, Mexico, in which the Hawkeyes beat Southern California, Boston College and UNC Wilmington.
Those holiday excursions to warm-weather sites for teams can be a mixed bag in terms of how much they help the bonding experience versus the degree to which they distract from the task at hand.
The Hawkeyes kept their focus on their business, which Bluder thinks is just the personality of her team this year. This despite losing two key senior leaders in Morgan Johnson and Jaime Printy, who were Iowa's leading scorers last season, when the Hawkeyes went 21-13 and fell to Notre Dame in the second round of the NCAA tournament.
"We lost a lot of experience, because not only did they score a lot of points, but they were four-year starters," Bluder said of Johnson and Printy. "But at the same time, we felt like we had the parts to be able to replace them."
That included Dixon, who was actually the team's leading returning scorer for this season, even though she came off the bench all but three games last year. The starters who were back are guards Samantha Logic (13.5 PPG) and Theairra Taylor (10.0) and center Bethany Doolittle (14.4).
Sophomore forward Kali Peschel (7.7) joins those four in the starting lineup. Freshman guard Ally Disterhoft -- an Iowa City native who stayed home for college -- averages 11.5 points as a reserve.
Taylor is the only senior on the squad, a redshirt who has battled back from knee injuries that derailed most of her first two years at Iowa. She missed all but 10 games of her freshman season, and then was out the entirety of the next season, too. Last year as a junior -- her fourth year in the program -- she was named the team's most improved player.
Taylor, Peschel and Doolittle are all from Minnesota. Logic is from Wisconsin, and Dixon from Johnsburg, Ill., in the far north area of greater Chicago. Logic and Dixon played for year together on the same AAU team, and then both had Iowa on their short list during recruiting.
Logic committed to the Hawkeyes first. When Dixon made her decision, there was the added bonus of knowing Logic would be there, too.
[+] Enlarge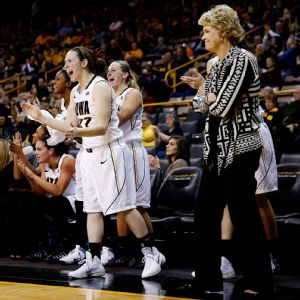 Darren MillerLisa Bluder's Hawkeyes made a school-record 17 3-pointers in a 95-47 win on Dec. 7 against Idaho State.
Logic is the floor leader, a point guard who is as effective and selfless an on-court inspiration for her teammates as Bluder has ever had. (Logic also has lost a tooth and gotten eight stitches during games this season, which just gives her that extra swagger, of course.)
And she has had help in the leadership department, especially from Dixon and Taylor.
"Everyone really has stepped up into bigger roles," Dixon said. "Everyone is a threat offensively."
But in recent games, Dixon has been the primary scoring threat. She had a combined 100 points in the four games prior to Thursday's matchup with Iowa State.
"I think early in the season, I was a little in a cold spell," Dixon said. "It came down to mentally keeping my confidence. Coach Bluder talked to me a lot about that."
Bluder acknowledges it's not that easy to find consistent perimeter shooters out on the recruiting trail, so Dixon has been a big asset for the Hawkeyes. She started eight games as a freshman, when she hit 35 3-pointers. Last year, she led the team with 78 treys, and shot 39.8 percent from behind the arc.
This season, Dixon has made 35 3-pointers and is shooting 34.7 percent from long range.
Bluder thinks the officiating changes this season have so far done a lot of what they are intended to do: allow for more unrestricted movement for offensive players. And her team is certainly one that can benefit from that.
Nebraska, Penn State and Michigan State were the predicted top three in the Big Ten this season, but Iowa has played as well as any of the league's teams thus far.
We will see how things shake out in conference season, but the Hawkeyes could be real contenders in the Big Ten.
"At the start of this nonconference season, I thought the schedule might be a little too ambitious for us," Bluder said. "But it's actually worked out pretty well."
espnW.com
Mechelle Voepel joined ESPN.com in 1996 and covers women's college hoops, the WNBA, the LPGA, and additional collegiate sports for espnW.
SPONSORED HEADLINES
MORE WOMEN'S BASKETBALL HEADLINES
MOST SENT STORIES ON ESPN.COM