UConn draws No. 1 in Lincoln Region
Updated:
March 18, 2014, 1:53 AM ET
ESPN.com news services
Connecticut has landed in the Lincoln Region as the top seed for the women's NCAA tournament, which begins Saturday.
The Huskies (34-0) will be trying for a record ninth NCAA title, which would break a tie with Tennessee for most all-time.
Fellow unbeaten Notre Dame (32-0) also picked up a No. 1 seed as host of the Notre Dame Region, with Tennessee drawing the top seed in the Louisville Region and South Carolina getting the No. 1 seed in the Stanford Region.
More from ESPN.com

It's a long way to a potential NCAA championship-game matchup between undefeated titans Connecticut and Notre Dame, but one thing's for sure: They won't overlook any opponents along the way. Story
---

Our resident bracketologist examines how South Carolina, not Stanford, ended up a No. 1 seed, why geography didn't play as big of a role in the bracket this year, and explains why a No. 3 seed might be just what Louisville deserved. Story
---
Now that we know the field of 64, what do espnW's contributors think about the bracket? Story
---
Notre Dame plays against Robert Morris on Saturday. UConn opens Sunday against No. 16 Prairie View.
It sets the stage for the former Big East rivals to meet in an historic national championship game and is only the second time two teams have entered the NCAA tournament undefeated.
If they do both get to Nashville, the Irish will be all that stands between Geno Auriemma and a record ninth title.
"We really haven't talked, I bet hardly at all, about this national championship or what number it is or any of that," Auriemma said.
Despite being the 13th women's team to go unbeaten during the regular season, the Irish have felt almost unappreciated with most of the talk centered on the Huskies. Coach Muffet McGraw doesn't seem to mind.
"I like it because we can get a chip on our shoulder and head into the tournament with a bit of chip," she said.
Even though UConn and Notre Dame didn't play this season, the two teams know plenty about each other having met 12 times over the previous three seasons. Notre Dame isn't intimidated by Connecticut; the Irish have won seven of the past nine meetings with the Huskies.
"It was very unusual to go through a whole season without playing them, we're so used to it, three times every year," McGraw said. "We've gotten pretty good at beating them the last couple of years."
Before the potential meeting of unbeatens, the two might have to go through SEC powers Tennessee and South Carolina, who also earned No. 1 seeds.
While it's the 22nd time that the Lady Vols have earned a top spot, it's the first for the Gamecocks. The Huskies, Lady Vols and Gamecocks all could have to play on an opponent's home court with a trip to Nashville on the line. Stanford, Notre Dame, Louisville and Nebraska, who are all hosting regionals, were a combined 52-3 at home this season.
The Lady Vols, who won the SEC tournament championship, are the top seed in the Louisville Regional and would also like nothing more than to break the tie with Connecticut and win their ninth NCAA title. They open up against Northwestern State and will be trying to end a five-year drought of not making the Final Four. The Lady Vols won't have an easy path. West Virginia is the second seed. Host Louisville is the three seed and Maryland is the four.
SportsNation: Will UConn break record?

Will UConn win a record ninth women's NCAA tournament? Are you rooting for the Huskies? Cast your votes! »
Tennessee was involved in the only other meeting between unbeatens. The Lady Vols routed Liberty in the opener of the 1998 tournament when both were undefeated.
Like their SEC rivals, South Carolina doesn't have an easy road to the Final Four. The Gamecocks could face an inspired young North Carolina team in the regional semifinals before potentially playing host Stanford.
The Tar Heels and their stellar freshman class, led by Diamond Deshields, beat the Gamecocks in December. The Tar Heels also could have coach Sylvia Hatchell back on the sidelines at that point. The Hall of Famer battled leukemia during the regular season.
While Hatchell's status is unknown for the tournament, Baylor will be missing coach Kim Mulkey for the first game. She is suspended for the first round game against Western Kentucky for comments she made last season after losing to Louisville in the regional semifinals.
"I haven't talked to the team in depth about me not coaching in the first game," Mulkey said. "I'll watch it on television at home. ... I always tell the team something could happen to me on that sideline and you should be able to coach yourself."
Connecticut could have to beat host Nebraska in the regional semifinals if both teams make it that far.
The host schools were chosen in October. Tennessee didn't bid to host a regional because of a scheduling conflict at Thompson-Boling Arena.
Auriemma said his school didn't bid because he didn't like the concept of having schools host regionals.
"I don't believe in it," Auriemma said. "I don't think it's fair and I told our administration, 'We're passing on it. I don't want to do it.' So we didn't."
Louisville coach Jeff Walz also doesn't like the idea of host sites for the regional rounds. Walz cited Louisville's 82-81 upset of top-ranked Baylor in last year's Oklahoma City Regional semifinal as evidence.
"I use us as an example," Walz said. "If we played Baylor at Baylor last year, I'm not sure we win that game ... I'm a big proponent of playing regionals on neutral floors and I'm excited that we're going to back to."
The decision to have schools host regionals was made in an effort to draw bigger crowds.
Last season, the NCAA posted an average attendance of 5,883 for all tournament games, a 21-percent increase over 2012. But the tournament had posted average attendances of at least 6,400 every year from 1998-2005.
The average attendance for regional rounds last year was 7,100, a 38-percent increase over 2012 but a far cry from 10 to 15 years ago. Average attendance in the regional rounds had been over 8,000 five times in a seven-year stretch from 1998-2004.
"I think home courts are a real part of the women's tournament as opposed to the men's tournament," Stanford coach Tara VanDerveer said.
Next year, the regionals will be back at neutral sites.
Auriemma has one idea for helping those neutral sites draw big crowds.
"We do have to find, I think, four cities that are hotbeds or potentially, for women's basketball and we've got to give them an opportunity to host the regionals, and give it to them for a few years at a time, instead of just a one-shot deal," Auriemma said.
The Huskies have made it to the Final Four in a record six straight seasons. They hope to make it to Nashville to keep that streak alive.
If the Huskies do win the national championship it would be the fifth time they went undefeated in a season. This would be the first time that they won 40 games, joining Baylor as the only teams ever to accomplish that feat.
The defending national champions have won games by an average of 36 points. They open up at home against Prairie View A&M on Sunday night. The Lady Panthers became the ninth team to reach the NCAA tournament with a losing record when they won the Southwestern Conference championship.
Tennessee will be making its 33rd straight appearance in the NCAA tournament, getting into the field ever year. Five teams will be making their first trip -- Akron, North Dakota, South Dakota, Winthrop and Wright State.
While those schools will be getting their first taste of the NCAAs, Chattanooga's Jim Foster became the first coach to take four different teams to the NCAA tournament.
Information from The Associated Press was used in this report.
SPONSORED HEADLINES
MORE WOMEN'S BASKETBALL HEADLINES
MOST SENT STORIES ON ESPN.COM
NCAA CHAMPIONSHIP GAME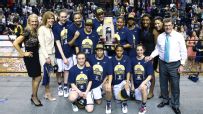 UConn beat Notre Dame 79-58 to cap a 40-0 season to win it second consecutive NCAA title and record ninth championship overall.
NEWS & ANALYSIS
VIDEO
TOURNEY 411