Weather ruled out as crash factor
Updated:
November 19, 2011, 9:01 PM ET
Associated Press
OKLAHOMA CITY, Okla. -- Federal investigators said Saturday that weather likely wasn't a factor in the plane crash that killed two Oklahoma State women's basketball coaches this week in Arkansas.
National Transportation Safety Board investigator Jason Aguilar said the weather was calm Thursday when the small plane carrying head coach Kurt Budke and assistant Miranda Serna crashed into a wooded hillside. Aguilar said NTSB investigators were at the crash site for most of the day Saturday.
More from ESPN.com

Kurt Budke wanted nothing to do with coaching women's hoops. But then he fell in love with it, working his way up to become the coach who turned Oklahoma State into an NCAA tourney hopeful every season, writes ESPN.com's Mechelle Voepel. Story
---

The Oklahoma State campus and Stillwater community was left in shock and disbelief Friday, again rocked by tragedy after an airplane crash killed two members of the women's basketball coaching staff, writes SoonerNation's Brandon Chatmon. Story
• Reaction from the sports world
• espnW: More sadness for sport
"About the only thing we can say right now is that it was not the weather. The skies were clear, the winds were calm," he said, noting that determining what caused the accident could take a year. "Right now, it's a big question mark to us as to what happened."
Aguilar said NTSB investigators are focusing on airframe and the pilot, including his medical background and qualifications, along with possibly a lack of control of the plane. But he said there was no evidence that would question the pilot's qualifications to fly the plane.
Former Oklahoma state Sen. Olin Branstetter was flying the two coaches from Stillwater, home of the university, to Little Rock, Ark., for a recruiting trip. The 82-year-old Branstetter and his wife, Paula, also were killed in the crash.
The NTSB was trying to determine whether any distress calls were made from the plane, but so far investigators haven't found any, Aguilar said.
Witnesses described hearing the plane's engine sputter, and then seeing the plane nosedive into the ground in the Winona Wildlife Management Area near Perryville, about 45 miles west of Little Rock. Hunters were the first to arrive at the crash scene and helped rescue crews back to the site.
"There's definitely a very nose-down pattern to the crash. It's like loss of control and now we're trying to pinpoint what caused that loss of control," Aguilar said.
A preliminary report from the NTSB is expected next week. A final report from the crash investigation could take nine months to a year, he said.
The crash was the second major tragedy for the sports program in about a decade. In January 2001, 10 men affiliated with the university's men's basketball team died in a Colorado plane crash.

Copyright 2011 by The Associated Press
SPONSORED HEADLINES
MORE WOMEN'S BASKETBALL HEADLINES
MOST SENT STORIES ON ESPN.COM
Oklahoma State Tragedy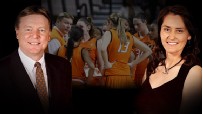 Oklahoma State coach Kurt Budke and assistant Miranda Serna were among four who died the night of Nov. 17 in a small-plane crash in Arkansas while returning from a recruiting trip.
NEWS
COMMENTARY
VIDEO