Baylor star dunk contest on tap?
Updated:
March 31, 2012, 11:01 PM ET
ESPN.com news services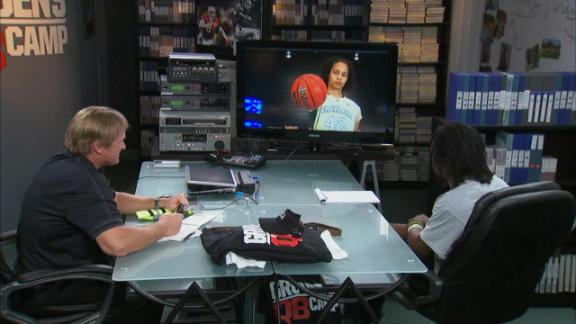 RGIII vs. Brittney Griner
Ever wonder who would win in a dunk contest between football star RGIII and Brittney Griner? Jon Gruden did, and asked RGIII about Griner's skills on the court.
RGIII vs. Brittney Griner
Brittney Griner, The Associated Press women's basketball Player of the Year, said Heisman Trophy winner and fellow Baylor star Robert Griffin III has challenged her to a dunk contest.
"Yes, he did and I told him I'm going to dunk on him," she said Saturday at the Final Four in Denver.
It won't happen until after Griner's senior year in 2013, however, and by that time Griffin will have a year under his belt in the NFL.
Griner's already talking trash, suggesting she's going to beat RG3.
"I am. No problem," she said.
Griner and Baylor face Stanford in a national semifinal Sunday night. Griner has already dunked twice in the NCAA tournament.
Griffin is expected to be among the top picks in the NFL draft April 26.
Information from The Associated Press was used in this report.
SPONSORED HEADLINES
MORE WOMEN'S BASKETBALL HEADLINES
MOST SENT STORIES ON ESPN.COM
STORIES FROM HUFFINGTON POST