Commentary
Maryland 73, Tennessee 62
Lady Vols are first No. 1 seed to fall; Terps advance to Elite Eight
Originally Published:
March 30, 2014
By
Graham Hays
| espnW.com
LOUISVILLE, Ky. -- Alyssa Thomas will get one more chance to reach the Final Four. She earned it. Behind 13 rebounds and a career-high 33 points from its All-American national player of the year candidate and strong performances from the bench it didn't have a season ago, No. 4 seed Maryland defeated No. 1 seed Tennessee 73-62 in Louisville.
With the win, Maryland joins Georgia (2013), Louisville (2013), Baylor (2010), Kentucky (2010), Rutgers (2007) and LSU (2004) as teams to defeat a No. 1 seed in the Sweet 16 in the past decade.
[+] Enlarge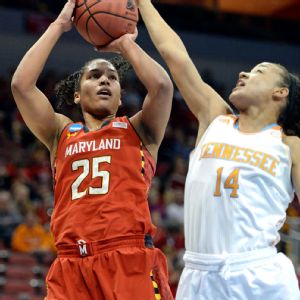 Jamie Rhodes/USA TODAY SportsTerps senior All-American Alyssa Thomas scored a career-high 33 points on 14-for-25 shooting.
KEY STAT: It wasn't so much the sheer volume of Tennessee's 22 turnovers as how costly those miscues proved. Maryland scored 19 points off its opponent's giveaways. And in the first half, when Maryland built its comfortable double-digit lead, it scored 14 points off 14 Tennessee turnovers. The Terrapins weren't flawless with the ball themselves, but they generally weren't made to pay for the miscues. A day earlier, Louisville coach Jeff Walz talked about the difference between dead-ball turnovers and those that give teams scoring opportunities in the run of play. The latter are the ones that team's cannot abide. Tennessee showed why, to its own misfortune.
TURNING POINT: Does the injury to Ariel Massengale a few weeks ago count? Tennessee could have used its veteran point guard to slow the flow of turnovers. But within the confines of the game itself, it was Maryland's 13-2 run early in the first half that boosted its lead from 9-7 to 22-9 with 12 minutes to play in the half. Thomas supplied the final two points in the run, but the rest of it came with Maryland's star getting an early breather on the bench. Tennessee spent the rest of the game trying to dig out of that hole. By the time the Lady Vols cut the deficit to single digits with less than eight minutes remaining and eventually got as close as eight points, it was too late.
KEY PLAYER: You expect someone other than Thomas? She set the tone with two putbacks in the opening minutes, hit a 3-pointer, got to the free throw line and attacked the boards. She didn't commit a turnover until fewer than 10 minutes remained in the game. She was every bit as good as advertised throughout the game, but she might have been even better than that during the closing minutes. As Tennessee tried to make one final run and Maryland player after Maryland player went to the bench in foul trouble, including primary ball handler Lexie Brown, Thomas reprised the role she played a season ago and simply did everything, starting, finishing and doing most of the stuff in the middle on Maryland half-court sets. The Lady Vols had no answer for her 18 second-half points.
[+] Enlarge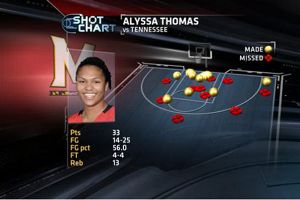 ESPN Stats & InfoA look at where Alyssa Thomas' career-high 33 points came from on the floor.
HOW IT WAS WON: As much as Tennessee turned over the ball, someone had to score the points for Maryland. Thomas did her part, certainly, but as mentioned, Maryland staked its early claim with her on the bench. Reserves Lauren Mincy and Shatori Walker-Kimbrough were instrumental in that surge and played quality minutes all day. Mincy was there at the end, too, hitting a late 3-pointer that helped settle things. Plagued by injuries a season ago, including the one that sidelined Mincy for the campaign, the Terrapins didn't have that kind of depth to support a sublime performance from Thomas. Sunday they did.
WHAT'S NEXT: Maryland advances to face the winner of the afternoon's second game at the KFC Yum! Center between No. 2 seed Louisville and No. 7 seed LSU. Maryland last reached the Final Four in 2006, when it won its only national championship. Should Louisville advance, Maryland will be among a group of the teams trying to win a regional final on an opponent's home court for the first time since 1996.
Maryland has not played Louisville, or former Terrapins assistant coach Jeff Walz, since the second round of the 2012 NCAA tournament. Maryland's Mincy led all scorers with 24 points in a win that day, while Alyssa Thomas struggled with foul trouble. The teams also met in a regional final in 2009, when Louisville's 77-60 win sent it to its first Final Four and ended the careers of the senior class that led the Terrapins to the national title as freshmen in 2006.
espnW.com
Graham Hays covers college sports for espnW, including softball and soccer. Hays began with ESPN in 1999.
NCAA CHAMPIONSHIP GAME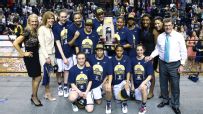 UConn beat Notre Dame 79-58 to cap a 40-0 season to win it second consecutive NCAA title and record ninth championship overall.
NEWS & ANALYSIS
VIDEO