X Games 15 Skate Blog - Saturday
9:20 p.m. PST: Chris Nieratko talked to several of the street skaters today to find out why, it seems, so many new and unexpected faces are showing up on the contest scene these days. For his unique take on the new allure of contests click here.
---
8:35 p.m. PST: The finals saw PLG putting the knife into vert. His choice to forego the Big Air and Rail Jam, paid off. He kept up near flawless runs. He was landing flip tricks like nollie backside bigspin heelflips and airs including fakie 720s. It was more than enough to earn PLG another X Games Gold medal. Bucky took Silver with solid runs that included switch 540s and McEggplants. Andy Mac walked away with Bronze because of his undeniable consistency. The event kept the crowd cheering and even drew celebrities. Vert ain't dead as far as I could tell. Not even close.
---
8:22 p.m. PST: The scene at the vert ramp is still celebratory. Jason Ellis, Bob Burnquist, Darryl Hannah, PLG, Neal Hendrix, Brian Patch, Steve Steadham and more are mixing at the foot of the ramp.
---
8:00 p.m. PST: PLG wins! It's a repeat of last year. Is this guy even beatable? Silver goes to Bucky Lasek and Bronze to Andy MacDonald.
---
8:00 p.m. PST: Jake Brown was dancing around on the vert ramp after Danny Mayer's run, cheering on his friend. Danny did two kickflip 540s in one run. Pretty unreal.
---
7:58 p.m. PST: One of the cameramen was at the side of the ramp when PLG careened off the side. PLG hit the table with the scrolling billboard sign and that flew it right into the cameraman. The cameraman almost passed out onto me. I had to help him sit down until he came too.
---
7:55 p.m. PST: Vert final is starting now and Fabrizio Santos is next to me. If you're watching TV, the invert Bucky just did is called a McEgg.
---
7:45 p.m. PST: Tweet from @draizetrain: "How come PLG and Perelson don't compete in the Big Air comp? Is it based on qualifiers?"
Well @draizetrain, there are not qualifiers for Big Air, you just have to be qualified enough (and crazy enough) to do it. Not sure about PLG but I do know Alex was going to do Big Air but decided to back out the day before so he could concentrate on vert. Big Air is dangerous buisness and some of the guys who do other disciplines don't want to run the very real risk of injury.
---
7:42 p.m. PST: Darryl Hannah is down a few seats from me, watching the vert contest. She was so hot as the mermaid in "Splash."
---
7:38 p.m. PST: Bucky Lasek rode for Powell, grew up on a house boat, made his debut in the "Public Domain" video in a montage with Danny Way. He's got a long history in skating and he's in the running for the Gold here tonight.
---
7:35 p.m. PST: Some insider info for you: Word around the stands is that Rune Glifberg is moving away from competing in vert contest to concentrate more on events like Skate park and other bowl, pool oriented competitions.
---
7:28 p.m. PST: French Canadian powerhouse, the quasar from Quebec, PLG is warming up and looks to have his run dialed.
---
7:22 p.m. PST: It's a complete upset in the semis. Danny Mayer, Bucky Lasek, Pierre Luc Gagnon and Alex Perelson are the final four. Bob Burnquist is NOT in the finals in a total upset!
---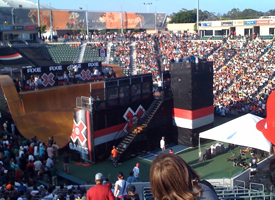 Josh BrooksThe scene down at Vert finals.
7:01 p.m. PST:
Awe man! The bikers ruined the coping on this ramp!. Just kidding. No hard feelings.
---
6:45 p.m. PST: Rune, Bob, Alex Perelson and PLG are looking the best out here. The vert ramp is in the tennis courts here at Home Depot Center and the stadium seats are filled with spectators.
---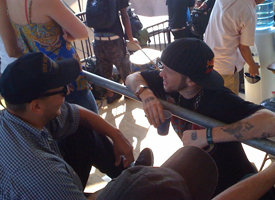 Josh BrooksChris Nieratko and Jereme Rogers rap about fungus.
5:55 p.m. PST:
Despite his announced (and mcuh talked about) retirement from skateboarding, Jereme Rogers is go go going to all the summer's skateboard events. Maybe he misses it after all.
---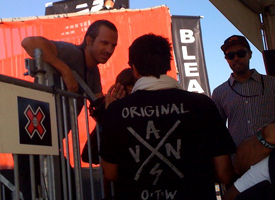 Josh BrooksJason Dill, some dude and Koston. Two out of these three once rode for 101.
5:40 p.m. PST:
All types of folks showed up to watch the park rippers even Jason Dill! Always dressed with some combination of the most cutting edge, t
wo-seasons before you'll be wearing it
clothes (that is, if you're an insane hipster), former DC/Droors guy turned creative NYC skater/gallery nightlife maven, Dill showed up to hang out at the Park event. Random and rad.
---
5:35 p.m. PST: Sorry for the delay guys. The computer died for a minute. here'sthe 10 guys from Park eliminations that you're going to see in the finals:
1.Rune Glifberg
2. Omar Hassan
3. Andy Macdonald
4. Chad Bartie
5. Tony Trujillo
6. Kevin Kowalski
7. Steve Reeves
8. Bruno Passos
9. Aaron "Jaws" Homoki
10. Jimmy "The Greek" Marcus

---
5:05 p.m. PST: Will Kevin Kowalski make it into the finals? He's good enough. He's the Pollack's pride. If he makes it, Kristian Svitak's gonna be so stoked.
---
5:00 p.m. PST: Tweet from @bally904: Any word on if Grant Taylor is skating Park?
Unfortunately, no sign of Grant Taylor here at the X Games @bally904. It's a shame because he could murder this course.
---
4:40 p.m. PST: Wanna see some videos? How about Danny Way, Alex Perelson and Bob Burnquist? Get into it.
---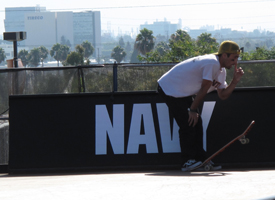 Josh BrooksTony Trujillo picks a winner.
4:35 p.m. PST:
Alex Olson showed up late due to traffic, but he is here. They're not fully through all the runs, but, unfortunately, they're still not going to let Alex skate because he showed up late. Bummer.
---
4:30 p.m. PST: When Keegan Sauder pulled out of Park, Bucky Lasek took his place. So, in a way, Keegan's proxy is in there killing it. Thus, Keegan is killing it by logical conclusion, right?
---
4:20 p.m. PST: Rumor Alert: Chad Bartie was running some Globe shoes earlier in the week but today he's wearing Osiris and wearing a T-shirt with a huge Osiris logo on it. I have a sneaking suspicion he's getting on Osiris.
---
4:00 p.m. PST: Emcee, Dave Duncan just gave an oral history of the Miller flip (maybe poached from the latest issue of The Skateboard Mag?)—not, incidentally, named after Chris Miller.
---
3:55 p.m. PST: Ben Raybourn is tearing the place up right now with tons of boneless variations.
---
3:50 p.m. PST: Skate Park eliminations are going down now. We'll keep you posted.
---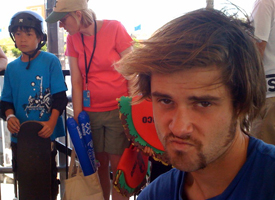 Josh BrooksNow that's a 'stache.
3:36 p.m. PST:
Keegan Sauder might have dropped out of the Skateboard Street and Park comps but he sure is winning the creepy contest.
---
3:23 p.m. PST: Some quotes from the winners:
Dyet: "I f**king love skateboarding!"
P-Rod: "I thank my Lord Jesus Crist."
Huston: (silence)
The rad part about skateboarding is it takes all kinds.
---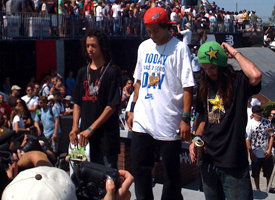 Josh BrooksThe medalists of Skate Street. From left: Nyjah Huston, Paul Rodriguez and Adam Dyet.
3:10 p.m. PST:
P-Rod wins! Final results are as follows:
Gold:
Paul Rodriguez
Silver:
Nyjah Huston
Bronze:
Adam Dyet
---
3:03 p.m. PST: P-Rod perfect switch kickflip and switch heel. Dyet let his hair down, even more, and nollie full cabbed the 12.
---
2:56 p.m. PST: Just overheard Koston say, "Mike Mo came here on Thursday, looked at the course and said he didn't want to compete," when someone said he would do well in this course and format.
---
2:51 p.m. PST: Prod almost switch flipped the twelve stair. Dompierre kickflip boardslid the 12. Nyjah kickflip front board. Sheckler rolled his ankle and got carted off.
---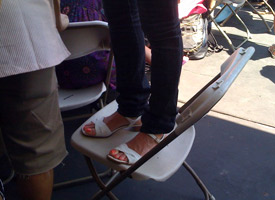 Josh BrooksElissa Steamer's new pro shoe.
2:22 p.m. PST: @Mcren10: Do something about the shoes of X Games skateboarding. Koston—which Nikes he was wearing for instance?
Koston's right next to me. He has on black Bruins with a silver swoosh. Nyjah has on black eS Accels with red, yellow and green rasta stitching. Dyet has on some Globes, but I can't see which kind. Rodolfo has some sort of white Globes on with black, gold and silver accents. P-Rod's got on the white P-Rod IIIs with black accents. Sheckler's got on black Sheckler shoes with white soles. Elissa Steamer has on nice lady-like sandal shoes. That's all I got.
---
2:13 p.m. PST: Looks like a lot of companies have taken a page out of the Lutzka book. Dompierre has an Oakley/Solstice. Paul has a Nike/mountain dew logo. Dyet has a Neff/Rockstar logo. Ramos, nothing. Nyjah has hemp on his hat.
---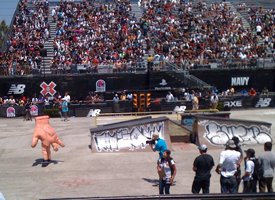 Josh BrooksThe world's largest hand enters the contest?
2:00 p.m. PST:
Somebody made it out in a hand suit as a massive fingerboarding hand. That's an epic marketing idea. It even has hairs on the top of the palm [insert laughter here].
---
1:50 p.m. PST: Sheckler's getting a little limpy out there. But, the cheers of all the teen girls in the stands seem to be giving him energy. Nyjah had amazing posture (not being sarcastic), because his dad said he had to (sarcastic). Also, Ramos skates really fast, which I never  processed before, because all I kept think was, "Brazilian...Brazilian...Brazillian..." like some internal chant.
---
1:40 p.m. PST: Sadly, we must pay our respects to the most devoted prop on the course-the grass. It has spent the last three days making the pyramid gap section in the middle of the street course look kind of like a real spot, unfortunately, costing that same grass almost all of it's life. It's looking dry, brown and wilted. This unsung hero deserves a salute. We salute you, sod grass!
---
1:25 p.m. PST: Skate Street fashion update (with tongue firmly planted in cheek): Nick Dompierre—no earrings, ever present beanie. P-Rod—thought he only had one earring in his right ear and then I wanted to let him know what that meant, until I saw both of his ears are pierced. Nyjah—hemp necklace with a leather Jah cross on it, can't tell if he has earrings on because of his dreads. Dyet—no earrings, but man is his hair long, green beanie (obviously!).
---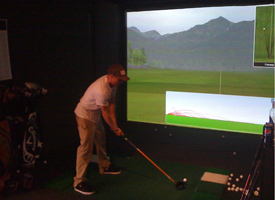 Josh BrooksMike Peterson tees off in the Athlete Lounge.
1:00 p.m. PST:
Here's some insider info for you. I somehow got the pass to get into the Athlete's Lounge and have since realized that it's the best place in all of the X Games. If I didn't have to give you updates about what's going on, I would stay there all day. I can describe it two ways: One, it's like your childhood friend's dad's game room--that one in the basement with beer logos all over the place and video games. You know, that one friend you had who's dad owned a roofing company or a beer distribution warehouse. He was inexplicably rich, lived in a really big house on a golf course and gave you an endless supply of soda from a vintage soda machine.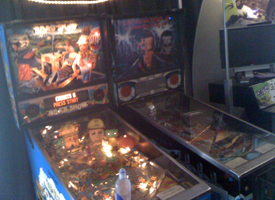 Josh BrooksPinbal machines! Sweet!
Or, I could make it easy and say it's pretty much like the apartment that Tom Hanks gets in the movie "Big" when he becomes a grown up. Either way, you know what i'm saying. There's a "Recovery Room" with exercise bikes and those workout balls. Cody Davis was sitting in a massage chair.  Mike Peterson was playing simulation golf. There were videogames like Golden Tee and pinball machines. And the place is stocked with healthy food, soda and junk food. If the Skate Street finals weren't gonna be so awesome, I would just hide out in the athlete's lounge all afternoon. Anyway...
---
12:15 p.m. PST: Athlete Update: Our boy Keegan Sauder and his glorious moustache are, unfortunately, out of the Park contest. His comment on the matter, "Oh, I don't know (spoken in high pitched Canadian)."
Bucky Lasek replaces Keegan in the comp. Brian Patch is in as a 1rst alternate.
---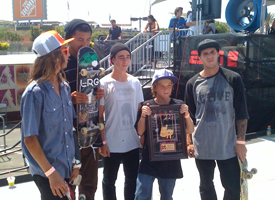 Josh BrooksThe winning shop team: Active Ride.
12:00 p.m. PST:
The LA Shop Finals just wrapped up, with some sick skating. They may not have the same name recognition, but all these kids want it more. The top three were:
1.
Active Rideshop
2.
Nine Star
3.
United Boardshop
Done deal!
---
11:45 a.m. PST: Pott's pulling the usual tricks, with frontside flips on the pyramid. You're gonna be sorry you made fun of David Loy when he grows up: Gap to lipslides on the yellow hubba rail thing. Loy back feebled to backside 180 out on the long yellow flat bar. Then, he feebled to tailslide on it. Andrew Langi's as comfortable on the street as he is in the transition. He's almost landing tré flips on the set.
---
11:15 a.m. PST: There are grips of kids skating in the LA shop contest. It's shop teams from the area pitted against one another in a team versus team format. Pretty cool.
---
11:00 a.m. PST: I once had this blooper video back when I played ice hockey called Hockey's Greatest Boners. It was a mix of greatest hits and silliest bloopers, which the host would call boners. He would be like, "And next in the all time greatest boner moments..." and then it would cut to a clip of a guy climbing over the bench during a line change and his stick would accidentally hit his coach in the face. Then, there would be this WA-WA-WAAAAAAH sound, like a clown or a really bad morning talk show host makes. Basically, anything unexpected was a boner. I think the host was Canadian. It was a really funny video, because it was supposed to be silly, but there were clips in there with open-ice hits that knocked guys to the ice and as their unconscious bodies slunk to the ground, a laugh track would play. It was kind of sadistic.
I'm hoping that there are none of those kinds of boners at the street finals today. I don't want anyone to get hurt. But, I'm predicting there will be the other kinds of boners--upsets. The way the elimination panned out yesterday, Nick Dompierre qualified first, with expected qualifiers P-Rod and Nyjah Huston in second and third, respectively. Today, Sheckler comes in as last year's winner, maybe more well rested, but with less practice on the course, which could hurt him. If he doesn't win, there will be a lot of teeny-bopper fans in the crowd that would see it as a huge boner. Some other guys could take it. There's the speedy little Brazilian contest skater, Rodolfo Ramos, for example, who could Muska-flip his way to victory. If he won, that would be a huge boner. Also, don't overlook Adam Dyet and his "Dyet Trying" attitude. The kid could land some of his amazing tricks (hair-be-damned) and pull off one of the biggest boner upsets at the X Games. The finals will be later today.
Skateboard park eliminations is today, too, and anyone could win. I don't think there will be any boners as far as who wins. I think Rune Glifberg is a safe bet, but who knows? I'll also keep you posted on practice with the Legends and the Vert guys. Lastly, Vert finals will be going down tonight and I'm predicting there will be no judging boners happening there. I'm putting my money on Perelson. Keep checking in today to get the behind-the-scenes coverage of X Games 15, day 4.